(24 intermediate revisions by one other user not shown)
Line 5:
Line 5:
 

|name=Human

 

|name=Human

 

|designation=[[Sentience|Sentient]]<ref name="TPM">[[Star Wars: Episode I The Phantom Menace|''Star Wars'': Episode I ''The Phantom Menace'']]</ref>

 

|designation=[[Sentience|Sentient]]<ref name="TPM">[[Star Wars: Episode I The Phantom Menace|''Star Wars'': Episode I ''The Phantom Menace'']]</ref>

−

|class=[[Mammal]]<ref name="Doctor Aphra 27">''[[Doctor Aphra 27]]''</ref>

+

|class=[[Mammal]]<ref name="Doctor Aphra 27">[[Doctor Aphra 27''</ref>

−

|subspecies=[[Alder-Espirion]]<ref name="Leia 4">''[[Princess Leia 4]]''</ref>

+

|subspecies=[[Alder-Espirion]]<ref name="Leia 4">[[Princess Leia 4''</ref>

 

|races=*[[Alderaanian]]<ref name="Leia 4" />

 

|races=*[[Alderaanian]]<ref name="Leia 4" />

 

*[[Atterran]]<ref name="Cobalt Squadron">''[[The Last Jedi: Cobalt Squadron]]''</ref>

 

*[[Atterran]]<ref name="Cobalt Squadron">''[[The Last Jedi: Cobalt Squadron]]''</ref>

Line 91:
Line 91:
 

==Appearances==

 

==Appearances==

 

{{Scroll_box|content=

 

{{Scroll_box|content=

 
+

*''[[The High Republic: Light of the Jedi]]''

 
+

*''[[The High Republic: A Test of Courage]]''

 
+

*''[[The High Republic: Into the Dark]]''

 
+

*''[[Star Wars: The High Republic Adventures]]''

 

*{{Shortstory|story=A Recipe for Death|book=Tales from a Galaxy Far, Far Away: Aliens: Volume I}}

 

*{{Shortstory|story=A Recipe for Death|book=Tales from a Galaxy Far, Far Away: Aliens: Volume I}}

 

*''[[Dooku: Jedi Lost]]''

 

*''[[Dooku: Jedi Lost]]''

 

*[[Dooku: Jedi Lost (script)|''Dooku: Jedi Lost'' script]]

 

*[[Dooku: Jedi Lost (script)|''Dooku: Jedi Lost'' script]]

 

*''[[Master & Apprentice]]''

 

*''[[Master & Apprentice]]''

−

*''[[Age of Republic - Qui-Gon Jinn 1]]''

+

*[[Age of Republic - Qui-Gon Jinn 1''

−

*''[[Star Wars 26]]''

+

*[[Star Wars 26''

−

*''[[Star Wars 27]]''

+

*[[Star Wars 27''

−

*''[[Star Wars 28]]''

+

*[[Star Wars 28''

−

*''[[Star Wars 29]]''

+

*[[Star Wars 29''

−

*''[[Star Wars 30]]''

+

*[[Star Wars 30''

−

*[[Darth Maul (2017) 1|''Darth Maul 1'']]

+

*[[Darth Maul (2017) 1|''Darth Maul'']]

−

*[[Darth Maul (2017) 2|''Darth Maul 2'']]

+

*[[Darth Maul (2017) 2|''Darth Maul'']]

−

*[[Darth Maul (2017) 3|''Darth Maul 3'']]

+

*[[Darth Maul (2017) 3|''Darth Maul'']]

−

*[[Darth Maul (2017) 4|''Darth Maul 4'']]

+

*[[Darth Maul (2017) 4|''Darth Maul'']]

−

*''[[Darth Maul 5]]''

+

*[[Darth Maul 5''

−

*''[[Age of Republic - Darth Maul 1]]''

+

*[[Age of Republic - Darth Maul 1''

 

*{{Shortstory|story=The Weapon|book=Age of Republic Special 1}}

 

*{{Shortstory|story=The Weapon|book=Age of Republic Special 1}}

 

*{{IDWAdventuresCite|6|[[Tales from Wild Space: Podracer's Rescue]]}}

 

*{{IDWAdventuresCite|6|[[Tales from Wild Space: Podracer's Rescue]]}}

Line 124:
Line 128:
 

*{{IDWAdventuresCite|18|[[Raiders of the Lost Gundark]]}}

 

*{{IDWAdventuresCite|18|[[Raiders of the Lost Gundark]]}}

 

*{{FOD|Monster Misunderstanding}}

 

*{{FOD|Monster Misunderstanding}}

−

*''[[Age of Republic - Obi-Wan Kenobi 1]]''

+

*[[Age of Republic - Obi-Wan Kenobi 1''

−

*''[[Obi-Wan and Anakin 1]]''

+

*[[Obi-Wan and Anakin 1''

−

*''[[Obi-Wan and Anakin 2]]''

+

*[[Obi-Wan and Anakin 2''

−

*''[[Obi-Wan and Anakin 3]]''

+

*[[Obi-Wan and Anakin 3''

−

*''[[Obi-Wan and Anakin 4]]''

+

*[[Obi-Wan and Anakin 4''

−

*''[[Obi-Wan and Anakin 5]]''

+

*[[Obi-Wan and Anakin 5''

 

*''[[Queen's Shadow]]''

 

*''[[Queen's Shadow]]''

−

*''[[Age of Republic - Count Dooku 1]]''

+

*[[Age of Republic - Count Dooku 1''

−

*''[[Age of Republic - Jango Fett 1]]''

+

*[[Age of Republic - Jango Fett 1''

 

*''[[Choose Your Destiny: An Obi-Wan & Anakin Adventure]]''

 

*''[[Choose Your Destiny: An Obi-Wan & Anakin Adventure]]''

 

*[[Star Wars: Episode II Attack of the Clones|''Star Wars'': Episode II ''Attack of the Clones'']]

 

*[[Star Wars: Episode II Attack of the Clones|''Star Wars'': Episode II ''Attack of the Clones'']]

Line 138:
Line 142:
 

*[[Attack of the Clones (Golden Book)|''Attack of the Clones'' Golden Book]]

 

*[[Attack of the Clones (Golden Book)|''Attack of the Clones'' Golden Book]]

 

*{{IDWAdventuresCite|1|[[Tales from Wild Space: Stop, Thief!]]}}

 

*{{IDWAdventuresCite|1|[[Tales from Wild Space: Stop, Thief!]]}}

−

*''[[Jedi of the Republic &ndash; Mace Windu 1]]''

+

*[[Jedi of the Republic &ndash; Mace Windu 1''

−

*''[[Jedi of the Republic &ndash; Mace Windu 2]]''

+

*[[Jedi of the Republic &ndash; Mace Windu 2''

−

*''[[Jedi of the Republic &ndash; Mace Windu 3]]''

+

*[[Jedi of the Republic &ndash; Mace Windu 3''

−

*''[[Jedi of the Republic &ndash; Mace Windu 4]]''

+

*[[Jedi of the Republic &ndash; Mace Windu 4''

−

*''[[Jedi of the Republic &ndash; Mace Windu 5]]''

+

*[[Jedi of the Republic &ndash; Mace Windu 5''

−

*''[[Age of Republic - Anakin Skywalker 1]]''

+

*[[Age of Republic - Anakin Skywalker 1''

 

*{{TCW|Cat and Mouse}}

 

*{{TCW|Cat and Mouse}}

 

*{{TCW|The Hidden Enemy}}

 

*{{TCW|The Hidden Enemy}}

Line 160:
Line 164:
 

*{{TCW|Cloak of Darkness}}

 

*{{TCW|Cloak of Darkness}}

 

*{{TCW|Lair of Grievous}}

 

*{{TCW|Lair of Grievous}}

−

*''[[Age of Republic - General Grievous 1]]''

+

*[[Age of Republic - General Grievous 1''

 

*{{TCW|Dooku Captured}}

 

*{{TCW|Dooku Captured}}

 

*{{TCW|The Gungan General}}

 

*{{TCW|The Gungan General}}

Line 292:
Line 296:
 

*''[[Dark Disciple]]''

 

*''[[Dark Disciple]]''

 

*''[[Dark Disciple (audiobook)]]''

 

*''[[Dark Disciple (audiobook)]]''

−

*''[[Darth Maul&mdash;Son of Dathomir 1]]''

+

*[[Darth Maul&mdash;Son of Dathomir 1''

−

*''[[Darth Maul&mdash;Son of Dathomir 2]]''

+

*[[Darth Maul&mdash;Son of Dathomir 2''

−

*''[[Darth Maul&mdash;Son of Dathomir 3]]''

+

*[[Darth Maul&mdash;Son of Dathomir 3''

−

*''[[Darth Maul&mdash;Son of Dathomir 4]]''

+

*[[Darth Maul&mdash;Son of Dathomir 4''

−

*''[[Age of Republic - Padmé Amidala 1]]''

+

*[[Age of Republic - Padmé Amidala 1''

−

*''[[Kanan 7]]''

+

*[[Kanan 7''

−

*''[[Kanan 8]]''

+

*[[Kanan 8''

−

*''[[Kanan 9]]''

+

*[[Kanan 9''

−

*''[[Kanan 10]]''

+

*[[Kanan 10''

−

*''[[Kanan 11]]''

+

*[[Kanan 11''

 

*[[Star Wars: Episode III Revenge of the Sith|''Star Wars'': Episode III ''Revenge of the Sith'']]

 

*[[Star Wars: Episode III Revenge of the Sith|''Star Wars'': Episode III ''Revenge of the Sith'']]

 

*[[Revenge of the Sith (Golden Book)|''Revenge of the Sith'' Golden Book]]

 

*[[Revenge of the Sith (Golden Book)|''Revenge of the Sith'' Golden Book]]

−

*''[[Kanan 1]]''

+

*[[Kanan 1''

−

*''[[Kanan 2]]''

+

*[[Kanan 2''

−

*''[[Darth Vader: Dark Lord of the Sith 1]]''

+

*[[Darth Vader: Dark Lord of the Sith 1''

−

*''[[Darth Vader: Dark Lord of the Sith 2]]''

+

*[[Darth Vader: Dark Lord of the Sith 2''

−

*''[[Darth Vader: Dark Lord of the Sith 3]]''

+

*[[Darth Vader: Dark Lord of the Sith 3''

−

*''[[Darth Vader: Dark Lord of the Sith 4]]''

+

*[[Darth Vader: Dark Lord of the Sith 4''

−

*''[[Darth Vader: Dark Lord of the Sith 5]]''

+

*[[Darth Vader: Dark Lord of the Sith 5''

−

*''[[Darth Vader: Dark Lord of the Sith 6]]''

+

*[[Darth Vader: Dark Lord of the Sith 6''

−

*''[[Darth Vader: Dark Lord of the Sith 7]]''

+

*[[Darth Vader: Dark Lord of the Sith 7''

−

*''[[Darth Vader: Dark Lord of the Sith 8]]''

+

*[[Darth Vader: Dark Lord of the Sith 8''

−

*''[[Darth Vader: Dark Lord of the Sith 9]]''

+

*[[Darth Vader: Dark Lord of the Sith 9''

−

*''[[Darth Vader: Dark Lord of the Sith 10]]''

+

*[[Darth Vader: Dark Lord of the Sith 10''

−

*''[[Darth Vader: Dark Lord of the Sith 11]]''

+

*[[Darth Vader: Dark Lord of the Sith 11''

−

*''[[Darth Vader: Dark Lord of the Sith 12]]''

+

*[[Darth Vader: Dark Lord of the Sith 12''

−

*''[[Kanan 3]]''

+

*[[Kanan 3''

−

*''[[Darth Vader: Dark Lord of the Sith 13]]''

+

*[[Darth Vader: Dark Lord of the Sith 13''

−

*''[[Darth Vader: Dark Lord of the Sith 14]]''

+

*[[Darth Vader: Dark Lord of the Sith 14''

−

*''[[Darth Vader: Dark Lord of the Sith 15]]''

+

*[[Darth Vader: Dark Lord of the Sith 15''

−

*''[[Darth Vader: Dark Lord of the Sith 16]]''

+

*[[Darth Vader: Dark Lord of the Sith 16''

−

*''[[Darth Vader: Dark Lord of the Sith 17]]''

+

*[[Darth Vader: Dark Lord of the Sith 17''

−

*''[[Darth Vader Annual 2]]''

+

*[[Darth Vader Annual 2''

 

*{{Shortstory|story=No Good Deed...|book=Darth Vader: Dark Lord of the Sith 1}}

 

*{{Shortstory|story=No Good Deed...|book=Darth Vader: Dark Lord of the Sith 1}}

−

*''[[Kanan 4]]''

+

*[[Kanan 4''

−

*''[[Kanan 5]]''

+

*[[Kanan 5''

 

*''[[Adventures in Wild Space: The Escape]]''

 

*''[[Adventures in Wild Space: The Escape]]''

 

*''[[Adventures in Wild Space: The Snare]]''

 

*''[[Adventures in Wild Space: The Snare]]''

Line 343:
Line 347:
 

*[[Tarkin (novel)|''Tarkin'']]

 

*[[Tarkin (novel)|''Tarkin'']]

 

*{{InsiderCite|166|TK-462 (short story)|TK-462}}

 

*{{InsiderCite|166|TK-462 (short story)|TK-462}}

−

*''[[Jedi Fallen Order - Dark Temple 1]]''

+

*[[Jedi Fallen Order - Dark Temple 1''

−

*''[[Jedi Fallen Order - Dark Temple 2]]''

+

*[[Jedi Fallen Order - Dark Temple 2''

−

*''[[Jedi Fallen Order - Dark Temple 3]]''

+

*[[Jedi Fallen Order - Dark Temple 3''

−

*''[[Jedi Fallen Order - Dark Temple 4]]''

+

*[[Jedi Fallen Order - Dark Temple 4''

−

*''[[Jedi Fallen Order - Dark Temple 5]]''

+

*[[Jedi Fallen Order - Dark Temple 5''

−

*''[[Age of Rebellion - Darth Vader 1]]''

+

*[[Age of Rebellion - Darth Vader 1''

−

*''[[Darth Vader: Dark Lord of the Sith 18]]''

+

*[[Darth Vader: Dark Lord of the Sith 18''

−

*''[[Darth Vader: Dark Lord of the Sith 19]]''

+

*[[Darth Vader: Dark Lord of the Sith 19''

−

*''[[Darth Vader: Dark Lord of the Sith 20]]''

+

*[[Darth Vader: Dark Lord of the Sith 20''

−

*''[[Darth Vader: Dark Lord of the Sith 21]]''

+

*[[Darth Vader: Dark Lord of the Sith 21''

−

*''[[Darth Vader: Dark Lord of the Sith 22]]''

+

*[[Darth Vader: Dark Lord of the Sith 22''

−

*''[[Darth Vader: Dark Lord of the Sith 23]]''

+

*[[Darth Vader: Dark Lord of the Sith 23''

−

*''[[Darth Vader: Dark Lord of the Sith 24]]''

+

*[[Darth Vader: Dark Lord of the Sith 24''

−

*''[[Darth Vader: Dark Lord of the Sith 25]]''

+

*[[Darth Vader: Dark Lord of the Sith 25''

 

*''[[Star Wars Jedi: Fallen Order]]''

 

*''[[Star Wars Jedi: Fallen Order]]''

 

*{{IDWAdventuresCite|9|[[Trouble Again]]}}

 

*{{IDWAdventuresCite|9|[[Trouble Again]]}}

 

*''[[Most Wanted]]''

 

*''[[Most Wanted]]''

 

*''[[Lando's Luck]]''

 

*''[[Lando's Luck]]''

−

*''[[Beckett 1]]''

+

*[[Beckett 1''

 

*''[[Solo: A Star Wars Story]]''

 

*''[[Solo: A Star Wars Story]]''

 

*''[[Solo: A Star Wars Story: Expanded Edition]]''

 

*''[[Solo: A Star Wars Story: Expanded Edition]]''

Line 368:
Line 372:
 

*''[[Solo: A Star Wars Story: Train Heist]]''

 

*''[[Solo: A Star Wars Story: Train Heist]]''

 

*''[[Star Wars: Solo Graphic Novel Adaptation]]''

 

*''[[Star Wars: Solo Graphic Novel Adaptation]]''

−

*''[[Solo: A Star Wars Story Adaptation 1]]''

+

*[[Solo: A Star Wars Story Adaptation 1''

−

*''[[Solo: A Star Wars Story Adaptation 2]]''

+

*[[Solo: A Star Wars Story Adaptation 2''

−

*''[[Solo: A Star Wars Story Adaptation 3]]''

+

*[[Solo: A Star Wars Story Adaptation 3''

−

*''[[Solo: A Star Wars Story Adaptation 4]]''

+

*[[Solo: A Star Wars Story Adaptation 4''

−

*''[[Solo: A Star Wars Story Adaptation 5]]''

+

*[[Solo: A Star Wars Story Adaptation 5''

−

*''[[Solo: A Star Wars Story Adaptation 6]]''

+

*[[Solo: A Star Wars Story Adaptation 6''

−

*''[[Solo: A Star Wars Story Adaptation 7]]''

+

*[[Solo: A Star Wars Story Adaptation 7''

−

*''[[Han Solo - Imperial Cadet 1]]''

+

*[[Han Solo - Imperial Cadet 1''

−

*''[[Han Solo - Imperial Cadet 2]]''

+

*[[Han Solo - Imperial Cadet 2''

−

*''[[Han Solo - Imperial Cadet 3]]''

+

*[[Han Solo - Imperial Cadet 3''

−

*''[[Han Solo - Imperial Cadet 4]]''

+

*[[Han Solo - Imperial Cadet 4''

−

*''[[Han Solo - Imperial Cadet 5]]''

+

*[[Han Solo - Imperial Cadet 5''

 

*{{FOD|Triplecross}}

 

*{{FOD|Triplecross}}

−

*''[[Lando - Double or Nothing 1]]''

+

*[[Lando - Double or Nothing 1''

−

*''[[Lando - Double or Nothing 2]]''

+

*[[Lando - Double or Nothing 2''

−

*''[[Lando - Double or Nothing 3]]''

+

*[[Lando - Double or Nothing 3''

−

*''[[Lando - Double or Nothing 4]]''

+

*[[Lando - Double or Nothing 4''

−

*''[[Lando - Double or Nothing 5]]''

+

*[[Lando - Double or Nothing 5''

 

*{{Galaxy of Adventures|Han Solo - From Smuggler to General}}

 

*{{Galaxy of Adventures|Han Solo - From Smuggler to General}}

 

*''[[Rebel Rising]]''

 

*''[[Rebel Rising]]''

 

*[[Thrawn (novel)|''Thrawn'']]

 

*[[Thrawn (novel)|''Thrawn'']]

 

*[[Thrawn (audiobook)|''Thrawn'' audiobook]]

 

*[[Thrawn (audiobook)|''Thrawn'' audiobook]]

−

*''[[Thrawn 1]]''

+

*[[Thrawn 1''

−

*''[[Thrawn 2]]''

+

*[[Thrawn 2''

−

*''[[Thrawn 3]]''

+

*[[Thrawn 3''

−

*''[[Thrawn 4]]''

+

*[[Thrawn 4''

−

*''[[Thrawn 5]]''

+

*[[Thrawn 5''

−

*''[[Thrawn 6]]''

+

*[[Thrawn 6''

 

*[[Untitled Obi-Wan Kenobi television series]]

 

*[[Untitled Obi-Wan Kenobi television series]]

 

*{{Shortstory|story=Bottleneck|book=The Rise of the Empire}}

 

*{{Shortstory|story=Bottleneck|book=The Rise of the Empire}}

Line 402:
Line 406:
 

*''[[Lost Stars]]''

 

*''[[Lost Stars]]''

 

*[[Lost Stars (webcomic)|''Lost Stars'' webcomic]]

 

*[[Lost Stars (webcomic)|''Lost Stars'' webcomic]]

−

*[[Star Wars (2015) 15|''Star Wars 15'']]

+

*[[Star Wars (2015) 15|''Star Wars'']]

−

*[[Star Wars (2015) 20|''Star Wars 20'']]

+

*[[Star Wars (2015) 20|''Star Wars'']]

 

*{{InsiderCite|154|The End of History}}

 

*{{InsiderCite|154|The End of History}}

 

*{{HoloNetNews|post/92683587916/holonet-news-special-report-lothal-jobless-rates|Special Report: Lothal Jobless Rates Hit All-time Low|int=HoloNet News Special Report: Lothal Jobless Rates Hit All-time Low}} {{Hologram}}

 

*{{HoloNetNews|post/92683587916/holonet-news-special-report-lothal-jobless-rates|Special Report: Lothal Jobless Rates Hit All-time Low|int=HoloNet News Special Report: Lothal Jobless Rates Hit All-time Low}} {{Hologram}}

Line 445:
Line 449:
 

*{{SWRMCite|5|Return of the Slavers}}

 

*{{SWRMCite|5|Return of the Slavers}}

 

*{{SWRMCite|6|Eyes on the Prize}}

 

*{{SWRMCite|6|Eyes on the Prize}}

−

*''[[Kanan 6]]''

+

*[[Kanan 6''

−

*''[[Kanan 12]]''

+

*[[Kanan 12''

 

*{{Rebels|Path of the Jedi}}

 

*{{Rebels|Path of the Jedi}}

 

*''[[Kanan's Jedi Training]]''

 

*''[[Kanan's Jedi Training]]''

Line 486:
Line 490:
 

*[[Leia, Princess of Alderaan (audiobook)|''Leia, Princess of Alderaan'' audiobook]]

 

*[[Leia, Princess of Alderaan (audiobook)|''Leia, Princess of Alderaan'' audiobook]]

 

*''[[Leia Organa: Ordeal of the Princess]]''

 

*''[[Leia Organa: Ordeal of the Princess]]''

−

*''[[Rogue One - Cassian & K-2SO Special 1]]''

+

*[[Rogue One - Cassian & K-2SO Special 1''

 

*[[Untitled Cassian Andor television series]]

 

*[[Untitled Cassian Andor television series]]

 

*{{Rebels|The Future of the Force}}

 

*{{Rebels|The Future of the Force}}

Line 578:
Line 582:
 

*{{Galaxy of Adventures|Chewbacca - The Trusty Co-Pilot}}

 

*{{Galaxy of Adventures|Chewbacca - The Trusty Co-Pilot}}

 

*{{IDWAdventuresCite|Free Comic Book Day 2019|Droid Hunters}}

 

*{{IDWAdventuresCite|Free Comic Book Day 2019|Droid Hunters}}

−

*''[[Star Wars Adventures: Return to Vader's Castle 1]]''

+

*[[Star Wars Adventures: Return to Vader's Castle 1''

−

*''[[Star Wars Adventures: Return to Vader's Castle 2]]''

+

*[[Star Wars Adventures: Return to Vader's Castle 2''

−

*''[[Star Wars Adventures: Return to Vader's Castle 3]]''

+

*[[Star Wars Adventures: Return to Vader's Castle 3''

−

*''[[Star Wars Adventures: Return to Vader's Castle 4]]''

+

*[[Star Wars Adventures: Return to Vader's Castle 4''

−

*''[[Star Wars Adventures: Return to Vader's Castle 5]]''

+

*[[Star Wars Adventures: Return to Vader's Castle 5''

 

*''[[Star Wars: Secrets of the Empire]]''

 

*''[[Star Wars: Secrets of the Empire]]''

 

*''[[Vader Immortal: A Star Wars VR Series – Episode I]]''

 

*''[[Vader Immortal: A Star Wars VR Series – Episode I]]''

Line 600:
Line 604:
 

*''[[Star Wars: Rogue One: Secret Mission]]''

 

*''[[Star Wars: Rogue One: Secret Mission]]''

 

*''[[Star Wars: Rogue One Graphic Novel Adaptation]]''

 

*''[[Star Wars: Rogue One Graphic Novel Adaptation]]''

−

*''[[Rogue One Adaptation 1]]''

+

*[[Rogue One Adaptation 1''

−

*''[[Rogue One Adaptation 2]]''

+

*[[Rogue One Adaptation 2''

−

*''[[Rogue One Adaptation 3]]''

+

*[[Rogue One Adaptation 3''

−

*''[[Rogue One Adaptation 4]]''

+

*[[Rogue One Adaptation 4''

−

*''[[Rogue One Adaptation 5]]''

+

*[[Rogue One Adaptation 5''

−

*''[[Rogue One Adaptation 6]]''

+

*[[Rogue One Adaptation 6''

 

*''[[Bounty Hunt]]''

 

*''[[Bounty Hunt]]''

 

*{{Shortstory|story=Raymus|book=From a Certain Point of View}}

 

*{{Shortstory|story=Raymus|book=From a Certain Point of View}}

−

*''[[Age of Rebellion - Grand Moff Tarkin 1]]''

+

*[[Age of Rebellion - Grand Moff Tarkin 1''

 

*[[Star Wars: Episode IV A New Hope|''Star Wars'': Episode IV ''A New Hope'']] {{1st}}

 

*[[Star Wars: Episode IV A New Hope|''Star Wars'': Episode IV ''A New Hope'']] {{1st}}

 

*{{Galaxy of Adventures|R2-D2 - A Loyal Droid}}

 

*{{Galaxy of Adventures|R2-D2 - A Loyal Droid}}

Line 668:
Line 672:
 

*{{Shortstory|story=By Whatever Sun|book=From a Certain Point of View}}

 

*{{Shortstory|story=By Whatever Sun|book=From a Certain Point of View}}

 

*''[[Battlefront II: Inferno Squad]]''

 

*''[[Battlefront II: Inferno Squad]]''

−

*''[[Princess Leia 1]]''

+

*[[Princess Leia 1''

 

*''[[Han and the Rebel Rescue]]''

 

*''[[Han and the Rebel Rescue]]''

 

*[[Smuggler's Run (animated comic)|''Smuggler's Run'' animated comic]]

 

*[[Smuggler's Run (animated comic)|''Smuggler's Run'' animated comic]]

−

*''[[Smuggler's Run, Part 1]]''

+

*[[Smuggler's Run, Part 1''

−

*''[[Princess Leia 2]]''

+

*[[Princess Leia 2''

−

*''[[Princess Leia 3]]''

+

*[[Princess Leia 3''

−

*''[[Princess Leia 4]]''

+

*[[Princess Leia 4''

−

*''[[Princess Leia 5]]''

+

*[[Princess Leia 5''

−

*''[[Age of Rebellion - Han Solo 1]]''

+

*[[Age of Rebellion - Han Solo 1''

 

*{{IDWAdventuresCite|2|[[Tales from Wild Space: The Flat Mountain of Yavin]]}}

 

*{{IDWAdventuresCite|2|[[Tales from Wild Space: The Flat Mountain of Yavin]]}}

 

*{{InsiderCite|151|One Thousand Levels Down}}

 

*{{InsiderCite|151|One Thousand Levels Down}}

−

*[[Chewbacca (2015) 1|''Chewbacca 1'']]

+

*[[Chewbacca (2015) 1|''Chewbacca'']]

−

*[[Chewbacca (2015) 2|''Chewbacca 2'']]

+

*[[Chewbacca (2015) 2|''Chewbacca'']]

−

*[[Chewbacca (2015) 3|''Chewbacca 3'']]

+

*[[Chewbacca (2015) 3|''Chewbacca'']]

−

*[[Chewbacca (2015) 4|''Chewbacca 4'']]

+

*[[Chewbacca (2015) 4|''Chewbacca'']]

−

*''[[Chewbacca 5]]''

+

*[[Chewbacca 5''

 

*''[[Chewie and the Courageous Kid]]''

 

*''[[Chewie and the Courageous Kid]]''

 

*{{IDWAdventuresCite|21|[[Swoop Racers]]}}

 

*{{IDWAdventuresCite|21|[[Swoop Racers]]}}

Line 695:
Line 699:
 

*''[[Luke and the Lost Jedi Temple]]''

 

*''[[Luke and the Lost Jedi Temple]]''

 

*[[The Weapon of a Jedi (animated comic)|''The Weapon of a Jedi'']]

 

*[[The Weapon of a Jedi (animated comic)|''The Weapon of a Jedi'']]

−

*''[[The Weapon of a Jedi, Part 1]]''

+

*[[The Weapon of a Jedi, Part 1''

−

*''[[The Weapon of a Jedi, Part 2]]''

+

*[[The Weapon of a Jedi, Part 2''

−

*''[[The Weapon of a Jedi, Part 3]]''

+

*[[The Weapon of a Jedi, Part 3''

−

*''[[The Weapon of a Jedi, Part 4]]''

+

*[[The Weapon of a Jedi, Part 4''

 

*''[[Choose Your Destiny: A Luke & Leia Adventure]]''

 

*''[[Choose Your Destiny: A Luke & Leia Adventure]]''

−

*''[[Star Wars Annual 4]]''

+

*[[Star Wars Annual 4''

−

*''[[Han Solo 1]]''

+

*[[Han Solo 1''

−

*''[[Han Solo 2]]''

+

*[[Han Solo 2''

−

*''[[Han Solo 3]]''

+

*[[Han Solo 3''

−

*''[[Han Solo 4]]''

+

*[[Han Solo 4''

−

*''[[Han Solo 5]]''

+

*[[Han Solo 5''

−

*[[Star Wars (2015) 1|''Star Wars 1'']]

+

*[[Star Wars (2015) 1|''Star Wars'']]

−

*[[Star Wars (2015) 2|''Star Wars 2'']]

+

*[[Star Wars (2015) 2|''Star Wars'']]

 

*[[Star Wars (2015) 3|''Star Wars'' 3]]

 

*[[Star Wars (2015) 3|''Star Wars'' 3]]

−

*[[Darth Vader (2015) 1|''Darth Vader 1'']]

+

*[[Darth Vader (2015) 1|''Darth Vader'']]

 

*{{Shortstory|story=Coda|book=Darth Vader 25}}

 

*{{Shortstory|story=Coda|book=Darth Vader 25}}

 

*[[Star Wars (2015) 4|''Star Wars'' 4]]

 

*[[Star Wars (2015) 4|''Star Wars'' 4]]

−

*''[[Darth Vader 2]]''

+

*[[Darth Vader 2''

−

*''[[Darth Vader 3]]''

+

*[[Darth Vader 3''

−

*''[[Darth Vader 4]]''

+

*[[Darth Vader 4''

−

*[[Star Wars (2015) 5|''Star Wars 5'']]

+

*[[Star Wars (2015) 5|''Star Wars'']]

−

*''[[Darth Vader 5]]''

+

*[[Darth Vader 5''

−

*[[Star Wars (2015) 6|''Star Wars 6'']]

+

*[[Star Wars (2015) 6|''Star Wars'']]

−

*''[[Darth Vader 6]]''

+

*[[Darth Vader 6''

−

*[[Star Wars (2015) 8|''Star Wars 8'']]

+

*[[Star Wars (2015) 8|''Star Wars'']]

−

*[[Star Wars (2015) 9|''Star Wars 9'']]

+

*[[Star Wars (2015) 9|''Star Wars'']]

−

*[[Star Wars (2015) 10|''Star Wars 10'']]

+

*[[Star Wars (2015) 10|''Star Wars'']]

−

*[[Star Wars (2015) 11|''Star Wars 11'']]

+

*[[Star Wars (2015) 11|''Star Wars'']]

−

*[[Star Wars (2015) 12|''Star Wars 12'']]

+

*[[Star Wars (2015) 12|''Star Wars'']]

−

*''[[Darth Vader 7]]''

+

*[[Darth Vader 7''

−

*''[[Darth Vader 8]]''

+

*[[Darth Vader 8''

−

*''[[Darth Vader 9]]''

+

*[[Darth Vader 9''

−

*''[[Darth Vader 10]]''

+

*[[Darth Vader 10''

−

*''[[Darth Vader 11]]''

+

*[[Darth Vader 11''

−

*''[[Darth Vader 12]]''

+

*[[Darth Vader 12''

−

*''[[Star Wars Annual 1]]''

+

*[[Star Wars Annual 1''

−

*''[[Darth Vader Annual 1]]''

+

*[[Darth Vader Annual 1''

−

*''[[Vader Down 1]]''

+

*[[Vader Down 1''

−

*''[[Darth Vader 13]]''

+

*[[Darth Vader 13''

−

*''[[Star Wars 13]]''

+

*[[Star Wars 13''

−

*''[[Darth Vader 14]]''

+

*[[Darth Vader 14''

−

*''[[Star Wars 14]]''

+

*[[Star Wars 14''

−

*''[[Darth Vader 15]]''

+

*[[Darth Vader 15''

−

*[[Star Wars (2015) 16|''Star Wars 16'']]

+

*[[Star Wars (2015) 16|''Star Wars'']]

−

*[[Star Wars (2015) 17|''Star Wars 17'']]

+

*[[Star Wars (2015) 17|''Star Wars'']]

−

*[[Star Wars (2015) 18|''Star Wars 18'']]

+

*[[Star Wars (2015) 18|''Star Wars'']]

−

*[[Star Wars (2015) 19|''Star Wars 19'']]

+

*[[Star Wars (2015) 19|''Star Wars'']]

−

*''[[Darth Vader 16]]''

+

*[[Darth Vader 16''

−

*''[[Darth Vader 17]]''

+

*[[Darth Vader 17''

−

*''[[Darth Vader 18]]''

+

*[[Darth Vader 18''

−

*''[[Darth Vader 19]]''

+

*[[Darth Vader 19''

−

*''[[Darth Vader 20]]''

+

*[[Darth Vader 20''

 

*{{Shortstory|story=The Misadventures of Triple-Zero and Beetee|book=Darth Vader 20}}

 

*{{Shortstory|story=The Misadventures of Triple-Zero and Beetee|book=Darth Vader 20}}

−

*''[[Darth Vader 21]]''

+

*[[Darth Vader 21''

−

*''[[Darth Vader 22]]''

+

*[[Darth Vader 22''

−

*''[[Darth Vader 23]]''

+

*[[Darth Vader 23''

−

*''[[Darth Vader 24]]''

+

*[[Darth Vader 24''

−

*''[[Darth Vader 25]]''

+

*[[Darth Vader 25''

 

*{{Shortstory|story=Droid Dilemma|book=Star Wars 25}}

 

*{{Shortstory|story=Droid Dilemma|book=Star Wars 25}}

−

*''[[Star Wars 21]]''

+

*[[Star Wars 21''

−

*''[[Star Wars 22]]''

+

*[[Star Wars 22''

−

*''[[Star Wars 23]]''

+

*[[Star Wars 23''

−

*''[[Star Wars 24]]''

+

*[[Star Wars 24''

−

*''[[Star Wars 25]]''

+

*[[Star Wars 25''

−

*''[[Star Wars Annual 2]]''

+

*[[Star Wars Annual 2''

 

*[[Doctor Aphra (2016) 1|''Doctor Aphra 1'']]

 

*[[Doctor Aphra (2016) 1|''Doctor Aphra 1'']]

−

*''[[Doctor Aphra 2]]''

+

*[[Doctor Aphra 2''

−

*''[[Doctor Aphra 3]]''

+

*[[Doctor Aphra 3''

−

*''[[Doctor Aphra 4]]''

+

*[[Doctor Aphra 4''

−

*''[[Doctor Aphra 5]]''

+

*[[Doctor Aphra 5''

−

*''[[Doctor Aphra 6]]''

+

*[[Doctor Aphra 6''

−

*''[[The Screaming Citadel 1]]''

+

*[[The Screaming Citadel 1''

−

*''[[Star Wars 31]]''

+

*[[Star Wars 31''

−

*''[[Doctor Aphra 7]]''

+

*[[Doctor Aphra 7''

−

*''[[Star Wars 32]]''

+

*[[Star Wars 32''

−

*''[[Doctor Aphra 8]]''

+

*[[Doctor Aphra 8''

−

*''[[Star Wars 33]]''

+

*[[Star Wars 33''

−

*''[[Doctor Aphra Annual 1]]''

+

*[[Doctor Aphra Annual 1''

−

*''[[Doctor Aphra 9]]''

+

*[[Doctor Aphra 9''

−

*''[[Doctor Aphra 10]]''

+

*[[Doctor Aphra 10''

−

*''[[Doctor Aphra 11]]''

+

*[[Doctor Aphra 11''

−

*''[[Doctor Aphra 12]]''

+

*[[Doctor Aphra 12''

−

*''[[Doctor Aphra 13]]''

+

*[[Doctor Aphra 13''

−

*''[[Star Wars 34]]''

+

*[[Star Wars 34''

−

*''[[Star Wars 35]]''

+

*[[Star Wars 35''

−

*''[[Star Wars 36]]''

+

*[[Star Wars 36''

−

*''[[Star Wars Annual 3]]''

+

*[[Star Wars Annual 3''

−

*''[[Star Wars 37]]''

+

*[[Star Wars 37''

−

*''[[Doctor Aphra Annual 2]]''

+

*[[Doctor Aphra Annual 2''

−

*''[[Doctor Aphra 14]]''

+

*[[Doctor Aphra 14''

−

*''[[Doctor Aphra 15]]''

+

*[[Doctor Aphra 15''

−

*''[[Doctor Aphra 16]]''

+

*[[Doctor Aphra 16''

−

*''[[Doctor Aphra 17]]''

+

*[[Doctor Aphra 17''

−

*''[[Doctor Aphra 18]]''

+

*[[Doctor Aphra 18''

−

*''[[Doctor Aphra 19]]''

+

*[[Doctor Aphra 19''

−

*''[[Doctor Aphra 20]]''

+

*[[Doctor Aphra 20''

−

*''[[Doctor Aphra 21]]''

+

*[[Doctor Aphra 21''

−

*''[[Doctor Aphra 22]]''

+

*[[Doctor Aphra 22''

−

*''[[Doctor Aphra 23]]''

+

*[[Doctor Aphra 23''

−

*''[[Doctor Aphra 24]]''

+

*[[Doctor Aphra 24''

−

*''[[Doctor Aphra 25]]''

+

*[[Doctor Aphra 25''

−

*''[[Doctor Aphra 26]]''

+

*[[Doctor Aphra 26''

−

*''[[Doctor Aphra 27]]''

+

*[[Doctor Aphra 27''

−

*''[[Doctor Aphra 28]]''

+

*[[Doctor Aphra 28''

−

*''[[Doctor Aphra 29]]''

+

*[[Doctor Aphra 29''

−

*''[[Doctor Aphra 30]]''

+

*[[Doctor Aphra 30''

 

*{{Shortstory|story=Shu-Torun Lives|book=Star Wars 50}}

 

*{{Shortstory|story=Shu-Torun Lives|book=Star Wars 50}}

−

*''[[Star Wars 38]]''

+

*[[Star Wars 38''

−

*''[[Star Wars 39]]''

+

*[[Star Wars 39''

−

*''[[Star Wars 40]]''

+

*[[Star Wars 40''

−

*''[[Star Wars 41]]''

+

*[[Star Wars 41''

−

*''[[Star Wars 42]]''

+

*[[Star Wars 42''

−

*''[[Star Wars 43]]''

+

*[[Star Wars 43''

−

*''[[Star Wars: The Last Jedi – The Storms of Crait 1]]''

+

*[[Star Wars: The Last Jedi – The Storms of Crait 1''

−

*''[[Star Wars 44]]''

+

*[[Star Wars 44''

−

*''[[Star Wars 45]]''

+

*[[Star Wars 45''

−

*''[[Star Wars 46]]''

+

*[[Star Wars 46''

−

*''[[Star Wars 47]]''

+

*[[Star Wars 47''

−

*''[[Star Wars 48]]''

+

*[[Star Wars 48''

−

*''[[Star Wars 49]]''

+

*[[Star Wars 49''

−

*''[[Star Wars 50]]''

+

*[[Star Wars 50''

−

*''[[Star Wars 51]]''

+

*[[Star Wars 51''

−

*''[[Star Wars 52]]''

+

*[[Star Wars 52''

−

*''[[Star Wars 53]]''

+

*[[Star Wars 53''

−

*''[[Star Wars 54]]''

+

*[[Star Wars 54''

−

*''[[Star Wars 55]]''

+

*[[Star Wars 55''

−

*''[[Star Wars 56]]''

+

*[[Star Wars 56''

−

*''[[Star Wars 57]]''

+

*[[Star Wars 57''

−

*''[[Star Wars 58]]''

+

*[[Star Wars 58''

−

*''[[Star Wars 59]]''

+

*[[Star Wars 59''

−

*''[[Star Wars 60]]''

+

*[[Star Wars 60''

−

*''[[Star Wars 61]]''

+

*[[Star Wars 61''

−

*''[[Star Wars 62]]''

+

*[[Star Wars 62''

−

*''[[Star Wars 63]]''

+

*[[Star Wars 63''

−

*''[[Star Wars 64]]''

+

*[[Star Wars 64''

−

*''[[Star Wars 65]]''

+

*[[Star Wars 65''

−

*''[[Star Wars 66]]''

+

*[[Star Wars 66''

−

*''[[Star Wars 67]]''

+

*[[Star Wars 67''

−

*''[[Doctor Aphra 31]]''

+

*[[Doctor Aphra 31''

−

*''[[Doctor Aphra 32]]''

+

*[[Doctor Aphra 32''

−

*''[[Doctor Aphra 33]]''

+

*[[Doctor Aphra 33''

−

*''[[Doctor Aphra 34]]''

+

*[[Doctor Aphra 34''

−

*''[[Doctor Aphra 35]]''

+

*[[Doctor Aphra 35''

−

*''[[Doctor Aphra 36]]''

+

*[[Doctor Aphra 36''

−

*''[[Doctor Aphra 37]]''

+

*[[Doctor Aphra 37''

−

*''[[Doctor Aphra 38]]''

+

*[[Doctor Aphra 38''

−

*''[[Doctor Aphra 39]]''

+

*[[Doctor Aphra 39''

 

*[[Doctor Aphra 40|''Doctor Aphra'' 40]]

 

*[[Doctor Aphra 40|''Doctor Aphra'' 40]]

−

*''[[Star Wars 68]]''

+

*[[Star Wars 68''

−

*''[[Star Wars 69]]''

+

*[[Star Wars 69''

−

*''[[Star Wars 70]]''

+

*[[Star Wars 70''

−

*''[[Star Wars 71]]''

+

*[[Star Wars 71''

−

*''[[Star Wars 72]]''

+

*[[Star Wars 72''

−

*''[[Star Wars 73]]''

+

*[[Star Wars 73''

−

*''[[Star Wars 74]]''

+

*[[Star Wars 74''

−

*''[[Star Wars 75]]''

+

*[[Star Wars 75''

−

*''[[Target Vader 1]]''

+

*[[Target Vader 1''

−

*''[[Target Vader 2]]''

+

*[[Target Vader 2''

−

*''[[Target Vader 3]]''

+

*[[Target Vader 3''

−

*''[[Target Vader 4]]''

+

*[[Target Vader 4''

−

*''[[Target Vader 5]]''

+

*[[Target Vader 5''

−

*''[[Target Vader 6]]''

+

*[[Target Vader 6''

−

*''[[Age of Rebellion - Boba Fett 1]]''

+

*[[Age of Rebellion - Boba Fett 1''

−

*''[[Age of Rebellion - Jabba the Hutt 1]]''

+

*[[Age of Rebellion - Jabba the Hutt 1''

 

*''[[Star Wars: Commander]]''

 

*''[[Star Wars: Commander]]''

−

*''[[Lando 1]]''

+

*[[Lando 1''

−

*''[[Lando 2]]''

+

*[[Lando 2''

−

*''[[Lando 3]]''

+

*[[Lando 3''

−

*''[[Lando 4]]''

+

*[[Lando 4''

−

*''[[Lando 5]]''

+

*[[Lando 5''

−

*''[[Age of Rebellion - Lando Calrissian 1]]''

+

*[[Age of Rebellion - Lando Calrissian 1''

 

*''[[Choose Your Destiny: A Smuggler Mission]]''

 

*''[[Choose Your Destiny: A Smuggler Mission]]''

 

*{{InsiderCite|156|Last Call at the Zero Angle}}

 

*{{InsiderCite|156|Last Call at the Zero Angle}}

−

*''[[Vader - Dark Visions 1]]''

+

*[[Vader - Dark Visions 1''

−

*''[[Vader - Dark Visions 2]]''

+

*[[Vader - Dark Visions 2''

−

*''[[Vader - Dark Visions 3]]''

+

*[[Vader - Dark Visions 3''

−

*''[[Vader - Dark Visions 4]]''

+

*[[Vader - Dark Visions 4''

−

*''[[Vader - Dark Visions 5]]''

+

*[[Vader - Dark Visions 5''

 

*{{IDWAdventuresCite|22|[[A Matter Of Perception]]}}

 

*{{IDWAdventuresCite|22|[[A Matter Of Perception]]}}

 

*{{InsiderCite|161|Inbrief}}

 

*{{InsiderCite|161|Inbrief}}

Line 904:
Line 908:
 

*[[Star Wars (2020) 3|''Star Wars'' 3]]

 

*[[Star Wars (2020) 3|''Star Wars'' 3]]

 

*[[Star Wars (2020) 4|''Star Wars'' 4]]

 

*[[Star Wars (2020) 4|''Star Wars'' 4]]

 
+

*[[Star Wars (2020) 5|''Star Wars'' 5]]

 
+

*[[Star Wars (2020) 6|''Star Wars'' 6]]

 

*[[Darth Vader (2020) 1|''Darth Vader'' 1]]

 

*[[Darth Vader (2020) 1|''Darth Vader'' 1]]

 

*[[Darth Vader (2020) 2|''Darth Vader'' 2]]

 

*[[Darth Vader (2020) 2|''Darth Vader'' 2]]

 
+

*[[Darth Vader (2020) 3|''Darth Vader'' 3]]

 
+

*[[Darth Vader (2020) 4|''Darth Vader'' 4]]

 

*[[Doctor Aphra (2020) 1|''Doctor Aphra'' 1]]

 

*[[Doctor Aphra (2020) 1|''Doctor Aphra'' 1]]

 
+

*[[Doctor Aphra (2020) 2|''Doctor Aphra'' 2]]

 
+

*[[Doctor Aphra (2020) 3|''Doctor Aphra'' 3]]

 

*[[Bounty Hunters 1|''Bounty Hunters'' 1]]

 

*[[Bounty Hunters 1|''Bounty Hunters'' 1]]

 

*[[Bounty Hunters 2|''Bounty Hunters'' 2]]

 

*[[Bounty Hunters 2|''Bounty Hunters'' 2]]

 
+

*[[Bounty Hunters 3|''Bounty Hunters'' 3]]

 
+

*[[Bounty Hunters 4|''Bounty Hunters'' 4]]

 

*{{Galaxy of Adventures|Darth Vader - Might of the Empire}}

 

*{{Galaxy of Adventures|Darth Vader - Might of the Empire}}

−

*''[[TIE Fighter 1]]''

+

*[[TIE Fighter 1''

−

*''[[TIE Fighter 2]]''

+

*[[TIE Fighter 2''

−

*''[[TIE Fighter 3]]''

+

*[[TIE Fighter 3''

−

*''[[TIE Fighter 4]]''

+

*[[TIE Fighter 4''

−

*''[[Age of Rebellion - Luke Skywalker 1]]''

+

*[[Age of Rebellion - Luke Skywalker 1''

 

*''[[Leia and the Great Island Escape]]''

 

*''[[Leia and the Great Island Escape]]''

 

*{{IDWAdventuresCite|7|[[Tales from Wild Space: Look Before You Leap]]}}

 

*{{IDWAdventuresCite|7|[[Tales from Wild Space: Look Before You Leap]]}}

 

*{{IDWAdventuresCite|13|[[Tales from Wild Space: The Blue Brothers]]}}

 

*{{IDWAdventuresCite|13|[[Tales from Wild Space: The Blue Brothers]]}}

 

*{{FOD|Bounty Hunted}}

 

*{{FOD|Bounty Hunted}}

−

*''[[Age of Rebellion - Princess Leia 1]]''

+

*[[Age of Rebellion - Princess Leia 1''

 

*[[Star Wars: Episode VI Return of the Jedi|''Star Wars'': Episode VI ''Return of the Jedi'']]

 

*[[Star Wars: Episode VI Return of the Jedi|''Star Wars'': Episode VI ''Return of the Jedi'']]

 

*{{Galaxy of Adventures|Leia and Han - The Han Rescue}}

 

*{{Galaxy of Adventures|Leia and Han - The Han Rescue}}

Line 935:
Line 947:
 

*{{InsiderCite|issue1=149|issue2=150|Blade Squadron (short story)|Blade Squadron}}

 

*{{InsiderCite|issue1=149|issue2=150|Blade Squadron (short story)|Blade Squadron}}

 

*{{Shortstory|story=The Levers of Power|book=The Rise of the Empire}}

 

*{{Shortstory|story=The Levers of Power|book=The Rise of the Empire}}

−

*''[[Shattered Empire 1]]''

+

*[[Shattered Empire 1''

−

*''[[TIE Fighter 5]]''

+

*[[TIE Fighter 5''

 

*{{IDWAdventuresCite|23|[[A Race for Answers]]}}

 

*{{IDWAdventuresCite|23|[[A Race for Answers]]}}

−

*''[[Shattered Empire 2]]''

+

*[[Shattered Empire 2''

−

*''[[Shattered Empire 3]]''

+

*[[Shattered Empire 3''

 

*{{InsiderCite|169|Turning Point (Jason Hough)|Turning Point}}

 

*{{InsiderCite|169|Turning Point (Jason Hough)|Turning Point}}

 

*{{InsiderCite|160|Blade Squadron: Zero Hour}}

 

*{{InsiderCite|160|Blade Squadron: Zero Hour}}

Line 946:
Line 958:
 

*''[[Aftermath]]''

 

*''[[Aftermath]]''

 

*''[[Star Wars: Uprising]]''

 

*''[[Star Wars: Uprising]]''

−

*''[[Shattered Empire 4]]''

+

*[[Shattered Empire 4''

 

*''[[Aftermath: Life Debt]]''

 

*''[[Aftermath: Life Debt]]''

 

*{{InsiderCite|168|Blade Squadron: Kuat}}

 

*{{InsiderCite|168|Blade Squadron: Kuat}}

Line 953:
Line 965:
 

*{{InsiderCite|172|Blade Squadron: Jakku}}

 

*{{InsiderCite|172|Blade Squadron: Jakku}}

 

*''[[Last Shot]]''

 

*''[[Last Shot]]''

−

*{{The Mandalorian|1}}

+

*{{The Mandalorian}}

 
+

*{{The_Mandalorian|Chapter 2: The Child}}

−

*{{The Mandalorian|2}}

 
 
+

*{{The_Mandalorian|Chapter 3: The Sin}}

−

*{{The Mandalorian|3}}

 
 
+

*{{The_Mandalorian|Chapter 4: Sanctuary}}

−

*{{The Mandalorian|4}}

 
 
+

*{{The_Mandalorian|Chapter 5: The Gunslinger}}

−

*{{The Mandalorian|5}}

 
 
+

*{{The_Mandalorian|Chapter 6: The Prisoner}}

−

*{{The Mandalorian|6}}

 
 
+

*{{The_Mandalorian|Chapter 7: The Reckoning}}

−

*{{The Mandalorian|7}}

 
 
+

*{{The_Mandalorian|Chapter 8: Redemption}}

−

*{{The Mandalorian|8}}

 
 
⚫
 

*{{IDWAdventuresCite|4|[[Tales from Wild Space: Mattis Makes a Stand]]}}

 

*{{IDWAdventuresCite|4|[[Tales from Wild Space: Mattis Makes a Stand]]}}

 

*{{InsiderCite|165|Scorched}}

 

*{{InsiderCite|165|Scorched}}

 

*[[Bloodline (novel)|''Bloodline'']]

 

*[[Bloodline (novel)|''Bloodline'']]

−

*''[[The Rise of Kylo Ren 1]]''

+

*[[The Rise of Kylo Ren 1''

−

*''[[The Rise of Kylo Ren 2]]''

+

*[[The Rise of Kylo Ren 2''

−

*''[[The Rise of Kylo Ren 3]]''

+

*[[The Rise of Kylo Ren 3''

−

*''[[The Rise of Kylo Ren 4]]''

+

*[[The Rise of Kylo Ren 4''

−

*''[[Age of Resistance - Supreme Leader Snoke 1]]''

+

*[[Age of Resistance - Supreme Leader Snoke 1''

 

*''[[The Legends of Luke Skywalker]]''

 

*''[[The Legends of Luke Skywalker]]''

 

*{{Shortstory|story=The Starship Graveyard|book=The Legends of Luke Skywalker: The Manga}}

 

*{{Shortstory|story=The Starship Graveyard|book=The Legends of Luke Skywalker: The Manga}}

Line 975:
Line 988:
 

*{{Shortstory|story=Big Inside|book=The Legends of Luke Skywalker: The Manga}}

 

*{{Shortstory|story=Big Inside|book=The Legends of Luke Skywalker: The Manga}}

 

*[[Phasma (novel)|''Phasma'']]

 

*[[Phasma (novel)|''Phasma'']]

−

*''[[Age of Resistance - Finn 1]]''

+

*[[Age of Resistance - Finn 1''

−

*''[[Age of Resistance - Captain Phasma 1]]''

+

*[[Age of Resistance - Captain Phasma 1''

 

*"[[The Perfect Weapon]]"

 

*"[[The Perfect Weapon]]"

 

*{{Shortstory|story=All Creatures Great and Small|book=Tales from a Galaxy Far, Far Away: Aliens: Volume I}}

 

*{{Shortstory|story=All Creatures Great and Small|book=Tales from a Galaxy Far, Far Away: Aliens: Volume I}}

Line 983:
Line 996:
 

*{{Shortstory|story=The Crimson Corsair and the Lost Treasure of Count Dooku|book=Tales from a Galaxy Far, Far Away: Aliens: Volume I}}

 

*{{Shortstory|story=The Crimson Corsair and the Lost Treasure of Count Dooku|book=Tales from a Galaxy Far, Far Away: Aliens: Volume I}}

 

*{{InsiderCite|162|Bait}}

 

*{{InsiderCite|162|Bait}}

−

*''[[Age of Resistance - Poe Dameron 1]]''

+

*[[Age of Resistance - Poe Dameron 1''

 

*{{IDWAdventuresCite|24|[[Kidnapped!]]}}

 

*{{IDWAdventuresCite|24|[[Kidnapped!]]}}

 

*''[[Before the Awakening]]''

 

*''[[Before the Awakening]]''

Line 989:
Line 1,002:
 

*{{IDWAdventuresCite|1|[[Better the Devil You Know, Part I]]}}

 

*{{IDWAdventuresCite|1|[[Better the Devil You Know, Part I]]}}

 

*{{IDWAdventuresCite|2|[[Better the Devil You Know, Part II]]}}

 

*{{IDWAdventuresCite|2|[[Better the Devil You Know, Part II]]}}

−

*''[[Age of Resistance - Rose Tico 1]]''

+

*[[Age of Resistance - Rose Tico 1''

 

*''[[Star Wars: Forces of Destiny—Rose & Paige]]''

 

*''[[Star Wars: Forces of Destiny—Rose & Paige]]''

 

*{{IDWAdventuresCite|15|[[An Unlikely Friendship]]}}

 

*{{IDWAdventuresCite|15|[[An Unlikely Friendship]]}}

−

*''[[Star Wars Special: C-3PO 1]]''

+

*[[Star Wars Special: C-3PO 1''

 

*{{Shortstory|story=SaBBotage|book=Poe Dameron 1}}

 

*{{Shortstory|story=SaBBotage|book=Poe Dameron 1}}

−

*''[[Poe Dameron 1]]''

+

*[[Poe Dameron 1''

−

*''[[Poe Dameron 2]]''

+

*[[Poe Dameron 2''

−

*''[[Poe Dameron 3]]''

+

*[[Poe Dameron 3''

−

*''[[Poe Dameron 4]]''

+

*[[Poe Dameron 4''

−

*''[[Poe Dameron 5]]''

+

*[[Poe Dameron 5''

−

*''[[Poe Dameron 6]]''

+

*[[Poe Dameron 6''

−

*''[[Poe Dameron 7]]''

+

*[[Poe Dameron 7''

−

*''[[Poe Dameron 8]]''

+

*[[Poe Dameron 8''

−

*''[[Poe Dameron 9]]''

+

*[[Poe Dameron 9''

−

*''[[Poe Dameron 10]]''

+

*[[Poe Dameron 10''

−

*''[[Poe Dameron 11]]''

+

*[[Poe Dameron 11''

−

*''[[Poe Dameron 12]]''

+

*[[Poe Dameron 12''

−

*''[[Poe Dameron 13]]''

+

*[[Poe Dameron 13''

−

*''[[Poe Dameron 14]]''

+

*[[Poe Dameron 14''

−

*''[[Poe Dameron 15]]''

+

*[[Poe Dameron 15''

−

*''[[Poe Dameron 16]]''

+

*[[Poe Dameron 16''

−

*''[[Poe Dameron 17]]''

+

*[[Poe Dameron 17''

−

*''[[Poe Dameron 18]]''

+

*[[Poe Dameron 18''

−

*''[[Poe Dameron 19]]''

+

*[[Poe Dameron 19''

−

*''[[Poe Dameron Annual 1]]''

+

*[[Poe Dameron Annual 1''

−

*''[[Poe Dameron Annual 2]]''

+

*[[Poe Dameron Annual 2''

 

*{{Shortstory|story=Robot Resistance|book=Age of Resistance Special 1}}

 

*{{Shortstory|story=Robot Resistance|book=Age of Resistance Special 1}}

−

*''[[Poe Dameron 20]]''

+

*[[Poe Dameron 20''

−

*''[[Poe Dameron 21]]''

+

*[[Poe Dameron 21''

−

*''[[Poe Dameron 22]]''

+

*[[Poe Dameron 22''

−

*''[[Poe Dameron 23]]''

+

*[[Poe Dameron 23''

−

*''[[Poe Dameron 24]]''

+

*[[Poe Dameron 24''

−

*''[[Poe Dameron 25]]''

+

*[[Poe Dameron 25''

 

*{{Resistance|The Recruit}}

 

*{{Resistance|The Recruit}}

 

*{{Resistance|The Triple Dark}}

 

*{{Resistance|The Triple Dark}}

Line 1,054:
Line 1,067:
 

*{{IDWAdventuresCite|3|[[Pest Control]]}}

 

*{{IDWAdventuresCite|3|[[Pest Control]]}}

 

*{{Shortstory|story=Destroyer Down|book=Star Wars Adventures: Destroyer Down}}

 

*{{Shortstory|story=Destroyer Down|book=Star Wars Adventures: Destroyer Down}}

−

*''[[Age of Resistance - General Hux 1]]''

+

*[[Age of Resistance - General Hux 1''

−

*''[[Age of Resistance - Kylo Ren 1]]''

+

*[[Age of Resistance - Kylo Ren 1''

 

*''[[Moving Target: A Princess Leia Adventure]]''

 

*''[[Moving Target: A Princess Leia Adventure]]''

 

*{{Resistance|The Core Problem}}

 

*{{Resistance|The Core Problem}}

Line 1,076:
Line 1,089:
 

*''[[Chaos at the Castle]]''

 

*''[[Chaos at the Castle]]''

 

*''[[Star Wars: The Force Awakens Graphic Novel Adaptation]]''

 

*''[[Star Wars: The Force Awakens Graphic Novel Adaptation]]''

−

*''[[The Force Awakens Adaptation 1]]''

+

*[[The Force Awakens Adaptation 1''

−

*''[[The Force Awakens Adaptation 2]]''

+

*[[The Force Awakens Adaptation 2''

−

*''[[The Force Awakens Adaptation 3]]''

+

*[[The Force Awakens Adaptation 3''

−

*''[[The Force Awakens Adaptation 4]]''

+

*[[The Force Awakens Adaptation 4''

−

*''[[The Force Awakens Adaptation 5]]''

+

*[[The Force Awakens Adaptation 5''

−

*''[[The Force Awakens Adaptation 6]]''

+

*[[The Force Awakens Adaptation 6''

 

*''[[BB-8 on the Run]]''

 

*''[[BB-8 on the Run]]''

 

*''[[Star Wars: Forces of Destiny—Rey]]''

 

*''[[Star Wars: Forces of Destiny—Rey]]''

Line 1,094:
Line 1,107:
 

*''[[Galaxy's Edge: Black Spire]]''

 

*''[[Galaxy's Edge: Black Spire]]''

 

*''[[A Call for Heroes]]''

 

*''[[A Call for Heroes]]''

−

*''[[Captain Phasma 1]]''

+

*[[Captain Phasma 1''

−

*''[[Captain Phasma 2]]''

+

*[[Captain Phasma 2''

−

*''[[Captain Phasma 3]]''

+

*[[Captain Phasma 3''

−

*''[[Captain Phasma 4]]''

+

*[[Captain Phasma 4''

−

*''[[Age of Resistance - Rey 1]]''

+

*[[Age of Resistance - Rey 1''

 

*{{IDWAdventuresCite|Ashcan|}} {{Flash}}

 

*{{IDWAdventuresCite|Ashcan|}} {{Flash}}

 

*{{Shortstory|story=Rules of the Game|book=Canto Bight (novella collection)|bformatted=''Canto Bight''}}

 

*{{Shortstory|story=Rules of the Game|book=Canto Bight (novella collection)|bformatted=''Canto Bight''}}

Line 1,113:
Line 1,126:
 

*''[[The Last Jedi: Rey's Journey]]''

 

*''[[The Last Jedi: Rey's Journey]]''

 

*''[[The Last Jedi: Rose and Finn's Secret Mission]]''

 

*''[[The Last Jedi: Rose and Finn's Secret Mission]]''

−

*''[[The Last Jedi Adaptation 1]]''

+

*[[The Last Jedi Adaptation 1''

−

*''[[The Last Jedi Adaptation 2]]''

+

*[[The Last Jedi Adaptation 2''

−

*''[[The Last Jedi Adaptation 3]]''

+

*[[The Last Jedi Adaptation 3''

−

*''[[The Last Jedi Adaptation 4]]''

+

*[[The Last Jedi Adaptation 4''

−

*''[[The Last Jedi Adaptation 5]]''

+

*[[The Last Jedi Adaptation 5''

−

*''[[The Last Jedi Adaptation 6]]''

+

*[[The Last Jedi Adaptation 6''

 

*''[[Chewie and the Porgs]]''

 

*''[[Chewie and the Porgs]]''

 

*{{IDWAdventuresCite|26|[[Life Lessons]]}}

 

*{{IDWAdventuresCite|26|[[Life Lessons]]}}

Line 1,134:
Line 1,147:
 

*{{Resistance|The Voxx Vortex 5000}}

 

*{{Resistance|The Voxx Vortex 5000}}

 

*{{Resistance|Kaz's Curse}}

 

*{{Resistance|Kaz's Curse}}

 
⚫
 
⚫
 
⚫
 
⚫
 
⚫
 
+

*[[Poe Dameron 31|''Poe Dameron'' 31]]

 
⚫
 

*{{Resistance|Station to Station}}

 

*{{Resistance|Station to Station}}

 

*{{Resistance|The Missing Agent}}

 

*{{Resistance|The Missing Agent}}

Line 1,142:
Line 1,162:
 

*{{Resistance|Rebuilding the Resistance}}

 

*{{Resistance|Rebuilding the Resistance}}

 

*{{Resistance|The Escape}}

 

*{{Resistance|The Escape}}

 
⚫
⚫
 
 
⚫
⚫
 
 
⚫
⚫
 
 
⚫
⚫
 
⚫
 
⚫
 
⚫
 
⚫
 
⚫
 
⚫
 
⚫
 
 

*{{IDWAdventuresCite|28|[[Secret Agent Droids, Part 2]]}}

 

*{{IDWAdventuresCite|28|[[Secret Agent Droids, Part 2]]}}

 

*{{IDWAdventuresCite|29|[[Secret Agent Droids, Part 3]]}}

 

*{{IDWAdventuresCite|29|[[Secret Agent Droids, Part 3]]}}

Line 1,159:
Line 1,172:
 

*{{IDWAdventuresCite|28|[[Ghosts of Kashyyyk, Part 2]]}}

 

*{{IDWAdventuresCite|28|[[Ghosts of Kashyyyk, Part 2]]}}

 

*{{IDWAdventuresCite|29|[[Ghosts of Kashyyyk, Part 3]]}}

 

*{{IDWAdventuresCite|29|[[Ghosts of Kashyyyk, Part 3]]}}

 
+

*{{IDWAdventuresCite|30|[[Loyalty Test]]}}

 

*{{IDWAdventuresCite|16|[[Flight of the Falcon, Part 3: Home Again]]}}

 

*{{IDWAdventuresCite|16|[[Flight of the Falcon, Part 3: Home Again]]}}

 

*{{IDWAdventuresCite|17|[[Flight of the Falcon, Part 4: Lady and the Tramp]]}}

 

*{{IDWAdventuresCite|17|[[Flight of the Falcon, Part 4: Lady and the Tramp]]}}

Line 1,164:
Line 1,178:
 

*''[[Pirate's Price]]''

 

*''[[Pirate's Price]]''

 

*''[[Star Wars Adventures: Flight of the Falcon]]''

 

*''[[Star Wars Adventures: Flight of the Falcon]]''

−

*''[[Galaxy's Edge 1]]''

+

*[[Galaxy's Edge 1''

−

*''[[Galaxy's Edge 2]]''

+

*[[Galaxy's Edge 2''

−

*''[[Galaxy's Edge 3]]''

+

*[[Galaxy's Edge 3''

−

*''[[Galaxy's Edge 4]]''

+

*[[Galaxy's Edge 4''

−

*''[[Galaxy's Edge 5]]''

+

*[[Galaxy's Edge 5''

 

*''[[A Crash of Fate]]''

 

*''[[A Crash of Fate]]''

 

*{{Shortstory|story=The Knight & the Dragon|book=Myths & Fables}} {{Flash}}

 

*{{Shortstory|story=The Knight & the Dragon|book=Myths & Fables}} {{Flash}}

Line 1,187:
Line 1,201:
 

*{{IDWAdventuresCite|24|[[Tales from Wild Space: Win/Lose]]}}

 

*{{IDWAdventuresCite|24|[[Tales from Wild Space: Win/Lose]]}}

 

*{{IDWAdventuresCite|26|[[Tales from Wild Space: Alone in the Dark]]}}

 

*{{IDWAdventuresCite|26|[[Tales from Wild Space: Alone in the Dark]]}}

 
+

*{{IDWAdventuresCite|30|[[The Lost Stories, Part 1]]}}

 

*[[Star Wars: Episode IX The Rise of Skywalker|''Star Wars'': Episode IX ''The Rise of Skywalker'']]

 

*[[Star Wars: Episode IX The Rise of Skywalker|''Star Wars'': Episode IX ''The Rise of Skywalker'']]

 

*''[[Star Wars: The Rise of Skywalker: Expanded Edition]]''

 

*''[[Star Wars: The Rise of Skywalker: Expanded Edition]]''

 

*''[[Star Wars: The Rise of Skywalker: A Junior Novel]]''

 

*''[[Star Wars: The Rise of Skywalker: A Junior Novel]]''

−

*''[[Star Wars: The Rise of Skywalker Graphic Novel Adaptation]]''}}

+

*''[[Star Wars: The Rise of Skywalker Graphic Novel Adaptation]]''

 
+

*[[The Rise of Skywalker Adaptation 1|''The Rise of Skywalker Adaptation'' 1]]}}

 
 
 

===Non-canon appearances===

 

===Non-canon appearances===

Line 1,239:
Line 1,255:
 

*''[[Entertainment Weekly's Ultimate Guide to Rogue One]]''

 

*''[[Entertainment Weekly's Ultimate Guide to Rogue One]]''

 

*''[[Star Wars: Rogue One: The Ultimate Visual Guide]]''

 

*''[[Star Wars: Rogue One: The Ultimate Visual Guide]]''

 
+

*<!-- 12/16/16 -->''[[Art of Coloring: Rogue One: A Star Wars Story]]'' {{Po}}

 

*''[[Star Wars: Rogue One: Rebel Dossier]]''

 

*''[[Star Wars: Rogue One: Rebel Dossier]]''

 

*''[[Darth Vader: Sith Lord]]''

 

*''[[Darth Vader: Sith Lord]]''

Line 1,273:
Line 1,290:
 

*<!--2019/11/01-->''[[Rebel Starfighters Owners' Workshop Manual]]''

 

*<!--2019/11/01-->''[[Rebel Starfighters Owners' Workshop Manual]]''

 

*''[[Star Wars: The Secrets of the Jedi]]''

 

*''[[Star Wars: The Secrets of the Jedi]]''

−

*{{SWKidsYoutube|CZp8Civk2co|Every Language in Star Wars <nowiki>|</nowiki> Star Wars By the Numbers}}

+

*{{SWKidsYoutube|CZp8Civk2co|Every Language in Star Wars <nowiki>|</nowiki> Star Wars By the Numbers}}

 

*''[[Star Wars: The Rise of Skywalker: The Galactic Guide]]''

 

*''[[Star Wars: The Rise of Skywalker: The Galactic Guide]]''

 

*''[[Star Wars: The Rise of Skywalker: The Visual Dictionary]]''

 

*''[[Star Wars: The Rise of Skywalker: The Visual Dictionary]]''

Line 1,295:
Line 1,312:
 

*{{Databank|bespin|Bespin|archivedate=20170606133655}}

 

*{{Databank|bespin|Bespin|archivedate=20170606133655}}

 

*{{Databank|resistance-pilots|Resistance Pilots|archivedate=20180518225058}}

 

*{{Databank|resistance-pilots|Resistance Pilots|archivedate=20180518225058}}

 
+

*{{Databank|saponza|Saponza|archivedate=20200223174333}}

 

*{{Databank|wicket-w-warrick|Wicket W. Warrick|archivedate=20140703043251}}}}

 

*{{Databank|wicket-w-warrick|Wicket W. Warrick|archivedate=20140703043251}}}}

 
 
---
Revision as of 18:30, 26 February 2020
"Some people would consider this a skill. Humans adapt. Got mountains? Build ridgecrawlers. Too much water? Build scub-subs. An ice planet? Use radiated igurts. People adapt."
"Yes, but should they? Either humans adapt, or they force the planet to adapt to them. This is not normal."
―Jyn Erso and Burta, about the omnipresence of humans across the galaxy
Humans were a species of sentient, bipedal mammals with bilateral symmetry possibly native to the planet Coruscant. They were commonly encountered throughout the galaxy, from the bountiful planet of Naboo to the desert world of Tatooine. They were known to engage in many different pursuits, from politics to bounty hunting. Species that bore structural resemblance to humans were referred to as "humanoids."
Biology and appearance
Humans were an intelligent mammalian species[2] that arguably originated on Coruscant.[33] They came in two sexes, male and female, and gave birth to live young.[19] They were bipedal beings with a bilateral symmetry, having a front and a back end, as well as an upside and downside. Their bodies were comprised of a torso with a head and four limbs attached to it. The upper limbs, or arms, ended in hands which had five fingers each; the lower ones, called legs, ended in feet. The human fingers had multiple points of articulation, and one of them was an opposable thumb that allowed for fine manipulation. Finally, they had one head perched atop their torso.[30] Many other species, including the Twi'leks[35] the Mon Calamari[36] or the Zygerrians, were referred to as "humanoids" because of their structural resemblance to humans.[37] Like many other species, humans needed to take in oxygen from their envionment to live.[31]
Compared with the Wookiees of Kashyyyk,[38] humans had little hair on their bodies.[39] Most of it was concentrated on the scalp as well as the lower portions of the faces of most males, though these regions were often shaved in various patterns, either for hygiene or self-expression (strips of concentrated hair, referred to as "brows," were also located above the eyes, and were used in non-verbal communication).[1] Human skin tones ranged from dark brown,[1] through lighter shades,[40] to pale.[19] The skin of most humans native to Lothal had a copper sheen.[41] Human eyes came in shades of blue,[23] green,[25] or brown.[24] Occasionally, humans with purple[27] or even red eyes could be encountered.[28] The average height of humans was a little below 1.85 meters.[18]
Because the throats of the two species were vastly different, most humans were incapable of speaking Shyriiwook, the language of the Wookiees.[41] However, some humans could imitate Shyriiwook well enough to at least be somewhat understood by Wookiees.[42] In comparison with most other species, the humans' sense of smell was quite underdeveloped.[43]
Like many other species, humans could be sensitive to the Force, a mysterious energy that connected all living things in the galaxy and gave special powers to those who learned how to manipulate it.[44]
Society and culture
"I gather you heard them coming?"
"There is a particular tread that all predators tend to use, a balance between silence and speed. Humans use a version of this tread."
―The human Eli Vanto and the Chiss Thrawn, after being attacked by a group of humans
Although humans could occupy a variety of occupations, from politicians[1] to bounty hunters[45] or moisture farmers,[30] they were reputedly unable to work as podracers.[1] Anakin Skywalker was reportedly the only human who could race pods.[1] There existed many planetary groups of humans with their own cultures, such as the Alderaanians[3] and the Pamarthens.[13]
History
Some believed that humans hailed from Coruscant, one of the galaxy's so-called Core Worlds, but that theory was never proven.[33]
Many humans changed the course of galactic history, from politicians[1] to slaves and even Jedi Knights.[19] Sheev Palpatine, the Sith Lord who founded the autocratic Galactic Empire that ruled over the galaxy for over two decades, was a human from Naboo.[46] Many members of the Alliance to Restore the Republic, including its founding members Mon Mothma,[22] Bail Organa,[47] and his adopted daughter Leia Organa were humans as well.[24] The Galactic Empire was known to favor humans at the expense of nonhuman—or "alien"—species.[44] The Empire's government and Imperial Military were dominated by humans.[48] During the Age of the Empire, some humans like the Lothalite athletic director Janus Fhurek harbored xenophobic attitudes towards aliens[49] and thought that their alien physiology gave them an unfair advantage over human grav-ball players.[50]
Humans in the galaxy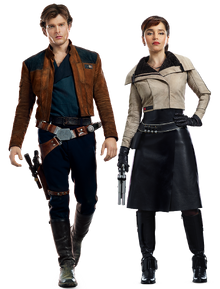 Like Duros, humans were one of the most successful colonial species, having migrated and adapted to dominate a variety of worlds. Their diverse cultures outside of Coruscant included Naboo, Ming Po, Alderaanian, Corellian,[33] Pamarthen,[13] Chalactan, and Chandrilan.[5] By the time of the Galactic Civil War, humans were the most populous of the galaxy's intelligent species, and could be encountered nearly anywhere communities of people gathered.[32]
Although humans tended to regard their great adaptiveness as a skill, aliens sometimes reproached them for spreading all across the galaxy, forcing themselves upon ecosystems they did not belong to. Burta, a Krish female, notably held that point of view, which she vehemently defended against Jyn Erso. They discussed how humans could adapt such as using radiated igurts on ice planets, use ridgecrawlers if there were mountains, and used scub-subs if there was water. Erso said that some people would consider humans adapting a skill. Burta, however, mentioned that either humans adapted or they would force the planet to adapt to them.[51]
Behind the scenes
Humans have appeared so far in the nine film main installments of the Star Wars saga. They have appeared too in several spin-offs and TV shows as main characters.
Respect to the humans' lifespan in the Star Wars universe, in Star Wars Legends originally established that humans lived longer than in the real-world largely as they didn't have to take into account the actors getting older. However, in the new canon, Holocron continuity database keeper Leland Chee has stated that humans lived the same real-world average lifespan,[52] which is estimated to be 71 years old.[53]
Appearances
Non-canon appearances
Sources
Notes and references
Community content is available under
CC-BY-SA
unless otherwise noted.