Spider-Man: No Way Home Trailer Dropped - The Loop
Play Sound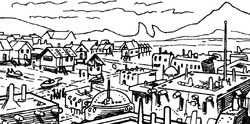 Hweg Shul was the capital of and primary city on the planet of Nam Chorios. Hweg Shul spanned only a few kilometers in length following subterranean water seams. In 13 ABY the population tallied just over eight thousand with most living and working underground along the water seams enabling them to grow their own food. The surface city was divided into two separate quarters in which the Oldtimers and the Newcomers lived respectively and shunning each other.
The Oldtimer quarter of Hweg Shul was a rather grubby neighborhood consisting of older plastopress houses with a finish of once white, since heavily eroded stucco overgrown with snigvine. The houses were placed directly on the ground, as the Oldtimers did not fear or were even much bothered by the recurring ground lightning generated by the native tsils on Nam Chorios.
The Newcomer quarter on the other hand consisted primarily of white boxy houses raised onto stilts, as the Newcomers and their electronic equipment in particular did not take so well to being caught in ground lightning.
Locations
[
]
At least one house, the palacial town house belonging to Seti Ashgad, in the Newcomer quarter was built at ground level due to the fact that the house predated the rest of the quarter by about thirty years. In most respects this house resembled the Oldtimer houses in exterior architectural style and building materials although considerably more well kept and surrounded by a luxurious and, considering the cold sun, harsh environment and stretched economy of the settlers in general, rather extravagant watered garden of imported growths and trees. Originally built as a residence for the Hutt Beldorion the Splendid, the interior was of typical Huttese design.
Appearances
[
]
Sources
[
]