Jurassic World: Dominion Dominates Fandom Wikis - The Loop
Play Sound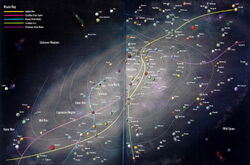 A hyperlane, also known as a hyperroute, hyperway, hyperspace route, hyperspace lane, spacelane, star-route, trade route, or jump route, was an area of space that had been deemed safe for hyperspace travel. The largest were known as super-hyperroutes.
Overview
[
]
Hyperlanes were routes through space in which a spaceship could safely travel without colliding with a body in space, or some other phenomenon such as a black hole.[2] There were five major routes in the galaxy, with hundreds of secondary routes and thousands of minor ones. Scouting new hyperspace routes was an incredibly dangerous task for an explorer.
In many parts of the galaxy, hyperlanes required periodic re-entry into realspace to manually maneuver the ship towards the next hyper-point. Pirate raids were common in these spots. The Galactic Empire and other governments often sought to lessen this threat by constructing deep-space platforms at hyper-points. Mine fields and probe droids[3] were also deployed.
Major routes
[
]
Hydian Way was the only hyperlane that crossed the entire galaxy.
Appearances
[
]
Timeline 2: The Mandalorian Blockade is Broken on The Old Republic

'

s official website (article) (backup link) (Appears in hologram)
Star Wars: The Old Republic: Rise of the Hutt Cartel (Mentioned only)
Star Wars: The Old Republic: Shadow of Revan (Codex entry)
Darth Plagueis (Mentioned only)
Darth Plagueis audiobook (Mentioned only)
Star Wars: Episode I The Phantom Menace (Mentioned only)
Jedi Quest: The School of Fear (Mentioned only)
Jedi Quest: The Final Showdown (Mentioned only)
The Clone Wars: The Enemy Within (Mentioned only)
Star Wars: The Clone Wars film (Mentioned only)
Star Wars: The Clone Wars – "R2 Come Home" (Mentioned only)
Star Wars: The Clone Wars – "The Citadel" (Mentioned only)
Star Wars: The Clone Wars – "Counterattack" (Mentioned only)
Star Wars: The Clone Wars – "Citadel Rescue" (Mentioned only)
Star Wars: The Clone Wars – "Padawan Lost" (Mentioned only)
Star Wars: Clone Wars – "Chapter 23" (Indirect mention only)
Han Solo at Stars' End (Mentioned only) (as star-route)
Riders of the Maelstrom (as space lane)
"Riders of the Maelstrom" – Classic Adventures: Volume Three (as space lane)
Debts to Pay (Mentioned only)
Legacy (2006) 21 (Mentioned only)
Fate of the Jedi: Vortex (Mentioned only)
Fate of the Jedi: Vortex audiobook (Mentioned only)
Sources
[
]
Star Wars Campaign Pack (as trade route)
Galaxy Guide 2: Yavin and Bespin (as hyperspace lane)
Galaxy Guide 6: Tramp Freighters, Second Edition (as trade lane)
"Rebel Privateers!" – Star Wars Adventure Journal 2 (as space lane)
"Recon & Report: The Journey to Coruscant" – Star Wars Adventure Journal 2 (as space lane)
"Smuggler's Log" – Star Wars Adventure Journal 3 (as space lane)
Galladinium's Fantastic Technology (as hyperspace route)
Galaxy Guide 2: Yavin and Bespin, Second Edition (as hyperspace lane)
"Wanted by Cracken" – Star Wars Adventure Journal 8 (as space lane)
"Recon & Report: The Journey to Coruscant" – The Best of the Star Wars Adventure Journal, Issues 1-4
"Kyle Katarn, Jedi Outcast" on Wizards.com (original article link, content now obsolete; backup link) (As "spacelane")
"Manaan: Depths of History" on Wizards.com (original article link, content now obsolete; backup link)
"Bespin: Action Tidings, Part 2: That Den o' Human Iniquity" on Wizards.com (original article link, content now obsolete; backup link) (as hyperspace lane)
Zabrak on The Old Republic Holonet (content now obsolete; backup link)
Slugthrowers: An Overview of Popular Music and Musicians in a Galaxy Far, Far Away, Part 2 on StarWars.com (article) (backup link)
Notes and references
[
]