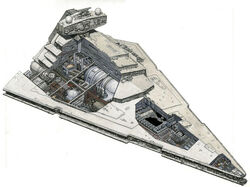 The I-a2b solar ionization reactor was a stardrive system developed and produced by Sienar Fleet Systems.[1]
Characteristics
Edit
Often described as a "miniature sun", and incorporating one of the largest single hyperspace field generators ever designed, the massive reactor system occupied more than half of the Imperial-class Star Destroyer's interior. Unlike the reactor system on the older Venator-class,[2] the reactor on board Imperial-class vessels was large enough relative to the rest of the ship to protrude with a ventral bulb. It also forced the troop and crew compartments to be located on the upper half of the superstructure.[3]
Like other heavy warships, it was the size of the power-plant which in turn dictated the size of the Imperator-class.[4] Lira Wessex and her team at Kuat Drive Yards designed the rest of the Star Destroyer around the Sienar drive systems.[1] A version of the I-a2b was later adapted for use in the Bakura-class destroyer.[5]
Notes and references
Edit
Community content is available under
CC-BY-SA
unless otherwise noted.