Spider-Man: No Way Home Trailer Dropped - The Loop
Play Sound
IDW Publishing is an American comic-book publisher, best known for its licensed comic adaptations and tie-in work for various movies and cartoons, such as Star Trek, My Little Pony, Ghostbusters, and Teenage Mutant Ninja Turtles.
History
[
]
Idea and Design Works was formed in 1999 by a group of entertainment executives and artists that included Ted Adams, Robbie Robbins, Alex Garner, and Kris Oprisko to develop products related to video games, movies, TV, collectible card games, comic books, and trading cards. The IDW Publishing division was formed in the year 2000.[1]
After developing multiple other Disney titles, including Donald Duck and Mickey Mouse, their first venture into the world of Star Wars began with the release of the Star Wars edition of the Micro Comic Fun Pack in 2015, a series of bling bags containing comics, stickers, and posters, of which editions relating to other series had already been released at that point.[2]
They have since started reprinting the Los Angeles Times Syndicate comic strips in hardcover compilations, the first of which was Star Wars: The Classic Newspaper Comics Vol. 1 on May 9, 2017.[3]
They are current holders of the Star Wars juvenile comics license, with which they started publishing original comics, beginning with Star Wars Adventures Ashcan on July 20, 2017 at San Diego Comic-Con and Star Wars: The Force Awakens Graphic Novel Adaptation on August 29.[4]
Published series
[
]
Star Wars Micro Comic Fun Pack

[

]
A New Hope
[
]
The Empire Strikes Back
[
]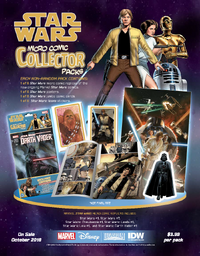 Icons
[
]
Graphic novels
[
]
Series
[
]
Miniseries
[
]
One-shots
[
]
Published collections
[
]
Star Wars Adventures, Volume 1: Heroes of the Galaxy (October 2017)
Star Wars Adventures, Volume 2: Unexpected Detour (February 2018)
Star Wars: Forces of Destiny (April 2018)
Star Wars Adventures, Volume 3: Endangered (July 2018)
Star Wars Adventures, Volume 4: Smuggler's Blues (December 2018)
Star Wars Adventures, Volume 5: Mechanical Mayhem (March 2019)
Star Wars Adventures, Volume 7: Pomp and Circumstance (November 2019)
Star Wars Adventures Omnibus, Volume 1 (January 2020)
Star Wars Adventures: Return to Vader's Castle TPB (March 2020)
Star Wars Adventures, Volume 10: Driving Force (September 2020)
Star Wars Adventures: The Clone Wars – Battle Tales (January 2021)
Star Wars Adventures: Beware Vader's Castle (January 2021)
Star Wars Adventures, Volume 11: Rise of the Wookiees (January 2021)
Star Wars Adventures: Smuggler's Run (October 2021)
Star Wars Graphic Novel Adaptation Box Set (November 2021)
Star Wars: The High Republic Adventures, Volume One (November 2021)
Star Wars Newspaper Comics

[

]
Current series
[
]
Ongoing series
[
]
Miniseries
[
]
Forthcoming series
[
]
One-shots
[
]
Graphic novels
[
]
Forthcoming collections
[
]
Indefinitely postponed titles
[
]
Sources
[
]
Notes and references
[
]
↑ 1.0 1.1 1.2 1.3 1.4  About on IDW Publishing's official website (backup link)
↑  IDW Publishing Presents 'Star Wars: The Classic Newspaper Comics, Vol. 1' on IDW Publishing's official website (backup link)
↑ Florian: IDW: Neue Details und Cover zu Star Wars Adventures (2017-06-09). jedi-bibliothek.de. Jedi-Bibliothek. Archived from the original on July 17, 2017.
↑ 5.0 5.1 5.2 5.3 5.4 5.5 Star Wars Micro Comic Collectors Pack Box of 24 on Amazon.com (backup link)
↑ 6.0 6.1 6.2 6.3 6.4 6.5 Star Wars The Empire Strikes Back Micro Comic Collectors Pack Box of 24 on Amazon.com (backup link)
↑ 7.0 7.1 7.2 7.3 7.4 2016 IDW Star Wars Icons Micro Comic Collectors Pack. gogts.net. GoGTS. Archived from the original.
↑  Star Wars Adventures: The Weapon of a Jedi on Penguin Random House's official website (backup link)
↑  Star Wars Adventures: Ghosts of Vader's Castle on Penguin Random House's official website (backup link)
External links
[
]