"To cheat death is a power only one has achieved, but, if we work together, I know we can discover the secret."
―Darth Sidious, to Anakin Skywalker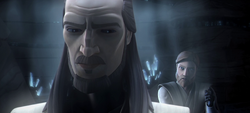 Immortality was a state in which a living being could live without ever dying. Darth Plagueis, a Sith Lord in the years prior to the Clone Wars, lusted for immortality.[1] According to his apprentice, Darth Sidious, Plagueis manipulated the midi-chlorians to both create life and seek immortality.[2] Those who followed the light side of the Force and had the appropriate training could achieve a form of immortality by retaining their consciousness after their physical deaths.[3]
The starbird of legend was said to be immortal, able to renew itself in the heart of a nova when it was believed to be dead.[4]
Darth Sidious was able to return from his first death by transferring his spirit into a clone body while falling into the reactor core of the second Death Star. He later sought to cheat death again by manipulating his grandchild Rey into killing him so he could live on by possessing her body.[5]
Appearances
Edit
Notes and references
Edit
Community content is available under
CC-BY-SA
unless otherwise noted.