Wiki Targeted (Entertainment)
Play Sound
"Oh, my. I could've sworn the hangar was down this hallway. Oh, why do they build these infernal ships so absurdly large?"
The Imperial-class Star Destroyer (ISD) known generally as the Imperial Star Destroyer or as an Impstar, was a product line of massive dagger-shaped capital ships of the Imperial Navy and later the Navy of the First Order. It consisted of two variants, the Imperial I-class Star Destroyer and the Imperial II-class Star Destroyer.
"With shipyards turning out Imperial-class Star Destroyers, any revolt will be hard pressed to make so much as a dent in the Emperor's armor."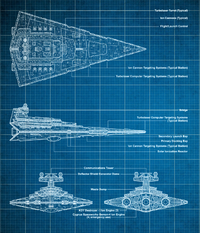 The Imperial-Star Destroyer replaced the smaller Venator-class used by the Galactic Republic during the Clone Wars and was generally the Galactic Empire's star cruiser of choice.[11]
At the height of its power, the Empire operated over 25,000 Star Destroyers.[8] The distinctive profile of the Imperial-class instilled fear into the soldiers of rebellious factions, and the name of a Star Destroyer could be preceded by the ship prefix ISD (standing for Imperial Star Destroyer). In a report to an admiral, Senior Commander Alecia Beck referred to the ISD Vehement.[12]
Roughly thirty years after the Battle of Endor, the new Resurgent-class Star Destroyers were constructed to replace the aging Imperial-class by the Empire's successor state, the First Order, and would borrow design philosophies from the highly respected and coveted ship.[10]
According to Star Wars: Episode VII The Force Awakens director J.J. Abrams, his original vision, which was storyboarded, involved beginning the film with vessels from the New Republic towing an Imperial-class Star Destroyer into the gravitational pull of Jakku, with the various shots being deliberately modeled after the famous opening sequence for A New Hope. After crashing, the wreckage was going to be scavenged by Rey. Though the sequence was cut and ultimately replaced with the attack on Tuanul, animator Tim Grey recreated the original opening sequence in a YouTube video which was uploaded on February 4, 2018.[13]
While working on the Imperial-class Star Destroyers of Rogue One: A Star Wars Story, model maker John Knoll worked from Star Wars: Incredible Cross-Sections to make sure that what the audience saw inside the ship matched what was known about Star Destroyers.[14]
↑  Imperial Star Destroyer in the Databank (backup link)
↑ Watch how 'Star Wars: The Force Awakens' was originally going to begin (February 13, 2018). NME. Archived from the original on June 30, 2018.
↑ Capps, Robert. Meet John Knoll, the Creative Genius Who Brought Rogue One to Life. WIRED. wired.com. Archived from the original on January 18, 2017.
Community content is available under
CC-BY-SA
unless otherwise noted.