The Imperial Navy, also called the Imperial Armada or the Imperial Fleet, was the naval branch of the reconstituted Sith Empire's Imperial military. It fought against the Galactic Republic during the Great Galactic War and was maintained throughout the Cold War that followed. It was constructed over several centuries at the order of Grand Moff Odile Vaiken, who knew that he would not live to see a fraction of it complete.
When the original Sith Empire collapsed and the Sith went into exile in the Unknown Regions, the navy shrunk to a small group of ships used to travel by the remnant. After finding refuge on Dromund Kaas, the Sith began a massive build up of military forces under Grand Moff Odile Vaiken. He started construction on a massive armada that took nearly three centuries to complete, knowing he would not be alive when it was done. All non-Force-sensitive people living on Dromund Kaas were conscripted either into the Navy or the Imperial Army. Vaiken died during the first operation undertaken by the Navy, Odile Vaiken's final campaign against an alien race.
During the Great Galactic War, the Navy proved to be a vital component of the military. They transported Army troops to various worlds, taking part in various engagements with the Republic Navy. Those included Skirmish in the Tingel Arm, and the first and second Battles of Bothawui. In the final act of the war, a massive fleet was used to sack Coruscant, the capital of the Galactic Republic. It led to the Treaty of Coruscant, causing the Navy to stop activities.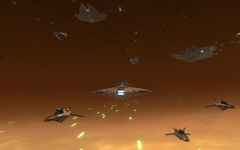 The Imperial Navy was the naval branch of the Imperial Military, and was overseen by the Ministry of War alongside the Army.
Grand Admiral
Admiral
Commodore
Group Captain
Captain
Commander
Lieutenant
Ensign
Petty Officer
Sergeant
Corporal
Specialist
Private
The primary vessel of the Navy was the Harrower-class dreadnought, a colossal dreadnaught produced by Taerab Starship Manufacturing and measuring greater than 800 meters in length. The Harrower-class was operated by 2,400 personnel with the capacity to hold an additional 7,300 marines. Commanders typically chose the Harrower-class as their command ship, finding its prevalence and size as a true example of Imperial dominance in battle.
Aiding the Harrower-class in was the Terminus-class destroyer. A more rigorously armed warship than its Republic counterparts, it was built to act as an escort to the larger Harrower-class, as well as an independent patrol vessel. Where most preferred the Harrower, Darth Marr, the Dark Councillor in charge of military operations, preferred the Terminus.
The Sith Empire used several unidentified classes of shuttle and dropship. The Navy also utilized a number of starfighters, with the Mark VI Supremacy-class starfighter as the standard starfighter of the Navy,[2] and the B28 Extinction-class bomber as the standard bomber.
↑ Star Wars: The Old Republic—Imperial Agent Mission: "The Hidden Throne" on Dromund Kaas
Community content is available under
CC-BY-SA
unless otherwise noted.