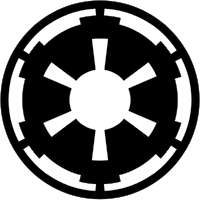 The Imperial crest,[1] also known as the Imperial logo,[2] was the six-spoked symbol of Sheev Palpatine's Galactic Empire. An adaptation of the Galactic Republic's eight-spoked roundel,[1] the Empire's omnipresent sigil[2] adorned many things Imperial, from military uniforms and starships to flags and propaganda posters.[1]
The Imperial insignia was designed by John Mollo, who was the costume designer for Star Wars: Episode IV A New Hope and Star Wars: Episode V The Empire Strikes Back. In the Q&A feature of the 98th issue of Star Wars Insider magazine, Mollo revealed that he based the Imperial insignia on shapes used in 18th century fortifications.[3]
Community content is available under
CC-BY-SA
unless otherwise noted.