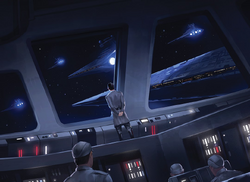 "I concur with the Grand Moff's plan, Your Highness. Gilvaanen should be 'imperialized.'"
Imperialization or nationalization was the term for how the Galactic Empire took over administration of organizations that were formerly independent during the time of the Galactic Republic. Both Incom Corporation and the Corellian Engineering Corporation were Imperialized by the time of the Battle of Scarif.[1]
In the months following the Battle of Endor, Fleet Admiral Gallius Rax nationalized all aspects of military industrial production.[2]
Community content is available under
CC-BY-SA
unless otherwise noted.