Template:Person infobox
Irvin Kershner, nicknamed "Kersh" (born April 29, 1923, died November 27, 2010) was the director of Star Wars Episode V: The Empire Strikes Back. A graduate of the University of Southern California, Kershner has directed several major film and television hits, but retired in 1994 after completing SeaQuest DSV.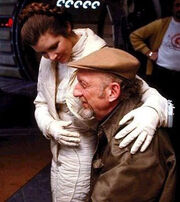 A film instructor of George Lucas at USC, Kershner summarized his interaction with Lucas when asked to direct The Empire Strikes Back:
"Of all the younger guys around, all the hot shots, why me? I remember he said, 'Well, because you know everything a Hollywood director is supposed to know, but you're not Hollywood.' I liked that."
Irvin Kershner originally turned down George Lucas's request to direct The Empire Strikes Back because he did not believe he could possibly improve upon A New Hope. Kershner agreed after Lucas told him he would concentrate on visual effects at the Skywalker Ranch and would leave directorial control to him; Kershner said Lucas told him it would be "(his) picture."[1] Kershner wanted to take The Empire Strikes Back in a more serious direction than the first film, although he did not want to stray too far from what Lucas described as the "Saturday matinee, fun kind of film" it had been.[1] Kershner later described directing the film as "one of the great experiences of my life."[1]
He was invited to direct The Phantom Menace but declined the offer.
Kershner passed away on the 27th of November, 2010 in Los Angeles, California, after a long string of illnesses. His goddaughter broke the news to the media two days after.[2]
Sources
Notes and references
External links