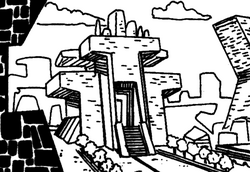 Iskaayuma was the capital of Rodia, located on the Sika Peninsula on the continent of Encheeko. The Grand Protector Navik the Red took up residence here. The Rodmark Weapons Plant was a factory in the industrial zone of the city. Iskaayuma was a sprawling city with omnipresent thick smog from the hundreds of weapons factories. Industry and government were the primary employers. Tourists only came to visit the great Guild Hall or attend the occasional home performances of the Rodian Galactic Drama Troupe. The Chattza Clan completely dominated Iskaayuma. Iskaayuma's starport was the Grand Protector's Home Fleet Headquarters and primary staging area. Interstellar travelers were encouraged to land at Equator City, unless they had specific business in Iskaayuma. Most visitors felt unwelcome in the city, especially with the ever present, armor-clad Protectors. Navik maintained near martial law over Iskaayuma.
Iskaayuma grew from the Chattza Enclave to the planet's second largest city (after Equator City). Following Navik's rise to power, he moved the capital to Iskaayuma. By keeping the seat of power in his home city, Navik strengthened his position by removing the "corrupting" influence of Equator City. Navik also sought to refocus Rodian views on the importance of the hunt, and Iskaayuma had been home to the Grand Protector's Guild Hall for generations.
Appearances
Edit
Community content is available under
CC-BY-SA
unless otherwise noted.