Doctor Strange in The Multiverse o Madness - The Loop
Play Sound
"Remember to serve the light side of the Force. Though you will never wield a lightsaber or heal the sick, you have some light within you. Be true to that light."
―Luke Skywalker to Isolder
Isolder was the former heir, or Chume'da, of the Hapes Consortium. As the second son of Queen Mother Ta'a Chume, Isolder was not expected to rule. However, after his older brother Kalen was murdered, Isolder went on an undercover quest to hunt down the person responsible. Impressed by his finding of the culprit, his mother granted him the rank of Chume'da. In 8 ABY, Isolder fell in love with Leia Organa when she came to Hapes to discuss a possible alliance between the New Republic and the Hapes Consortium. However, she was kidnapped by Han Solo, former smuggler and New Republic General. With Jedi Knight Luke Skywalker, he followed Han and Leia to the planet Dathomir, where they were captured by the Dathomiri Witch Teneniel Djo. Though she was in love with Skywalker at first, she later fell in love with Isolder, and married him after they defeated Zsinj, an Imperial Warlord.
Shortly after his marriage to Teneniel, Ta'a Chume stepped down as Queen Mother, and Isolder and Teneniel ruled over the Consortium. Isolder and Teneniel had a daughter, Tenel Ka, who trained as a Jedi, and was the new Chume'da of the Hapes Cluster. However, Isolder and Teneniel's relationship became rocky, especially when Ta'a Chume became unhappy with Tenel Ka, who refused to take the Hapan crown. During the Yuuzhan Vong War, Isolder was pivotal in allowing the Hapan Royal Navy to participate at the ill-fated Battle of Fondor, and later suffered the murder of his wife due to his mother's plotting. Tenel Ka, however, took the throne instead of her friend, Jaina Solo, who had been manipulated by Ta'a Chume into trying to take the throne. After he crowned his daughter as the new Queen Mother, Isolder served as an advisor to her, and helped her deal with the politics of Hapes. He would later become a grandfather to Allana, Tenel Ka's daughter along with the Jedi Jacen Solo; though his identity as the father was kept a secret to many except for a select few, one of them being Isolder. Isolder was later killed by Solo, who had become the Sith Lord Darth Caedus, during the Second Galactic Civil War, by having his neck snapped with the Force while he was trying to save his daughter and Allana from a nanovirus sent to kill them.
Biography
[
]
Early life
[
]
"You loved your brother very much. I can hear you, as children, trying to fall asleep in the same large room. Your brother sang to you at night, making you feel safe when you were frightened."
―Luke Skywalker to Isolder
Isolder was born into the royal family of Hapes as the younger son of Ta'a Chume and her consort, although he later had several younger half-brothers from Ta'a Chume's quest to provide a female heir to the throne.[3] Growing up, he had the company of his older brother Kalen, who was the Chume'da of the Hapes Consortium. Kalen and Isolder were close, and Isolder did not envy his brother's status as the heir, mainly because he knew that as the second child he had more options available to him.[6]
When Isolder was nineteen,[6] Kalen was kidnapped and murdered by a pirate near the Terephon system, which left Isolder devastated. In order to track down his brother's murderer, Isolder went undercover as a privateer to get information on who committed the crime. After two years of going so deep undercover that his own mother's spies could not even locate him, Isolder located the perpetrator, a pirate named Harravan, and had him arrested. Unfortunately, Harravan was killed in his jail cell before he could be interrogated further.[5]
Impressed by Isolder's resolve to bring his brother's murderer to justice, Ta'a Chume named him the new Chume'da. However, Isolder suffered further tragedy when his fiancée, Lady Elliar, apparently committed suicide by drowning herself in one of Hapes' reflecting pools. It would later come out that Ta'a Chume had arranged the murders of both Kalen and Lady Elliar on political grounds, as she found them both too weak to rule.[5]
A political marriage proposal
[
]
«From Hapes, the queen mother offers her greatest treasure, her son Isolder, the Chume'da, whose wife shall reign as queen.»
―The Hapan ambassador presents Isolder to Princess Leia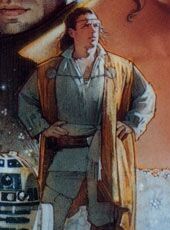 When Leia Organa came to Hapes in 8 ABY to discuss a possible alliance with the New Republic, Isolder fell in love with her. As was the Hapan custom, Isolder asked his mother for permission to marry Leia, which she pretended to agree to. When the Hapans arrived at Coruscant, they presented Leia with a gift from each of the Hapes Consortium's many planets. Isolder himself was presented as a gift from Hapes, and he proposed marriage to Leia.[5]
Upon seeing Leia's shocked expression, Isolder requested that she spend some time to get to know him and that they take a tour of the Hapes Cluster before she made her final decision. Shortly afterward, Isolder was informed by his chief of security, Astarta, that Leia was the target of an assassination attempt. Isolder assumed that his aunt was behind it, but could not prove it. When the attempt on Leia's life was made a short while later, Isolder and Astarta were able to foil it.[5]
Han Solo, who was threatened by and jealous of Isolder, told Isolder that he was going to challenge him for Leia's hand in marriage. Isolder responded by bribing Solo with a Hapes Nova battle cruiser if he would fly far away and leave Leia alone. Solo refused, and after he won the deed to the planet Dathomir in a high stakes game of sabacc, he kidnapped Leia using the Gun of Command she received as a gift and took her to Dathomir for the sole purpose of impressing her. Upon hearing that Leia was kidnapped by Solo, Isolder set out to gather leads on the pair's whereabouts, but his mother and her agents acquired the information before he did. Isolder then had a conversation with his mother, and despite her advice regarding putting himself in danger, he resolved to rescue Leia by himself.[5]
The search for Han and Leia
[
]
"I will hunt down General Solo, and I will bring home my bride."
―Isolder to Ta'a Chume
After Ta'a Chume discovered where Han Solo had fled, she assembled the Hapan fleet and set a course for Dathomir. While aboard his mother's flagship Star Home, Isolder met Luke Skywalker, who was also searching for Leia and Han. After the pair shared a meal with Ta'a Chume, Isolder and Luke set off for Dathomir aboard Isolder's Song of War. Upon arriving in Dathomir space, the Song of War engaged a Super Star Destroyer. While in the midst of battle, Isolder left the ship under the command of Astarta and told her to contact the Hapan Royal Navy to let them know what to expect for when they arrive. Isolder then departed the Battle Dragon in his custom Miy'til starfighter Storm, with Luke accompanying him in an X-wing from Song of War's hangar.[5]
The pair were shot at on the way to Dathomir by Warlord Zsinj's fleet. Isolder managed to land his damaged craft on the planet, but Luke appeared to have been killed. Isolder at first assumed that his mother's agents had rigged the X-wing in an attempt to kill the Jedi, but after Luke floated down from the sky alive and well, it was revealed he had used a Force technique to fool the scanners into thinking he was dead. After a brief discussion between the two about the nature of the Force (and despite Isolder's lack of Force-sensitivity), Isolder became Luke's student in the ways of the Force.[5]
After the pair made their way to a tar pit containing a crashed ship, they were confronted by a Witch of Dathomir named Teneniel Djo. Teneniel quickly captured both men as slaves, but listened to their plight and agreed to take them back to her clan village.[5]
The raid on the Imperial prison
[
]
When they arrived at the Singing Mountain Clan village, Isolder was stunned when Teneniel announced to the village that she had taken him to be her husband. In light of his protests and an offer by Leia (who was a guest of the clan villagers) to buy his freedom, Teneniel later gave him his freedom in all but name to protect him from being claimed by the other clan sisters.[5]
Shortly afterward, there was a discussion between Luke, Leia, Han, Isolder and Teneniel on how to repair the Millennium Falcon, which had been damaged by Zsinj's forces during entry. After they decided to cannibalize Storm for a sensor array, Teneniel informed them that the Dathomir Imperial Prison probably had the other spare parts needed for the ship, and that the former Nightsister Barukka knew the layout of the prison well enough for the group to sneak in.[5]
Before they left, the clan leader Augwynne Djo had a request to make of Luke and Isolder. Due to a prophecy made by Mother Rell years ago regarding a Jedi Master and his student, Augwynne suggested to Luke and Isolder that they should go meet with Rell, as she claimed she had a message for them. Rell, whose mind was in the future at that time, asked Luke about Yoda, his wife and children and the Jedi Praxeum, but when she saw Isolder, she foretold that he was to die at Nightsister leader Gethzerion's hands. Isolder was rattled by this revelation, but he was assured by Luke that the future was not set.[5]
After locating Barukka and obtaining the necessary information from her, the group infiltrated the prison and located the parts needed to repair the Falcon. However, they were attacked by the Nightsisters on the way out, and Isolder suffered minor injuries.[5]
On the way back to Singing Mountain clan village, Isolder and Teneniel had a nighttime conversation by the campfire about the stars and the planets in the sky. However, the conversation turned to Teneniel discovering that Isolder was the son of a powerful woman, and Isolder's status as her slave/husband. She gave him his freedom outright by letting him leave Dathomir, but only asked one thing in return: to be remembered.[5]
The Battle of Dathomir
[
]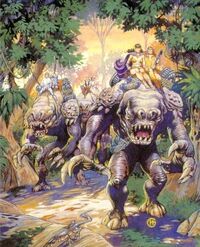 Upon the group's return to Singing Mountain, the Battle of Dathomir had begun. Isolder aided Chewbacca in repairing the Millennium Falcon, but they were attacked by Nightsisters hoping to get to the ship. Isolder knew that Rell's vision would come to pass at that moment, so he tried to escape, but a Nightsister used the Force on him to knock him out. Teneniel came along a few moments later and rescued an unconscious Isolder from being captured as a slave by the Nightsisters, thus preventing the prophecy from being fulfilled.[5]
The Hapan Navy arrived in Dathomir space shortly afterward, and proceeded to engage Zsinj's forces and destroy the orbital nightcloak that had surrounded the planet. After the Iron Fist had been destroyed, Isolder issued the command to the Hapan Navy that they accept only unconditional surrenders, seize any speaceworthy ships, and to destroy the Imperial shipyard.[5]
Choosing the new Queen Mother
[
]
"You don't understand. If I tried to marry you, there would be public disapproval, repercussions. My cousins—"
"I'm not afraid of your cousins or public disapproval, and I don't want your planets. Pick a neutral world for us if you like."
―Isolder and Teneniel Djo discussing their future
Despite finding her to be quite plain by Hapan standards, Isolder had slowly fallen in love with Teneniel, but found himself denying his attraction to her due to the political situation back on Hapes if he were to marry her. After a brief conversation between the two, Isolder decided he could no longer deny his love for her.[5]
At a victory feast held in the Singing Mountain clan village, Isolder announced to all present that he would take Teneniel as his bride. Ta'a Chume was horrified, and objected to the union on the grounds that Teneniel had no royal blood or lineage. After informing his mother that he would marry Teneniel whether or not she permitted it, it was revealed that it was Ta'a Chume who had arranged the attempt on Leia, and in light of this, Isolder accused her of being behind the deaths of Elliar and Kalen. After Teneniel threatened Ta'a Chume and used the Force on her, the elder woman allowed the union. Isolder also demanded of his mother that the Consortium join the New Republic, a promise to which she initially agreed but later backed out on.[5]
Life as consort
[
]
Around 10 ABY,[7] Ta'a Chume abdicated her role as Queen Mother, and Teneniel Djo became the new Queen Mother, with Isolder as her consort. Around the same time, the couple had a daughter, Tenel Ka.
Isolder insisted that Tenel Ka be trained as a future Queen Mother, but Teneniel wanted Tenel Ka to choose her own path.[8] Both parents agreed to send Tenel Ka to Luke Skywalker's Jedi Academy on Yavin 4 to train in the Force. Isolder himself had no opposition to Tenel Ka's training, mostly because he felt it would be a good resource when she became Queen Mother.
When Tenel Ka had her lightsaber accident in 22 ABY, both he and Teneniel were away from Hapes on a diplomatic mission. While on the mission, both husband and wife encountered assassins deployed by Ta'a Chume's traitorous underling Yfra. After neutralizing the assassins and returning to Hapes, Isolder expressed pride in his daughter for staying true to herself.[9]
Isolder would continue to support Tenel Ka while she was at the Jedi Praxeum, and along with Teneniel and Augwynne Djo, he attended her graduation ceremony in 24 ABY.[10]
The Yuuzhan Vong War
[
]
Near the beginning of the Yuuzhan Vong War, the question of succession was a hot topic. Tenel Ka had all but forsaken her claim to the throne, preferring to be a Jedi instead. Due to arguments regarding Tenel Ka's place in the succession, the marriage between Isolder and Teneniel had become strained, but in an effort to resolve the succession dispute, they had conceived another child to act as the heir in lieu of Tenel Ka in 25 ABY.[11]
Shortly afterward, Leia Organa Solo visited Hapes to ask the Consortium for her help in the war against the Yuuzhan Vong. After being welcomed by Isolder and the royal family, Leia then gave a speech to the Hapan delegates, warning them about the dangerous nature of the invaders. After the speech concluded, the Hapan delegates debated on whether or not to enter the war, and a vote was to be held in a few days. The Archon of Vergill, Beed Thane, was opposed to entering the war, and he insulted Leia in front of Isolder. Isolder responded by slapping Thane across the face, initiating a Hapan honor duel.[11]
After Reef Fortress was selected as the location of the duel, Isolder spent the night there along with his family, Leia and a small group of advisors. The next morning, after both participants reaffirmed the terms of the duel, Isolder defeated Thane in hand-to-hand combat. As agreed to per the terms of the duel, Vergill pledged its vote to support entering the war.[11]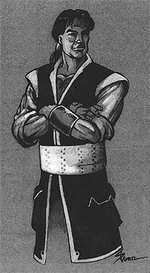 The vote was held a short time later and the Consortium decided to enter the war. However, during a conversation with Isolder just after the vote had concluded, Leia had received a vision of approaching disaster through the Force and begged him to call for a re-vote under the pretense that Hapes had changed her position. Isolder told her not to worry and invited her aboard the Song of War for the trip to Coruscant.[11]
Upon reaching Coruscant, Isolder and his crew were briefed on the Yuuzhan Vong and their tactics by Commander Brand, and the Hapan Navy was dispatched to aid the New Republic at the Battle of Fondor. Upon reaching Fondor, however, a misaligned beam from Centerpoint Station raced through the battlefield, taking out three quarters of the Hapan fleet and half of the Yuuzhan Vong fleet. Isolder was blamed for the loss of many lives upon his return to Hapes, and Teneniel suffered a miscarriage when the Force backlash from Fondor reached her.[11]
In the months between the Battle of Fondor and the Battle of Coruscant, Isolder undertook a fact-finding mission to learn more about the invaders. He arrived back on Hapes just after the Fall of Coruscant and was immediately the target of an assassination attempt by one of his cousins. His daughter Tenel Ka, back on Hapes after fleeing from the disastrous Myrkr mission, foiled the attempt. Father and daughter then had a conversation that involved exchanging information about the invaders.[12]
By now, Isolder's marriage was near the point of collapse, with talk of Teneniel returning to Dathomir. Citing the fact that he owed it to his people to provide them with a strong leader, Ta'a Chume tried to convince Isolder to divorce Teneniel, but he hesitated, especially when his mother wanted him to marry Leia's daughter Jaina Solo. Ta'a Chume reminded him that if he did not divorce Teneniel and remarry, their relatives would kill them all unless she reassumed the throne. Since Isolder did not want his mother back on the throne under any circumstances, he promised to consider marriage to Jaina Solo.[12]
Not wanting to wait for his answer, Ta'a Chume arranged for the poisoning death of Teneniel Djo. Upon finding her mother poisoned, Tenel Ka decided to take up her mother's crown. Isolder then crowned his daughter the new Queen Mother.[12]
Royal Advisor
[
]
After his wife's death and daughter's crowning as the Queen Mother, he became a royal advisor to Tenel Ka, helping her with various political subjects during her busy rule.[13] Nine years later, he became a grandfather when Tenel Ka gave birth to Allana,[14] though her father's identity, Jacen Solo, was kept a secret to everyone except Isolder, Jacen, and Ta'a Chume.[13] Isolder's mother would later send Killiks stemming from the Dark Nest, led by the Sith Lomi Plo. Jacen would render Ta'a Chume comatose as a result of the attack, leaving the knowledge of Allana's father to her parents and Isolder.[14]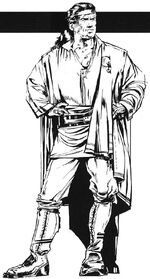 In 40 ABY Allana and Tenel Ka was again subject to another assassination attempt, this time by Corellians led by Dur Gejjen, who were hoping to gain an ally by putting a Pro-Corellian ruler on the throne. The bounty hunter Aurra Sing was hired for this attempt, though it was stopped by Han and Leia Solo. They were believed by most Hapans to be responsible for the attack, due to the overwhelming evidence against them. Tenel Ka and Isolder had no choice but to believe this evidence as well, though he was disappointed, rather than angry, for the alleged attack. Tenel Ka's old friends, Jaina Solo and Zekk tried to prove otherwise to Isolder and Tenel Ka. Zekk demanded to interrogate eyewitnesses; some believed they saw the Solos attack the assassins and protect the Queen Mother, and others did not. Isolder did not believe Zekk had the authority to question these people, especially the nobles, though Tenel Ka reassured the three that every eyewitness would be questioned.[13]
Isolder, in order to begin the investigation, asked Jaina to give the Hapans the Millennium Falcon's false transponder codes, which Jaina gave him reluctantly. She also asked him to let her and Zekk begin a private search for her parents, though Tenel Ka denied this offer, explaining that she had already given that responsibility to Jacen. Jacen would almost apprehend his parents during the later battle at Hapes by firing at them from his personal Star Destroyer, the Anakin Solo, and with the help of Ben Skywalker, his apprentice, who tried to arrest Han and Leia, but wound up wounding Zekk in the process. Han and Leia would later prove their innocence to Tenel Ka and Isolder by giving them information about Ducha AlGray's fleet, though Jacen still continued to hunt them.[13]
The Hapans would soon turn against Jacen, who had secretly become the Sith Lord Darth Caedus. Tenel Ka, heartbroken by Caedus's decision to burn Kashyyyk, directed her fleets against him and offered for him to surrender, though he refused and escaped the fight.[15] Still troubled by her decision to abandon the Galactic Alliance, she asked for Isolder's counsel. He told her to send all of the GA's ambassadors back to Coruscant unless Caedus surrendered to them. A few moments later, Caedus himself came and kidnapped Allana so that she would not hate him because Tenel Ka had told her of Caedus's actions. Isolder informed his daughter of the kidnapping, and that in order to take Allana, Caedus left behind a double of her to distract Tenel Ka. In a holochip discovered by Isolder, Caedus informed the Hapans that unless they gave him their fleets, Allana would be killed. Unable to bargain with Caedus, the Hapans put their fleets of his command, until Centerpoint Station was destroyed. Han and Leia, previously thought to be traitors, led a successful rescue mission for Allana during the battle. Afterwards, they figured out Allana's paternity, and informed Luke Skywalker and Jaina as well.[16]
Death
[
]
"I have something I need to take care of."
"Isolder. Too bad. I kind of liked him."
"Me, too."
―Darth Caedus and Tahiri Veila
After Ben Skywalker escaped Galactic Alliance Guard custody by Tahiri Veila, Caedus's new Sith apprentice, Isolder dispatched his twin nieces, Taryn and Trista Zel to bring him back to the Jedi base, Shedu Maad, safely. During their travels, they revealed to Ben a secret of Isolder; he had a sibling that nobody had known about that gave birth to Trista and Taryn, making them unknown cousins of Tenel Ka. However, the Anakin Solo intercepted Skywalker and Isolder's rendezvous point, and gained a hold on the Beam Racer by using a tractor beam. A squadron of Miy'tils attempted to stop Isolder's capture in vain; they were forced to withdraw. Inside the Anakin Solo, Veila attempted to torture Isolder into revealing the location of the hidden Jedi base in the Transitory Mists. Caedus, however, did not need to torture Isolder; he had found Shedu Maad by using a Nightsister blood trail technique on Jaina Solo, and began an attack on the base.[3]
Believing they were losing the battle, the Moff Council, who had joined Caedus, took a DNA sample from Isolder while he was in their custody, and used the DNA to engineer a nanovirus that targets all Hapans of royal descent. They used this nanovirus on Tenel Ka's flagship, the Dragon Queen without Caedus's permission, as he did not want Tenel Ka and Allana, who were on the ship, to be killed. To attempt to save Allana and Tenel Ka, Caedus went to release Isolder before the Imperials could get the sample, but Isolder refused to trust Caedus's no-strings-attached release, knowing of the nanovirus the Moffs had created for his bloodline, and believing that Caedus was behind the virus itself. Losing his patience with Isolder, Caedus used the Force to twist Isolder's head until his neck broke. As Caedus took Isolder to the Biodisposal Pit, a droid informed him that skin samples had already been taken from Isolder. Realizing that the Moffs had betrayed him, Jacen Solo went to warn Tenel Ka of the virus, but was stopped by his twin sister, Jaina, in a duel that saw his end.[3]
Equipment
[
]
Isolder had at his disposal both his personal Miy'til starfighter Storm and the Hapan Battle Dragon Song of War. The construction of Storm was overseen by Isolder personally,[5] and the hull was modified to contain three laser cannons, two ion cannons, a concussion missile launcher, and four thermal detonator bombing tubes.[17]
Song of War was the oversized Battle Dragon that served as the flagship of the Hapan Navy. Painted bright red to set it apart from the other Battle Dragons, Isolder served as commander of the ship on at least two occasions, the Battle of Dathomir and the Battle of Fondor.[5][11]
Due to his position in Hapan society, Isolder also made use of personal shielding to protect himself against assassination attempts.[5]
Personality and traits
[
]
"You're still a pirate at heart. Disobedient, conceited, cocksure…"
"A lovely compliment. Thank you."
―Tenel Ka to Prince Isolder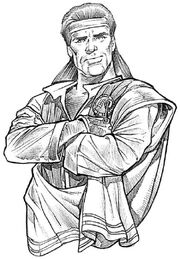 Isolder was considered bold and brave, but he was also easily manipulated, especially by his mother. After he discovered that it was she who arranged the deaths of his brother and fiancée, Isolder distanced himself from his mother and defied Hapan tradition by marrying an offworlder instead of the typical Hapan noble.
However, that did not end Ta'a Chume's interference in his life. During the Yuuzhan Vong war, she demanded that he divorce Teneniel, and had her poisoned when he did not comply. For his mother's part in his wife's murder, Isolder helped have her arrested.[8]
Isolder was an accomplished pilot, having been the youngest graduate in Hapan flight school history at age 15.[6] He would use his piloting skills many times throughout the years, from his privateer years to commanding the Song of War.
In addition to his piloting skills, Isolder was also quite proficient in many forms of hand-to-hand combat.[6] He was also one of the few Hapans to learn Galactic Basic Standard, which he spoke with a thick Hapan accent.[5]
Isolder was conditioned by his culture, and believed in a hierarchy of being. When he encountered Luke Skywalker, he was astonished and annoyed to find him treating droids and various beasts with the same compassion he gave to the Prince. Initially, he found himself jealous at this behavior, but began to see Skywalker's way of doing things.[5] Isolder was also a firm believer in the right of the nobles to rule, at one point explaining his theories to Princess Leia about how intelligence and leadership were bred into people.
Relationships
[
]
Leia Organa
[
]

When Princess Leia Organa came to Hapes to discuss a possible alliance between the Hapes Cluster and the New Republic, Isolder saw her, and became enamoured with her. After she left Hapes, Isolder asked his mother for permission to marry her, and Ta'a Chume agreed to let him, though she did not think Leia was fit to rule Hapes. Isolder was then introduced to Leia in a ceremony at Coruscant where he asked for her hand in marriage. Leia was at first surprised by this offer and despite her relationship with Han Solo, became overwhelmed with political pressure from the New Republic, as well as various threats and crises from warlords and Imperial remnants. She finally agreed to spend time with Isolder at Hapes when he saved her life from Ta'a Chume's assassins. Before she could leave, a desperate Han Solo kidnapped Leia and took her to Dathomir. Together, Luke Skywalker, a Jedi Knight, and Isolder found the pair on Dathomir and a week of adventure ensued, with both Han and Isolder vying for Leia's attention. Near the end of the week, Leia realized that she loved Han all along and had almost chosen Isolder out of duty. Meanwhile, Teneniel Djo, a Witch from Dathomir, had taken him as a slave, and they fell in love instead. Both of the couples married after they defeated Zsinj on Dathomir.[5]
Teneniel Djo
[
]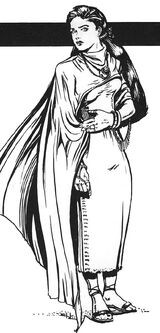 Teneniel Djo and Isolder first met at the wreckage of the Chu'unthor, though it was far from a happy meeting. She had previous gotten a vision telling her that she would find a husband at the wreckage of the Chu'unthor, and had mistakenly thought that Luke Skywalker, a Jedi Knight who was traveling with Isolder to find Princess Leia Organa, would be her husband. She named both of them as slaves, though Luke was set free after saving Djo's life, per Dathomiri tradition. They traveled to the Singing Mountain Clan, where Djo had previously lived, and met Leia and the smuggler who had kidnapped her, Han Solo. Leia, who had been offered Isolder's hand in marriage, demanded Teneniel to sell Isolder to her, though she refused to. She explained to Isolder that she was in love with Luke still, but she only kept Isolder a slave in name because the other clan sisters would claim him then. Isolder then took a liking to Teneniel after hearing this, and they fell in love after Teneniel found out that Luke did not plan on marrying her. After defeating Zsinj, Teneniel declared to Ta'a Chume, Isolder's mother, that she would marry Isolder, with or without her permission. After standing up to the Queen Mother, who had disagreed with Isolder's decision to marry Teneniel, she reconsidered, and allowed the marriage.[5]
Two years into their marriage, Isolder and Teneniel had their first child, Tenel Ka. They disagreed on how she would be raised; Isolder wanted her to be raised as a princess, and Teneniel wanted her to choose her path. This would be the first part in a downturn in their relationship; Teneniel and Isolder disagreed on many things, especially when Teneniel gained the title of Queen Mother. Ta'a Chume insisted that Tenel Ka should not be trained as a Jedi, though Isolder himself had no objection.[1] Due to this, as well as Tenel Ka's outright refusal to take the throne, they decided to have another child that would become Queen Mother instead. Teneniel miscarried this child as a result of the devastation of the Hapan Fleet at Fondor, and their relationship was torn apart.[11] Ta'a Chume, who was power hungry due to Teneniel's mistakes, tried to convince Isolder to divorce Teneniel and marry Jaina Solo, or give the throne back to her. Though he considered it, Teneniel was soon killed by the Ni'Korish, ending their relationship.[12]
Behind the scenes
[
]
Isolder was created by Dave Wolverton and first appeared in The Courtship of Princess Leia. Wolverton admitted in an interview in 2014 that Isolder was influenced by Fabio Lanzoni, who adorned the covers of many romantic novels in the late 80's and 90's. Wolverton further explained he wanted a "hunk" whom Han couldn't compete with for Leia's love.[18]
The online supplement Hapes: Ladies First, which purports to detail part of Isolder's career as a privateer, is filled with continuity errors. The main ones include Isolder revealing his presence to his mother before he had captured Harravan, and the placement of the timeline as 0 BBY instead of after 2 ABY. These contradictions are explained away on the main page of the web supplement itself in the form of being included in a "poorly fact checked" novel written by Grov Bricker, Isolder's Corellian captain.
Appearances
[
]
Sources
[
]
Notes and references
[
]
External links
[
]