The Itani Nebula was a remote expanse of reddish-green gases and flashing electromagnetic storms.
Like many nebulae, it was hazardous to navigate. It had once been home to a band of pirates who mysteriously vanished.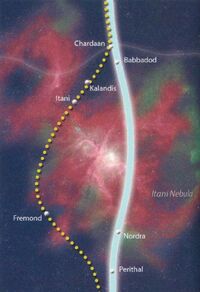 The Itani Nebula was one of the many hazards along the route which Freia Kallea charted for the future Hydian Way. She blazed a line across the nebula in 3703 and 3702 BBY which was integrated into the first Hydian Way. A new line was later discovered and Kallea's first segment became the Itani Run.[1]
Darknon Station was located along the Itani Run, which skirted the edge of the nebula. A secret Imperial research station was hidden inside the nebula.
At 1 BBY, a portion of the Rebel Fleet, commanded by the Salvation, was ambushed by a Imperial unit commanded by bounty hunter Boba Fett.
Community content is available under
CC-BY-SA
unless otherwise noted.