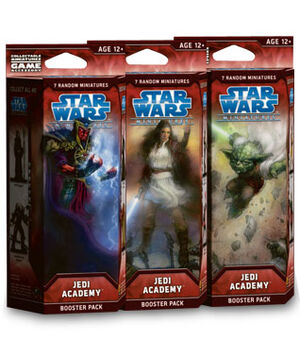 Jedi Academy is an expansion set for Wizards of the Coast's Star Wars Miniatures game released on June 30, 2009. The set focuses on force users from across the Expanded Universe, particularly from Star Wars: Tales of the Jedi and the New Jedi Order. The booster cover art was done by Terese Nielsen. The set shares its name with the The Jedi Academy Trilogy of books and the video game, Star Wars: Jedi Knight: Jedi Academy with this set containing miniatures from both sources.
Rarity denoted as follows: Common (C), Uncommon (U), Rare (R), Very Rare (VR)
OLD REPUBLIC
SITH
REPUBLIC
SEPARATISTS
Rocket Battle Droid C [Reprint from Clone Wars]
IMPERIAL
NEW REPUBLIC
FRINGE
MANDALORIAN
Death Watch Raider C
YUUZHAN VONG
Praetorite Vong Priest UC
Praetorite Vong Warrior C
Yuuzhan Vong Ossus Guardian UC

 "Jedi Academy" on Wizards.com (backup link)
Community content is available under
CC-BY-SA
unless otherwise noted.