House of the Dragon Trailer - The Loop
Play Sound
"You can't walk around dressed like a monk while clones are on the hunt for Jedi."
―Janus Kasmir, to Caleb Dume
Jedi robes was a term that referred to the monk-like garments and robes worn by members of the Jedi Order. Although they were free to choose their clothing from the time they became Padawans, most Jedi adopted the garments traditionally associated with the order, with notable exceptions like Aayla Secura and Ahsoka Tano. During the final years of the Galactic Republic, Anakin Skywalker wore darker garments than his fellow Jedi, a choice that drew concern from the Jedi Masters.
Description
[
]
"Your sleeves are cut to allow exaggerated movements of your arms. Likewise, the long tunic, which appears as if it would impede your movement, also allows freedom of motion. Of equal importance is the fact that in combat its swirling motion will distract an opponent's eyes."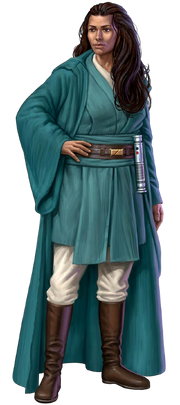 Although the Jedi had no set uniforms, their clothes tended to follow a pattern, consisting of an undertunic, an overtunic, an outer robe with a deep hood and wide sleeves, loose-fitting trousers, a tabard, a broad sash tied about the waist, and tall boots. Those pieces of clothing and footwear generally varied in light earth tones,[1] though several Jedi were known for wearing darker versions.[2] In the eyes of some, like the Kalleran scoundrel Janus Kasmir, Jedi robes made their wearers look similar to monks.[3]
Having adopted a simple yet strict life style, most Jedi chose to wear robes in a traditional earth-tone. The clothes were warm and comfortable, and allowed for greater freedom of movement. The Order also permitted members to wear robes from their homeworld, such as the hybrid Mirialan-Padawan oufit worn by the Jedi Barriss Offee.[4]
History
[
]
From the time they were Padawans, members of the Jedi Order were free to choose their clothing. The Jedi Knight Anakin Skywalker wore darker garments than his fellow Jedi during the last years of the Galactic Republic, a fact which drew concern from the Jedi Masters.[5]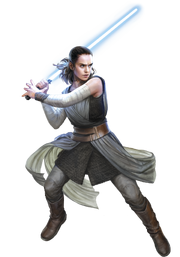 The Twi'lek Aayla Secura notably averted the classical pattern, wearing fitted clothes that allowed complete freedom of movement and left her midriff exposed.[2] Her fellow Twi'lek Finn Ertay, however, wore a long-sleeved, high-necked full-length dress that began to flare below the waist.[6] Ahsoka Tano, the Togruta Padawan of Anakin Skywalker, dressed similarly to Secura during her early years, but eventually adopted an outfit which covered more of her skin, while still allowing great freedom of movement.[7] The Kiffar Quinlan Vos favored sleeveless tunics,[8] and sometimes donned a black leather outfit.[9] Being a hair-covered Wookiee, the Padawan Gungi wore nothing but a sash, a belt, and a bandolier.[10]
The Force collector Karr Nuq Sin, whose great-grandfather had been a Jedi, inherited his Jedi robes during the New Republic Era.[11]
Rey Skywalker's Jedi robes were sleeveless, and had a color ranging from brown, gray, tan, and white.
Behind the scenes
[
]
Jedi garments first appeared in Star Wars: Episode IV A New Hope,[12] though they were not revealed to be the general wear of the Jedi until Star Wars: Episode I The Phantom Menace.[1]
Appearances
[
]
Non-canon appearances
[
]
Sources
[
]
 Padmé Amidala in the Encyclopedia (content now obsolete; (backup link) (Picture only)
Star Wars Helmet Collection 13 (Helmets: Naboo Pilot) (Picture only)
Star Wars Helmet Collection 15 (Highlights of the Saga: Palpatine Unmasked) (Picture only)
Star Wars Helmet Collection 17 (Helmets: Anakin Skywalker Podracer; Highlights of the Saga: The Boonta Eve Classic) (Picture only)
Star Wars Helmet Collection 22 (Weapons & Uniforms: The Supreme Chancellor of the Republic) (Picture only)
Star Wars: Build Your Own R2-D2 1 (Droid Directory: R2-series Astromech Droids, Part 1) (Picture only)
Star Wars: Build Your Own R2-D2 4 (Building the Galaxy: Filming R2-D2, Part 1) (Picture only)
Star Wars: Build Your Own R2-D2 6 (Building the Galaxy: Filming R2-D2, Part 3) (Picture only)
Star Wars: Build Your Own R2-D2 8 (Building the Galaxy: The Weapon of a Jedi; Droid Directory: Imperial Mark IV Sentry Droid) (Picture only)
Star Wars: The Last Jedi Activity Book with Stickers (Picture only)
Star Wars Helmet Collection 28 (Databank A-Z: Queen Jamillia–Jedi Temples; Highlights of the Saga: Crash Landing on Coruscant) (Picture only)
Star Wars Helmet Collection 29 (Databank A-Z: Jelucan–Lord Junn) (Picture only)
Star Wars Helmet Collection 30 (Helmets: Senate Guard) (Picture only)
Star Wars Helmet Collection 31 (Databank A-Z: Kaminoans–King Katuunko) (Picture only)
Star Wars Helmet Collection 32 (Databank A-Z: Kel Dor–Ki-Adi-Mundi) (Picture only)
Star Wars Helmet Collection 33 (Databank A-Z: Admiral Kilian–Kowakian; Helmets: Commander Neyo) (Picture only)
Star Wars Helmet Collection 41 (Helmets: Jango Fett; Weapons & Uniforms: The Kaminoans; Highlights of the Saga: The Secret of Kamino)
 Star Wars: Legion – Core Set (Card: Jedi Mind Trick) (Reissued in

Clone Wars Core Set

) (Picture only)
Star Wars Lightsabers: A Guide to Weapons of the Force (Picture only)
Star Wars Helmet Collection 54 (Helmets: Naboo Royal Guard; Highlights of the Saga: Flight from Naboo) (Picture only)
Star Wars Helmet Collection 56 (Databank A-Z: Tractor Beams–Tri-Fighters) (Picture only)
Star Wars Helmet Collection 65 (Databank A-Z: VCX-100 Light Freighter–Veers) (Picture only)
Star Wars Helmet Collection 70 (Databank A-Z: Wicket Warrick–Weequay) (Picture only)
Star Wars Helmet Collection 72 (Databank A-Z: Mace Windu; Helmets: Pilot/Training Helmet; Weapons & Uniforms: Training the Jedi; Highlights of the Saga: Luke's Journey in the Force) (Picture only)
 "Naboo" – Star Wars Encyclopedia (Picture only)
Sixth Scale Figures (Pack: Qui-Gon Jinn) (backup link)
Star Wars Bust Collection 1 (Star Wars Universe: Darth Vader) (Picture only)
Jedi Knight Vernestra Rwoh: Characters of Star Wars the High Republic on the official Star Wars YouTube channel (backup link)
Avar Kriss | Characters of Star Wars: The High Republic on the official Star Wars YouTube channel (backup link)
"Aftermath" Episode Guide on StarWars.com (backup link) (Picture only)
 keeradak in the Databank (backup link) (Picture only)
 Yarael Poof in the Databank (backup link)
Notes and references
[
]