Jurassic World: Dominion Dominates Fandom Wikis - The Loop
Play Sound
"Berkey's imagination and expressionistic style quickly set him apart from other sci-fi illustrators. From a distance, his paintings appear very exacting and perfectly rendered. But upon closer inspection, they reveal a beautifully loose and freely abstract style."
―Rusty Freeman, Vice-President, Collections & Public Programs, Plains Art Museum, Fargo, North Dakota
John Conrad Berkey (August 13, 1932[3]—April 29, 2008) was an artist who made his name illustrating cover art for science fiction books. He illustrated at least eleven pieces of Star Wars art, including cover art for the Star Wars Episode IV: A New Hope novelization and Star Wars: Return of the Jedi: Death Star Battle video game.[2][4]
Berkey created the artwork for the theatrical release posters for several blockbuster movies including The Towering Inferno (1974), the 1976 remake of King Kong, Orca the Killer Whale (1977), Meteor (1979), Black Stallion (1979), Superman III (1983), and Dune (European release, 1984). He declined an invitation from Stanley Kubrick to work on the 1968 film 2001: A Space Odyssey.[1]
Biography
[
]
In 1975, the young filmmaker George Lucas purchased several pieces of Berkey's science fiction artwork. The paintings served as visual reference material while Lucas was trying to pitch his ideas to film studios for a new space fantasy film, The Star Wars. Among the paintings was one of a rocket-plane diving down through space towards a gigantic mechanical planet (the image had been used as cover art for the 1972 reprint of the short story anthology Star Science Fiction Stories No.4).[5] It is thought that this painting in particular had a strong influence on the production design of Star Wars and served to inspire the film's leading concept artist, Ralph McQuarrie, and the model maker Colin Cantwell, whose early designs for the Death Star battle station bore a strong similarity to Berkey's painting. A number of other Star Wars spacecraft, such as Star Destroyers, may also have been influenced by Berkey's designs of naval-style ships with smooth hulls and conning towers bristling with antennae.[6][7]
Berkey was commissioned by Lucasfilm and 20th Century Fox in 1976 to provide some of the first poster art for Star Wars. Among this work was a painting which depicted the character Luke Skywalker brandishing a lightsaber, flanked by the robots C-3PO and R2-D2, and a number of Imperial stormtroopers; in the background is a large figure of Darth Vader looming behind them, a similar composition to the theatrical poster artwork for Star Wars by Tom Jung and the Brothers Hildebrandt. When the novelization of the film was published, Star Wars: From the Adventures of Luke Skywalker, the United Kingdom edition published by Sphere Books featured cover art by Berkey (Ballantine Books' US edition originally featured a cover by Ralph McQuarrie).[6][2][8]
Another of Berkey's original paintings for Star Wars was a poster depicting the final battle over the Death Star from the final scenes of the film. Berkey reportedly never saw Star Wars, and this is evidenced in the fact that he illustrated multiple Millennium Falcon spaceships (in the film there is only one). Berkey said of the poster in an interview, "It was the first time that I was asked to paint fictional space crafts not of my own design". The painting was issued as a souvenir poster that was included in the first release of the Star Wars Original Motion Picture Soundtrack by 20th Century Records.[2][9][10]
Berkey's involvement in Star Wars was brought to an end after a conflict of interest with his work for rival film studio Universal on the 1978 TV series Battlestar Galactica.[6]
Berkey revisted the Star Wars universe in 1983 when he was commissioned to provide the cover artwork for the Atari video game, Star Wars: Return of the Jedi: Death Star Battle.[9]
Works
[
]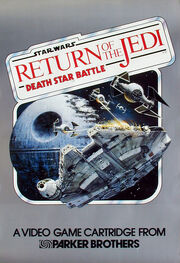 Filmography
[
]
Bibliography
[
]
Gameography
[
]
Honors and Awards
[
]
In 1999, John Berkey received the Spectrum Award for Grand Master.[11]
John Berkey was inducted into the Society of Illustrators Hall of Fame in 2004.[12]
Sources
[
]
Notes and references
[
]
↑ 1.0 1.1 John Berkey on AskART: The Artist's Bluebook. askart.com. Archived from the original on August 16, 2014.
↑ 2.0 2.1 2.2 2.3 2.4 John Berkey Remembered on StarWars.com (content now obsolete; backup link)
↑ 3.0 3.1 3.2 3.3 Frank, J., & Berkey, J. (2003). The Art of John Berkey. London: Paper Tiger. ISBN 1843401223.
↑ Berkey, John: About — John Berkey. John Berkey Art Ltd.. Archived from the original on September 16, 2017.
↑ Berkey Tributes. John Berkey Art. Archived from the original on September 17, 2017.
↑ 6.0 6.1 6.2 Heilemann, Michael: John Berkey & The Mechanical Planet. Kitbashed. Archived from the original on September 15, 2017.
↑ Cohen, Ben: John Berkey's art inspired the Death Star in 'Star Wars'. Star Tribune. Archived from the original on September 15, 2017.
↑ 9.0 9.1 Star Wars Art – John Berkey Art. johnberkeyart.com. Archived from the original on June 19, 2017.
↑ Original Star Wars poster painting by John Berkey. www.sciencefictionarchives.com. Archived from the original on September 15, 2017.
↑ Ketter, Greg: Minicon 35 Program Book (21 April 2000). mnstf.org 2. Archived from the original on September 17, 2017.
↑ John Berkey at ArtOrg Moving Walls Gallery. movingwalls.artorg.info. Archived from the original on June 13, 2006.
External links
[
]