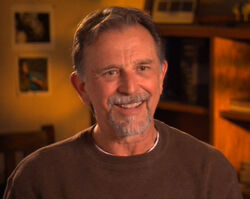 John Charles Dykstra (born June 3, 1947 in Long Beach, California) is a special-effects supervisor and pioneer in the development of the use of computers in film making. After studying industrial design, Dykstra landed a job working with Douglas Trumbull on Silent Running filming model effects. When George Lucas was recruiting people for the special effects work on the original Star Wars film, he approached Trumbull who pointed him towards Dykstra. Dykstra led the development at Industrial Light & Magic of the computer controlled motion capture camera system, Dykstraflex, that was responsible for many of the film's groundbreaking effects. The system was made possible by the availability of off the shelf micro-processors at relatively low cost and secondhand VistaVision cameras.
However, there was tension between Dykstra and Lucas, who later complained that too much of the special effects budget was spent on developing the camera systems and that the effects team did not deliver all the shots that he had wanted. Regardless, following the release of Star Wars Dykstra secured his status in the industry with Academy Awards for best special effects and special technical achievement.
Dykstra had a production credit for the television series Battlestar Galactica and contributed to the series' effects, but after Star Wars these stock shots were a bit of a disappointment. Universal Studios, the producers of Battlestar Galactica, also got into a legal dispute with George Lucas. As a result, when work started on The Empire Strikes Back Dykstra was not invited back. Dykstra also worked on the effects for Star Trek: The Motion Picture with some of these effects being recycled in subsequent films.
Dykstra's next major achievement was the effects work on Firefox in 1982. Here he took on the same challenge that Lucas had set with The Empire Strikes Back of combining miniature effects with actual backgrounds and matte work on white backgrounds. The film secured further awards but was only a modest box office hit. Dykstra was also involved with the laserdisc-based arcade game spin-off from Firefox that proved a big hit and for the next decade concentrated on video games. Dykstra was supervisor for the special effects of Batman Forever and Batman and Robin. Dykstra was Visual Effects Designer on both Spider-Man films, and was rewarded with an Oscar for Best Achievement in Visual Effects for his efforts on Spider-Man 2.
Bibliography
Edit
External links
Edit
Community content is available under
CC-BY-SA
unless otherwise noted.