"I feel I could count on any one of you, but it is you who saved me from the dark side. It is you who I feel a debt to. And I shall make it up to you."
―Juhani to Revan
Juhani was a female Cathar Jedi Padawan and Jedi Guardian who followed Revan during the time of the Jedi Civil War. In aiding Revan she played a role in destroying the Star Forge and defeating the Sith Empire under Darth Malak.
Biography
Early life
"Taris was my home for many years. As much as I hated it, it was still home. A rat-hole; a warren; a paradise. I suppose you could call it all these things. For me it was hell..."
―Juhani
During the early days of the Mandalorian aggression that would culminate in the Mandalorian Wars, Juhani's parents narrowly escaped from the destruction of their homeworld by the Mandalorians during the Battle of Cathar. They fled to Taris, among the very last remnants of their race, taking their child with them. There Juhani, only a few months old, was raised; throughout her life, she called Taris her homeworld.
Like many non-Humans, Juhani's family had a rough life on Taris at that point in its history. The native Humans disliked them merely for being "aliens," looked at them in disgust, persecuted them, and charged them more for food than their own species. Juhani had mixed feelings for the planet she had to live on; she hated it, called it a "rat-hole" and a "warren," but still realized that it was her home. Her life could have been far, far worse.
However, when her father was killed by the Mandalorian slaver Xor, something began to slowly die within her mother, as well. She worked as hard as possible, but still didn't earn enough money to support both herself and her daughter. So she started borrowing money from the Exchange, doing everything possible to save funds, giving her daughter most of their food. And one day, she collapsed in the cantina she worked in… and never recovered, as they simply did not have enough money to pay a doctor.
The Exchange then charged Juhani with her mother's debts, and, as she had no way to repay them, enslaved her. This was the worst period in her life. She was bound like a beast and treated like livestock, with Xor planning to purchase her at auction. One day, however, an unexpected force intervened.
It should be noted that Juhani never gave up hope for a better life. She remembered legends about the Jedi, of whom she had a somewhat idealized image of fearless peacekeepers and protectors of the innocent. And in the end, she was freed from the slavers by a Jedi who, in her opinion, perfectly matched her image—Revan, who arrived on Taris during the Mandalorian Wars, driving the occupiers off-world.
Jedi training
"From that moment on I knew that I would have to try to become a Jedi. To lift myself out of the rut I had been living in for years and to make a real difference, as the Jedi were. The foolish delusions of a child. But THIS child made it happen!"
―Juhani
After that, Juhani, who was in fact Force-sensitive, vowed to become a Jedi. Immediately after collecting enough money, she boarded the first freighter to Dantooine, where she was taken for training by Jedi Master Quatra. At first their relationship was peaceful, but as her training progressed, Juhani, due to her hot-tempered Cathar nature, began to lose control over her emotions and slip towards the dark side.
During her period of doubt, she confided in Dak Vesser, another Jedi trainee. Dak surprised her by confessing romantic feelings for her, feelings Juhani could not return. Dak grew angry and ran off to join the Sith, leaving Juhani behind and even more confused.
Quatra, aware of the changes in her Padawan, decided to test her in an unusual way. By that time, Juhani's training was almost complete, and Quatra had nothing more to teach her. She allowed Juhani to give in to her rage, which resulted in Juhani's attempt to murder her Master. Juhani left her for dead, but in truth, Quatra was only injured (later recovering in the Jedi Enclave).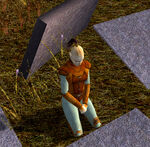 Believing that she had harnessed the power of the dark side, Juhani left the Enclave and hid in a Jedi meditation grove. The grove soon became tainted, and the local kath hounds were driven mad, resulting in attacks upon the local settlers.
Her salvation, coincidentally enough, once again came from Revan. At that time, the former Jedi Knight and Dark Lord of the Sith was unaware of his true identity—suffering from amnesia, he believed he was a former Galactic Republic soldier taken for Jedi training, and the task of removing the taint from the grove, given by the Jedi Council, was his final test. Revan, like Juhani, was once again waiting to become a Padawan.
As Revan approached the grove, Juhani engaged him in battle, but was unexpectedly defeated—she had falsely believed that no one could match her power. Finally, she realized what Quatra had tried to teach her: the dark side itself was no stronger than the light side, and that being seduced by it did not make one any stronger.
Revan spared her life and persuaded her to ask the Jedi Council for mercy. She was forgiven and remained in the Enclave for some time, until Revan and Bastila Shan uncovered a Star Map on Dantooine. At this point, the Council assigned Juhani to their expedition aboard the Ebon Hawk, which aimed to find other Star Maps that could reveal the location of the Star Forge.
The Jedi Civil War
"How may I be of assistance to you, Padawan?"
―Juhani
During Revan's adventures, Juhani was sometimes on the verge of falling to the dark side once again—especially when she met Xor once more and prepared for revenge. Revan, however, managed to prevent the bloodshed by reciting the Jedi Code, which also worked surprisingly well in other situations. Generally, Juhani showed the most zeal as advocate of the light side and the ways of the Jedi; perhaps to show her repentance and restrain herself from falling anew.
Juhani repaid Revan in turn when they were stranded on Lehon, when he had to enter the Temple of the Ancients to disable the disruptor field which damaged any ships traveling within the Star Forge's system. Jolee Bindo persuaded the Rakatan priests to allow him and Juhani to follow Revan into the temple, and it turned to be a valid effort.
"I pledge my life to your cause. We WILL defeat the Sith once and for all."
―Juhani's words to Revan on the Temple of the Ancients, when he rejected the dark side.
It was not to be an easy task, however. Revan was confronted by Bastila, who had been converted to the dark side by Darth Malak, and it is conjecturable that, without Juhani and Jolee having restrained Revan's underlying emotions, the Dark Lord would have ultimately embraced his former identity and followed Bastila over to the dark side. Juhani had saved the one who had saved her.
After the death of Malak and the destruction of the Star Forge, Juhani, among Revan's other followers, was honored at the celebration of the Republic's victory on Rakata Prime. It is unknown what happened to Juhani beyond this, or if she survived the First Jedi Purge.
Personality and traits
"But though she was saved, do not dismiss what happened to her. Juhani is both dedicated and true to the ideals of the Order, yet she was still vulnerable to the dark side. As are we all."
Juhani was determined to become the ideal Jedi, and her fierce devotion to her goal didn't allow her to accept failure in herself or her peers, yet she always found herself struggling against her Cathar instincts and fierce temper. Juhani's master Quatra feared that unchecked, her perfectionist views would eventually end in frustration and lead Juhani to the dark side. Quatra's final test forced Juhani to re-examine herself and how her pride had nearly made her fall to the dark side, the act would leave a positive impression that served as an example when she needed to reflect on her choices.
Juhani claimed that Cathar were solitary and slow to trust by nature, so even when she eventually joined the Jedi she mostly kept to herself, keeping only a small circle of friends including fellow Padawans Belaya and Dak Vesser. Even with Revan and the crew of the Ebon Hawk she kept herself at a distance, though valued their companionship.
Juhani understandably held a grudge against the Mandalorians for the unprovoked genocide on her birth planet of Cathar, and even though she recognized her Mandalorian ally Canderous Ordo as a person of merit, she could never fully trust him. In addition, she still harbored some animosity towards humans for the prejudice and persecution she and her parents suffered while living on Taris. While she admitted that some of the best people she had ever known were Human, she found it difficult to let go of her bitterness, and at times would even lash out emotionally at Revan for it.
Powers and abilities
"I will be your doom!"
―Juhani to Revan, during her fall to the dark side
Juhani's heritage and segregated upbringing had a unique effect on the way her Force powers developed; she instinctually learned how to conceal herself with the power of Force Camouflage. Though as a Jedi Guardian she favored lightsaber combat, this ability might have come in handy, if Revan selects her to save the crew of the Ebon Hawk, she uses it to avoid capture when the Leviathan takes the Ebon Hawk's crew prisoner.
She supplemented her lightsaber dueling skills with a wide array of battle oriented Force powers, including Force Speed, Force Stun, Force Push, and Saber Throw. During her brief stint as a Dark Jedi she also began to learn dark side powers such as Force Slow, and Force Choke, though she would later abandon the use of the latter. She could also employ the Jedi Mind Trick, though she often saw it as a misuse of the Force.
Behind the scenes
Romance
Belaya
"Juhani was a… a dear companion to me for many years. We spent many nights together alone under the stars."
―Belaya to Revan
Though the nature and extent of their companionship was never fully explored, some believe that Juhani and her childhood friend Belaya had a more intimate relationship while they both trained at the Dantooine enclave, despite the Jedi code discouraging Jedi from the dangers of personal attachments. It was because of their strong feelings that when Juhani fell to the dark side that the Council decided that Belaya was too close to Juhani to return her, that their strong passions would work against them if she were to try. (Indeed, if the player chose the dark path and killed Juhani, those strong emotions turned to vengeance against Revan and she fell to the dark side as well.) Though Juhani would eventually renounce the dark side and return to the Order, if they were in fact in a relationship, it was not to last long. Shortly after Juhani was to accompany Revan on his mission to stop the Sith, and Belaya was presumed killed when the Sith fleet destroyed the enclave with orbital bombardment.
Revan
"I… I… I care for you. I do not know why. I do not know if anything will be possible or if you even return what I feel, but I do know it is there."
―Juhani to Revan
On their journey together to stop the Sith, Revan earned Juhani's trust and respect, becoming close friends with the normally solitary and reserved Cathar. However, in their appearance together in the Knights of the Old Republic video game, their story could have taken a more intimate turn if Revan was a woman.
Starting with their meeting at the meditation grove, Juhani was swayed by Revan's persuasive personality, and even a little charmed when Revan told her that she was a beautiful and talented young woman. This would mark the beginning of a long and binding kinship that carried them through to the end of the Jedi Civil War.
During their time together Juhani's feelings for her began to change, feelings that she kept to herself so as not to jeopardize their mission or friendship. However after she sensed that their journey together would soon be coming to an end, one way or another, she feared that she might not get another chance to voice her feelings. She finally took Revan aside and confessed how much she actually cared for her on the roof of the Rakatan Temple.
Though it is unclear what might have happened between them after that final battle; it is known that a few months later Revan's memories had begun returning, and Revan left for the Unknown Regions, leaving Juhani behind in her one-person quest to save the Republic from the "True Sith".
Trivia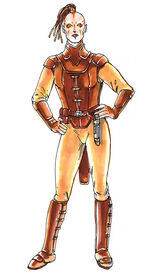 Juhani's name was originally going to be Bastila Shan, before the introduction of that character. Early sketches of Juhani with that name are still available on some Knights of the Old Republic-related websites. On that concept art, her outfit is something of a middle ground between what we see Bastila and Juhani wearing in the final game.
Juhani's original name, Bastila, is a possible reference to the Egyptian feline goddess Bast, or Bastet. The reference lost its significance when the name was transferred to the current Bastila. Interestingly, if Juhani was named Bastila Shan, she would be the first known Cathar to have both a first name and a last name.
After the name of Bastila was reassigned, fans speculate that the character may have been removed from the game (due to the lack of dialogue and many programming glitches) before being reintroduced near the end of production.
Juhani speaks with a Russian accent, especially notable with "r" and "w" pronunciation. This is likely intended to give a catlike 'purr' to her voice, or to denote a special Catharian dialect of Galactic Basic.
"Juhani" is also a very common Finnish male first name.
After defeating Xor, the player can encourage Juhani to take revenge on him, rather than to suppress her anger. If the player does so, Juhani loses control again and gives into her anger, striking him down with her hatred. Afterwards Juhani regrets that she gave in to the dark side again, even though she felt he deserved his fate.
Dark side players have the opportunity to kill Juhani twice. First, after encountering her in the grove, they can choose to end her life instead of redeeming her, thus losing a potential party member. Second, if the player chooses to follow Bastila to the dark side in the Rakatan temple, Juhani and Jolee Bindo leave the party and become hostile.
At one point in the game Juhani is referred to as an Apprentice instead of a Padawan—this is stated in the mission journal between the time Revan meets Juhani, and when he redeems (or kills) her. This may have been a mistake, or Juhani was only made an official Padawan after being redeemed.
If Revan has any companions with him when he approaches the meditation grove, Juhani freezes them using Force Stasis before drawing her lightsaber.
Though the player can change Juhani's equipment as they see fit, by default Juhani uses a single lightsaber in battle. First a red lightsaber, then she replaces it for a blue one, corresponding to the default color of her Jedi Class, Guardian. She also comes equipped with a red Jedi Knight robe.
There was a conversation option that allowed her to voice suspicion and dislike for Canderous Ordo. Another cut dialogue tree allowed her to voice her knowledge on the various planets the party visited. Overall, only about half of the dialogue voiced and written for the character appeared to make it in game.
Juhani is possibly the Star Wars universe's first lesbian character, or at least her optional romance subplot with female Revan was the first of its kind. An error in the first release of the video game led people to believe that Juhani was bisexual because the player could pursue a relationship with her regardless of gender. It has since been corrected, though it is still available via fan made mods.
Despite Juhani being a romantic option to the female Revan in the first game, if Revan is set to light-side female in the sequel, it is assumed that Revan had a relationship with Carth instead, and no mention of Juhani is made.

Appearances
Sources