Jzoro's Bunker was a bunker located on the planet Corellia, near the city of Doaba Guerfel. It was used by the Chirq Council during the Galactic Civil War.
By the time following the Battle of Yavin, the bunker was the headquarters of Jzoro Quanera, a Chirq Council underboss who supervised all the criminal activities of the Chirq Council, mostly spice traffic, within and around Doaba Guerfel.[1]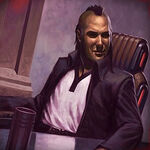 Circa 1 ABY,[2] the Corellian Security Force started an investigation against the Chirq Council following the increase of ryll traffic on Corellia.[3] Captain Vitala Baize decided to infiltrate the organization, using the identity of Trins Evnar, a Chirq Council member in Doaba Guerfel. An independent spacer who previously worked for the CorSec thus killed Trins Evnar, as well as every other Chirq Council criminals who used to know him.[4] As Jzoro Quanera did not know personally Trins Evnar, the CorSec agent assumed Evnar's identity towards him and successfully managed to lure the underboss. The CorSec agent thus joined Quanera's group and started to work for the underboss. After having completed several missions for him, the agent was finally allowed to have full access to Jzoro Quanera's bunker, including its database. From Quanera's database, the CorSec obtained the identity of the nine elite councilors who ruled the Chirq Council and the locations of their secret headquarters.[1]
Around the same time, a group of Chirq Council henchmen working for Quanera stole three racing durnis belonging to the animal handler Galvain Tark. A spacer later infiltrated the bunker and successfully liberated the three durnis.[5]
Community content is available under
CC-BY-SA
unless otherwise noted.