"Some little… bat weasel? I don't know. Like an Ugnaught with a gland issue or somethin'. I thought he was a really hairy kid at first."
"She. Kabe."
―The Scrapper and Myo
Kabe was a female Chadra-Fan who was a patron of Chalmun's Cantina shortly before the Battle of Yavin.
Biography
Edit
"Cute faces ain't a form of currency, Kabe."
―Wuher to Kabe
A female Chadra-Fan who was a patron of Chalmun's Cantina.[3]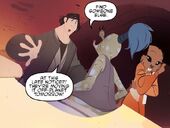 At some point at Chalmun's Cantina, Kabe tried to order Blue milk from Wuher but had zero credits. Kabe then heard a man and an alien talking about a imperial cruiser loaded with a valuable item aboard. Kabe eventually captured the item and gave it to the man which he gave her credits. Kabe then bought Blue milk from Wuher.[4]
In 0 BBY, Kabe ordered a drink from Wuher at Chalmun's Cantina. During her time here, witnessed Jedi Master Obi-Wan Kenobi an Luke Skywalker fight with Dr. Cornelius Evazan and Ponda Baba.[3]
Personality and traits
Edit
Kabe used her annoying high pitched squeaks as an effective way to get the attention of Chalmun's Cantina bartender, Wuher.[2]
Kabe was a female Chadra-Fan, a species that averaged out at a height of 1 meter.[2] She had tan skin covered with brown fur, and dark eyes.[3]
Appearances
Edit
Notes and references
Edit
↑ 2.0 2.1 2.2 2.3 2.4  Chadra-Fan in the Databank (backup link)
Community content is available under
CC-BY-SA
unless otherwise noted.