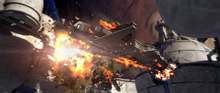 Kamikaze was a tactic in which one starfighter, capital ship, or other vehicle, often loaded with explosives, would deliberately ram a target, often causing massive damage. The Confederacy of Independent Systems became very well known to use this attack with their droid fighters.
Examples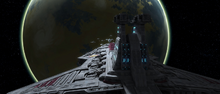 During the Battle of Ryloth, Anakin Skywalker used the heavily damaged Defender to ram into Mar Tuuk's Droid Control Ship and destroy it while Anakin himself escaped by using an escape pod. Earlier during the battle, swarms of Vulture Droids had done the same to the Defender, as well as the Resolute and the Redeemer. The damage was so great to the Redeemer that it blew apart.
In the Battle of Endor, a Rebel pilot, Green Leader Arvel Crynyd, piloted his severely damaged A-wing into the bridge of the Super Star Destroyer Executor. This sent the massive, out of control dreadnought straight into a doomed collision with the Death Star II.
Appearances
Community content is available under
CC-BY-SA
unless otherwise noted.