The Karrans were a sentient species indigenous to Karra.
Biology and appearance
Edit
The Karrans were large and lumbering insectivores. Their bodies were roughly cone-shaped, starting with a narrow snout and widening down to large thick legs and hindquarters. They had four-fingered hands with long claws and no thumbs, which limited their manual dexterity.
The Karrans had an almost hive-mind mentality, and individuality could quickly be suppressed in deference to the community will.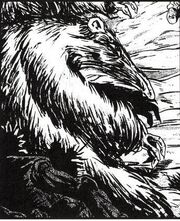 Appearances
Edit
Community content is available under
CC-BY-SA
unless otherwise noted.