"This circuit will take you winding through the narrow bridges and streets of Keren and it is favored by the more technically minded racer. Focusing more on finesse then it does raw speed this course will definately challenge your racing skills. Due to the danger street racing poses to pedestrians, the RSF does not approve of this activity so participation is at your own risk."
―The race coordinator, to a spacer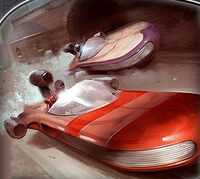 The Keren Street Race was a racing event held in the Naboo city of Keren. The race sent the racer through and around the city, and some considered it a challenge with all the tight turns and racing over bridges that were involved in the race. At one point, Ben Quadinaros held the fastest record on the track, but it was later broken by other racers.[1]
Pedestrian Bridge Egress[1]
Hotel Lane[1]
Cloning Facility Byway[1]
Medial Center Circle[1]
Guild Complex Terrace[1]
Riverside Causeway[1]
Falls Overlook[1]
The Keren Street Race appeared in the 2003 video game Star Wars Galaxies, a massively multiplayer online-role playing game developed by Sony Online Entertainment and published by LucasArts,[1] prior to its closure on December 15, 2011.[2] It was added to the game with the "Publish 9.3", released on August 10, 2004.[3]
↑ 1.00 1.01 1.02 1.03 1.04 1.05 1.06 1.07 1.08 1.09 1.10 1.11 1.12  Star Wars Galaxies: An Empire Divided—Swoop race track: "Keren Street Race" on Naboo
↑  IMPORTANT INFORMATION ABOUT STAR WARS GALAXIES™ on the official Star Wars Galaxies website (content now obsolete; backup link)
↑  Publish 9: Secrets of the Force on the official Star Wars Galaxies website (content now obsolete; backup link)
Community content is available under
CC-BY-SA
unless otherwise noted.