The King's Ransom was a Tammuz-an transport captained by Jessica Meade.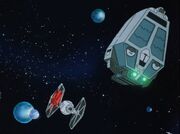 The King's Ransom was a fuel transporter,[1] designed with its cockpit area underneath the tank area. The ship could be flown by just one person. The vessel had multiple escape pods fitted to the side of the cockpit area. The transporter model had two landing gears.[2]
The ship served as part of the Tammuz-an shipping fleet. It was later given to Meade as thanks for her part in helping King Mon Julpa secure his throne.[4] Meade used the vessel to transport cargo shipments for Tammuz-an. During a trip carrying fuel for the Tammuz-an space navy, the Ransom was hijacked by pirates under the command of Gir Kybo Ren-Cha. When Meade later escaped from the pirate's base on Tarnoonga, the pirates made chase and destroyed the vessel with their captured Star Destroyer, the Demolisher, prior to Ren-Cha's assault on Tammuz-an.[2]
Community content is available under
CC-BY-SA
unless otherwise noted.