The governor's tower in the Artisan colony served as the headquarters of Governor Roshti during the Clone Wars. Some time during the war the Confederacy of Independent Systems invaded Kiros and this tower became the headquarters of Separatist Commander Darts D'Nar.
When the forces of the Republic arrived to stop the Separatist takeover, the tower was the location of the negotiations between Darts D'Nar and Obi-Wan Kenobi. D'Nar forced Kenobi to surrender with the threat of bombs around the city. Kenobi tricked D'Nar into fighting him in hand-to-hand combat, according to Zygerrian tradition, until the bombs were disabled, at which point Kenobi tried to force D'Nar to surrender. D'Nar, however, set off an explosive in his tactical droid, who Kenobi Force pushed out of the window. D'Nar escaped while Kenobi was distracted, but he was captured before he could leave the planet.
Behind the scenes
Edit
The structure of the tower is in the shape of a Togruta head.
Appearances
Edit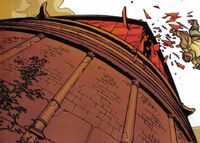 Notes and references
Edit
Community content is available under
CC-BY-SA
unless otherwise noted.