Klaus Janson is an artist that worked on Star Wars comics in the late 1970s to early 1980s when Marvel Comics held the comic book license. He inked most of the War on Ice / Kingdom of Ice story arc, and appeared in Star Wars Annual 3 as inker, penciller and colorist in addition to providing that issue's cover.
Janson is mostly associated outside of Star Wars with his time on Daredevil and Batman in collaboration with Frank Miller.
Star Wars bibliographyEdit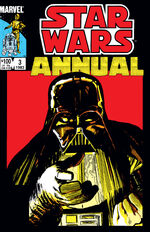 External links
Edit
Community content is available under
CC-BY-SA
unless otherwise noted.