Doctor Strange in The Multiverse o Madness - The Loop
Play Sound
"Three more gone, my lord. Two commandos took knives to one another--hallucination-induced psychosis, apparently--and Major Strix fled camp."
"Stupid, stupid… knives? They can't even resist carving one another like roasts?!"
―Maiya Vix and Lord Hargrev
The knife, also known as a combat knife or throwing knife, was a handheld melee weapon used for slashing and stabbing. A knife could also be used as a cutting tool or utensil.
Description
[
]
"A knife never runs out of ammunition."
―Myneyrshi saying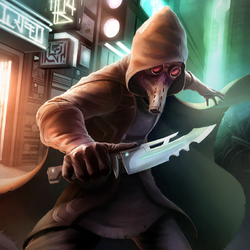 The knife was a simple weapon, with little to no high technology involved in its construction. It consisted of a blade attached to a pommel of short or medium length. They could be found at very cheap prices on specialized markets and were easy to conceal due to their relatively small size.
The blade used the wielder's own strength to cut and slash, and since the weapon did not rely on any sort of vibro technology, it was completely silent. The knife could also be thrown.[1] Knives could be made of various materials, including stone and metal.[7]
Knives were not always used exclusively for combat. They were also used as a tool to accomplish a variety of purposes, such as cutting meat or vegetables or skinning hides. They were also used as an eating utensil or a carving tool. The expression "under the knife" referred to someone undergoing surgery, with the expression "knife" meaning the cutting tool used by the surgeon, usually a scalpel.[6]
History
[
]
Knives have been used throughout the ages by assassins,[3] thugs,[3] and Mandalorian warriors,[3] as well as soldiers of various eras.[4] During the Clone Wars, it was standard issue for clone personnel (with the exception being clone commandos, who were issued their own knuckle plate vibro blades). SpecForce soldiers[4] and later Galactic Alliance Infantry Troopers and officers[8] were all equipped with knives, usually as a backup melee weapon.
Knives were a popular weapon in primitive cultures, such as the Menahuun[9] and tribal shamans.[4]
In the planet Lamaredd, where blasters were uncommon, many people resorted to knives and long knives as their weapon of choice including, among others, the waitresses of Miss Mylla's Saloon.[10]
Appearances
[
]
Copero Short Story Blog on The Old Republic

'

s official website (article) (backup link) (Mentioned only)
Outbound Flight (Mentioned only)
MedStar II: Jedi Healer (as "vibroknife")
Yoda: Dark Rendezvous (Mentioned only)
Coruscant Nights I: Jedi Twilight (as "vibroknife")
"Special Ops: Ship Jackers" – Star Wars Adventure Journal 13 (Mentioned only)
"The Mecetti File" – Tapani Sector Instant Adventures (Mentioned only)
A Boy and His Monster: The Rancor Keeper's Tale (Mentioned only)
Rebel Dawn (Mentioned only)
"Tinian on Trial" – Star Wars Adventure Journal 4 (as "vibro-knife")
Shadow Games (as "vibroknife")
Rebel Force: Target (Mentioned only)
Lando Calrissian: Idiot's Array on Hyperspace (article) (content removed from StarWars.com; new link on Suvudu; backup link)
Splinter of the Mind's Eye (First appearance)
"Combat Moon" – Star Wars Adventure Journal 9 (as "Ibarsi knife")
"Command Decision" – Star Wars Adventure Journal 11 (Mentioned only)
Razor's Edge (Mentioned only)
Razor's Edge audiobook (Mentioned only)
The Great God Quay: The Tale of Barada and the Weequays (Mentioned only)
"The Obvious Scapegoat" – Shadows of the Empire Sourcebook (Mentioned only)
Luke Skywalker and the Shadows of Mindor (Mentioned only)
"Kella Rand, Reporting..." – Star Wars Adventure Journal 6 (as "vibro-knife")
Tatooine Ghost (as "vibroknives")
Jedi Search (as "vibrator knife") (Mentioned only)
Simple Tricks (as "pocketknife")
Before the Storm (Mentioned only)
Shield of Lies (as "slaughter knife")
Ambush at Corellia (Mentioned only)
Scourge (as "ceremonial throwing knives")
"Hunting the Gorach" – Star Wars Insider 133 (as "springknives")
Junior Jedi Knights: Anakin's Quest (as "harvesting knife")
Survivor's Quest (as "fork-knife")
Young Jedi Knights: The Lost Ones (as "throwing knife")
Young Jedi Knights: Jedi Under Siege (Mentioned only)
Young Jedi Knights: Jedi Bounty (as "skinning knives") (Mentioned only)
The New Jedi Order: Agents of Chaos II: Jedi Eclipse (as "coufee knives")
The New Jedi Order: Balance Point (Mentioned only)
The New Jedi Order: Star by Star (as "coufee knife")
Legacy of the Force: Bloodlines (Mentioned only)
Legacy of the Force: Sacrifice (as "three-sided knife")
Fate of the Jedi: Ascension (Mentioned only)
Fate of the Jedi: Ascension audiobook (Mentioned only)
Fate of the Jedi: Apocalypse (as "vibroknife")
Fate of the Jedi: Apocalypse audiobook (as "vibroknife")
X-Wing: Mercy Kill (as "vibroknife")
X-Wing: Mercy Kill audiobook (as "vibroknife")
Crucible (as "vibroknife")
Crucible audiobook (as "vibroknife")
Sources
[
]
Notes and references
[
]
External links
[
]