"By the right of the Council, by the will of the Force, Kanan Jarrus, you may rise."
―The Sentinel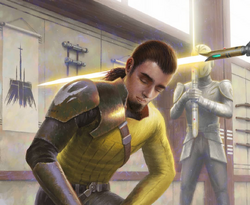 The Knighting ceremony was a Jedi ceremony in which a Padawan, who, by the right of the Jedi High Council and will of the Force, was granted the rank of Jedi Knight. At the time of the Jedi Purge, Kanan Jarrus, a former Padawan, went through a Knighting ceremony during a vision in the Lothal Jedi Temple. In the vision, which was induced by Jedi Master Yoda, Jarrus was dubbed a Knight by an apparition of the Grand Inquisitor, who had once been a Knight and Jedi Temple Guard.[1]
Appearances
Edit
Notes and references
Edit
Community content is available under
CC-BY-SA
unless otherwise noted.