Star Wars Knights of the Old Republic 26: Vector, Part 2 is the twenty-sixth issue in the Star Wars: Knights of the Old Republic series of comics. It is also the second issue of the Star Wars: Vector cross-over arc.
Publisher's summary
The second part of the biggest Star Wars story of 2008 begins with Mandalorians galore and ends with the arrival of a seemingly unstoppable threat!
Fugitive Padawan Zayne Carrick and his con-artist companion Gryph have fallen into a situation even more dangerous than the one they escaped on wartorn Taris—surrounded by enemies and trapped in close-quarters with a deadly agent of the group who framed Zayne for killing his fellow Jedi-in-training!
Appearances
Individuals
Locations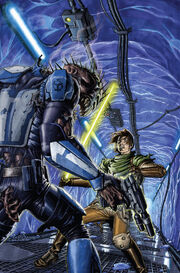 Organizations and titles
Sentient species
Weapons and technology
Vehicles and starships
Miscellaneous
External links