Jurassic World: Dominion Dominates Fandom Wikis - The Loop
Play Sound
The Kooroo Sundial was an ancient artifact discovered in the Temple of Kooroo on the planet Vaynai. Resembling a sundial in shape, the metal artifact was engraved with intricate notations, symbols, and geometric designs. Originally found by explorers on Vaynai's Streysel Island, the Kooroo Sundial eventually fell into the possession of the art collector Gallo Memm, who kept the artifact on display in his villa on the same island.
Description
[
]
The Kooroo Sundial was an ancient artifact located on the[1] Outer Rim Territories[2] planet Vaynai. The item was made of metal and was disk-shaped, with the exception of a wedge-shaped piece that was cut out of the disk and propped along its radius, resembling the gnomon of a sundial. The disk was covered with intricately engraved notations, symbols, and geometric designs, which further strengthened the artifact's resemblance to a sundial.[1]
History
[
]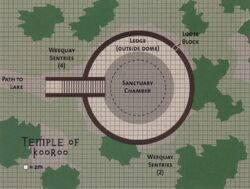 The Kooroo Sundial was discovered by the early explorers of Vaynai. At the time of its discovery, the artifact was located on[1] Streysel Island of the Vaynai Archipelago,[3] specifically in the Temple of Kooroo,[1] one of a number of stone structures of mysterious origins found on several Outer Rim worlds.[4]
The Kooroo Sundial eventually made its way into the private collection of Gallo Memm, an eccentric[1] crime lord[5] and art collector who owned the entire Streysel Island. Memm maintained an estate on the island and kept the artifact in a gallery inside his villa there. At some point,[1] a team of freelance thieves[5] attempted to break into Memm's villa[1] and steal a valuable Fenelar armor suit from the collection[5] on display there. By that time, the estimated value of the Kooroo Sundial was 11,500 credits.[1]
Behind the scenes
[
]
The Kooroo Sundial was described in the roleplaying game adventure "Topside Infiltration," which was authored by Peter Schweighofer for use with the Wizards of the Coast Star Wars Roleplaying Game and published in Star Wars Gamer 8[1] on December 21, 2001.[6]
In "Topside Infiltration," the Kooroo Sundial is listed among several valuable items the player-characters may be interested in stealing from Gallo Memm,[1] although the 2008 reference book The Complete Star Wars Encyclopedia established that the team specifically intended to steal a suit of Fenelar armor[5]—an artifact also described in the adventure[1]—before they were captured by the guards of Memm's residence.[5]
Appearances
[
]
Notes and references
[
]
↑ 1.00 1.01 1.02 1.03 1.04 1.05 1.06 1.07 1.08 1.09 1.10 1.11 1.12 1.13 1.14 1.15 1.16 1.17 1.18 "Topside Infiltration"—Star Wars Gamer 8
↑ Star Wars: The Essential Atlas Online Companion on StarWars.com (article) (backup link) — Based on corresponding data for Vaynai system
↑ "Topside Infiltration"—Star Wars Gamer 8 states that the Kooroo Sundial was originally discovered in the Temple of Kooroo and also places the temple on the grounds of Gallo Memm's estate, which "The Vaynai Archipelago" establishes to be situated on Streysel Island of the Vaynai Archipelago.
↑ Yuuzhan Vong Invade Gamer #8 on StarWars.com (content now obsolete; backup link)