Wiki Targeted (Entertainment)
Play Sound
The Krayt Cult Cave was a cave in the desert near Mos Eisley on Tatooine.[1] During the Galactic Civil War, it was the home of the Krayt Cult that worshiped krayt dragons.[2]
After the Battle of Yavin in 0 BBY, the Krayt cultists inhabited the cave. They worshiped a large krayt dragon skull in the depth of the cave.[1]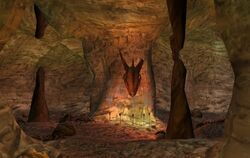 Circa 1 ABY,[3] Tori Radeen asked a spacer working for Jabba the Hutt to go into the cave and bring her the poison glands of bone gnashers that lived in the cave. She used the glands to create a new poison for use by Jabba.[2] Around the same time, the Rodian Oldksam was hiding inside the cave because he thought the crime boss Faeto wanted to have him assassinated. A bounty hunter tracked Oldksam down to the cave but only questioned him about a man known as Untas, Faeto's real target.[1]
In the same year, the Trandoshan Jessk was also found and killed in this cave by a spacer who wanted to collect the bounty placed on Jessk's head.[4]
The Krayt Cult Cave appeared in the 2003 massively multiplayer online role-playing game Star Wars Galaxies, a massively multiplayer online role-playing game developed by Sony Online Entertainment and published by LucasArts,[1] prior to its closure on December 15, 2011.[5] The Krayt Cult Cave was added to the game as part of the "Legacy Quest" with the release of the "Publish 25", a.k.a. the "New Game Enhancements", on November 15, 2005.[6]
Community content is available under
CC-BY-SA
unless otherwise noted.