LEGO Star Wars is a licensed property and LEGO theme produced in collaboration with Lucasfilm Ltd. by the LEGO Group. Although LEGO Star Wars is non-canon, products and stories have tied in to material from both the former Legends and new canon continuities, such as adapting or parodying the events and characters.
Development
[
]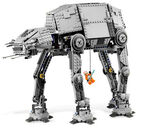 The LEGO brand of plastic toy bricks is produced by LEGO System A/S, better known as the LEGO Group, which was founded in 1932 by Ole Kirk Kristiansen and is headquartered in Billund, Denmark.[1] Beginning in 1999, the LEGO Group began releasing LEGO Star Wars products as their first licensed property. The LEGO Star Wars construction sets and minifigures have included characters, locations, and vehicles. Further tie-ies include books, short films, television series, and video games.[2]
Jens Kronvold Frederiksen, who is LEGO's design director for Star Wars, has been involved with LEGO Stars Wars since 1998.[3] He frequently collaborates with Chris Gollaher, Lucasfilm Ltd.'s director of product development.[4]
The LEGO Star Wars short films and television series have included adaptations of the feature films along with original stories.[4] They have been broadcast on Cartoon Network,[5] Disney XD, and Disney+.[6]
The animation for the video games is produced by TT Games. Earlier releases did not have character dialogue.[4]
Media
[
]
Sets
[
]
For detailed LEGO set and subtheme information, see the Star Wars Merchandise Wiki,[7] the LEGO Star Wars Wiki,[8] and Brickipedia.[9]
Books
[
]
Film adaptations
[
]
Young-readers film adaptations, LEGO Star Wars-style.
LEGO Star Wars stories

[

]
Reference and activity books
[
]
Strategy guides
[
]
Visual dictionaries and character encyclopedias
[
]
Short films
[
]
Television series
[
]
Video games
[
]
Sources
[
]
Notes and references
[
]
↑ 1.0 1.1 1.2 1.3 The LEGO Group History on LEGO.com (backup link)
↑ The LEGO Group: LEGO Group Honors 20 Years of LEGO® Star Wars™ with GUINNESS WORLD RECORDS™ Record-Breaking Build to Open Star Wars Celebration (2019-04-19). prnewswire.com. PR Newswire. Archived from the original on April 21, 2019.
↑ 20 Years of LEGO Star Wars: Design Director Jens Kronvold Frederiksen Looks Back on StarWars.com (backup link)
↑ 4.0 4.1 4.2 SWCC 2019: 6 Things We Learned from the LEGO Star Wars 20th Anniversary Panel on StarWars.com (backup link)
↑ LEGO on the Star Wars Merchandise Wiki
External links
[
]