LEGO Star Wars III: The Clone Wars is a non-canon video game set in the Star Wars galaxy. It was announced on February 8th, 2010. It was developed by Traveller's Tales and was published by LucasArts. It is the third game in the LEGO Star Wars video game series (following the releases of LEGO Star Wars: The Video Game and LEGO Star Wars II: The Original Trilogy) and depicts the events of the The Clone Wars animated series. It is available for the Nintendo DS, Nintendo 3DS, PlayStation 3, PlayStation Portable, Wii, Windows PC, Mac, and Xbox 360.[4] It was released on March 22, 2011.[2] The macOS version, published by Feral Interactive, was released on October 27, 2011.[5]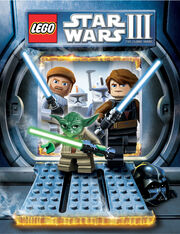 The second to latest chapter in the award-winning LEGO Star Wars videogame franchise, LEGO Star Wars III: The Clone Wars combines the best elements of all previous LEGO games while adding brand new gameplay to make it the most action-packed LEGO videogame to date. Developed by the same team at Traveller's Tales that created the critically acclaimed LEGO Star Wars and LEGO Indiana Jones series, the game was released on the Wii, Nintendo DS, Nintendo 3DS, PS3, PSP, Xbox 360, and Windows on March 22, 2011.
"LucasArts continues to set the bar for next-generation family entertainment," said Darrell Rodriguez, president of LucasArts. "The LEGO Star Wars franchise is a massive hit with fans, bringing in sales of over 20 million units worldwide. We're thrilled to extend this experience to LEGO Star Wars III: The Clone Wars, delivering the humor and fun players expect from this award winning franchise."
"LucasArts is an amazing partner, and working with them on the next iteration of the LEGO Star Wars series continues to be a great experience," said Tom Stone, director at TT Games. "The team at TT is working hard at making this simply the best LEGO game ever with all new gameplay and features never before seen in a LEGO game."
LEGO Star Wars III: The Clone Wars includes all the characters from the first two seasons of the hugely popular animated television series, Star Wars: The Clone Wars, as well as some fan-favorite characters from the beloved theatrical Star Wars Saga. The game features brand new battle modes, giving players unique, head-to-head combat and an upgraded level builder, allowing the creation of customized bases and in-game battlefields. Play either as a Jedi or Separatist with all-new character abilities, such as Squad command, Lightsaber slicing, Lightsaber jumps, long distance Jedi attacks and Grapple Tie-Ups, all within a new, easy-to-navigate hub.
Differences from the Episodes
[
edit
|
edit source
]
During the game Anakin Skywalker has black eyes with pupils, but in the animated series he has blue eyes.
During the prologue, Anakin hasn't got his Padawan hairstyle (minus his braid in his torso decal), but he has got his hairstyle that appeared in Clone Wars and Episode III.
In the prologue, Mace Windu, Anakin, and Obi-Wan play with Jango Fett's head before Boba Fett gets it.
In the prologue, Boba Fett has brown hair and white shirt with red sleeves. In the movie, Boba Fett has black hair and blue shirt with violet sleeves.
In the prologue, Mace Windu is eating an ice cream and beats off energetic shells with a lightsaber; then Jango Fett switches on his flamethrower, so the ice cream melts. That scene wasn't actually in the movie.
In one level, the Jedi put the Zillo Beast to sleep by giving him a stuffed teddy bear; this did not happen in the series.
In the level The Hidden Enemy, the tactical droid attempts to get its head back, which doesn't happen in the show.
In that same level, the Jedi extract the information in the droid's head by using holograms; this didn't happen in the show.
PROLOGUE (only on PC and Console Versions) Geonosis Arena

ASAJJ VENTRESS

Innocents of Ryloth (only on PC and console versions)

COUNT DOOKU

Battle of Geonosis (only on PC and Console Versions)

Defenders of Peace (only on PC and console versions)

Characters: Anakin Skywalker, Captain Rex, Luminara Unduli, Barriss Offee, Ahsoka Tano
Mounts: BARC speeder, AT-RT, AV-7 Antivehicle Cannon, AT-AP, RX-200 Falchion-class assault tank, AT-TE, Super tank
Boss: T-series tactical droid

GENERAL GRIEVOUS

Shadow of Malevolence (only on PC and Console Versions)

Grievous Intrigue (only on PC and Console Versions)

EPILOGUE (only on PC and Console Versions)

SEPARATIST MISSIONS (only on PC and Console Versions)

Castle of Doom (only on PC and Console Versions)
By type
Characters
Creatures
Droid models
Events
Locations
Organizations and titles
Sentient species
Vehicles and vessels
Weapons and technology
Miscellanea
Community content is available under
CC-BY-SA
unless otherwise noted.