Jurassic World: Dominion Dominates Fandom Wikis - The Loop
Play Sound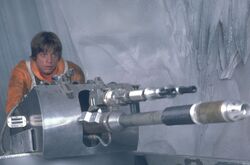 "Target, maximum firepower."
A laser cannon was the standard weapon for use by most starships and other vehicles. The amount of destruction a laser cannon could do depended on its wattage. Cannons on the famous X-Wing ranged from 126 terawatts to 500 terawatts. Turbo laser cannons on Imperial Star Destroyers were upwards of 3,000 terawatts. It existed in a myriad of forms, from the huge versions used by starships, through medium-sized turret-mounted variants, to the much smaller personal cannons sometimes carried by infantry. Although they were capable of causing a considerable amount of damage, they were no match to some of the more advanced beam weapons such as electromagnetic plasma cannons, turbolasers and superlasers.
Description
[
]
Though based on the same principles, with their beams having a nearly identical nature, laser cannons were more powerful than similarly-sized blasters. Laser cannons were originally used by starships to blast debris, such as asteroids, out of their way. These cannons were both incredibly destructive and very accurate.
History
[
]

Starships, such as the Executor-class Super Star Destroyer, Viscount-class Star Defender and the EF76 Nebulon-B escort frigate, began using laser cannons as anti-starfighter defenses. These weapons were later engineered to fire beams with sufficient accuracy and power to intercept enemy missiles from long range: the point-defense cannon, mounted on Zann Consortium Crusader-class corvettes, was an example.
Eventually, laser cannon technology was so refined that ground-based vehicles such as the AT-AT could use them. Even some infantry, such as B-2 battle droids, could be equipped with laser cannons rather than personal blasters. D'harhan, a cyborg bounty hunter, sported a laser cannon that had been surgically attached to his body, replacing his head.[2] Around 4 ABY, Holowan Laboratories created the IG-88 assassin droid series that featured a repeating laser cannon mounted along each arm.
Variants
[
]
Appearances
[
]
Non-canon appearances
[
]
Sources
[
]
Notes and references
[
]