"I'm Leox Gyasi, and I hereby welcome you to the vessel."
―Leox Gyasi
Leox Gyasi was a human male pilot who worked for the Byne Guild during the High Republic Era. He flew the starship Vessel, assisted by his co-pilot Affie Hollow and navigator Geode. The crew of the Vessel were tasked with transporting four Jedi to the Starlight Beacon, but the ship was forced to exit hyperspace due to debris from the Great Disaster.[1]
Gyasi was very fond of Hollow, who he affectionately called "Little Bit." He was compassionate and was able to tell when others needed someone to talk to or just wanted to be left alone. Despite these characteristics, Gyasi could also be deceptive, smuggling medicinal spice that he insisted was not illegal as well as allowing the Jedi to pay him for their return trip to the Amaxine station despite the fact that Gyasi and Hollow were already planning to travel there independent of the Jedi's wishes.[1]
"So it's like, okay, what is a template for a pilot who has some of this scoundrel energy but isn't Han Solo at all? And somehow my brain was like, you need to give 1990s Matthew McConaughey a space ship and see what would happen. And that unfolds, as you might think, in ways that are glorious and maybe a little less so."
―Claudia Gray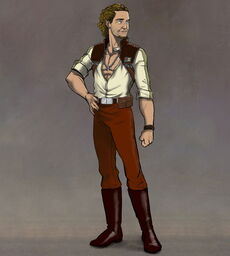 Leox Gyasi was created by Claudia Gray for the Star Wars: The High Republic publishing initiative, appearing in her novel The High Republic: Into the Dark,[1] published on February 2, 2021.[2] The character was revealed in an excerpt from the novel published in The High Republic Free Digital Sampler[3] on December 12, 2020.[4] Concept art depicting Gyasi was later shown at a live launch event for The High Republic on January 4, 2021.[5]
When writing Into the Dark, Gray wished to create a pilot character who had the energy of a scoundrel but was unlike Han Solo. She derived Gyasi from the idea of giving a spacecraft to 1990s Matthew McConaughey.[5]
↑ 5.0 5.1 Star Wars: The High Republic | Live Stream Launch Event on the official Star Wars YouTube channel (backup link)
Community content is available under
CC-BY-SA
unless otherwise noted.