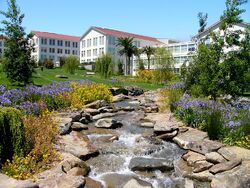 The Letterman Digital Arts Center (LDAC) is the new home for Industrial Light & Magic, LucasArts, and Lucasfilm Ltd. Once a military hospital in the Presidio of San Francisco adjacent to the Palace of Fine Arts, it has been redesigned to fit the needs of the entertainment mecca. Before a single screw was turned, George Lucas personally oversaw the entire process of digitally conceptualizing and rendering the rooms in the buildings.
The site covers 23 acres, with 17 used as public park space and the remaining six acres covered by four brick and stucco buildings of low height to blend into its surroundings. The site has a THX-certified 298-seat screening room, with a 49 by 21-foot screen, that can project both film and digital formats. There are also two 65-seat theaters used for viewing dallies, visual effects, and digital color timing. All are connected by the entertainment industry's largest computer network running on high-performance processors and data storage that is massive at best, allowing for artists all over the world to connect, share ideas and develop technology on a seamless and simultaneous "virtual studio". LDAC also features digital editing suites, artist training centers, and a 34-camera image capture studio, complete with a 1,600-foot stage, 3-D photography rig, and a 180-degree bluescreen.
Amentities include a dining commons that seats 300 people with breathtaking views of the Palace and the Golden Gate Bridge, fitness center, and a daycare center.
Innovation
Edit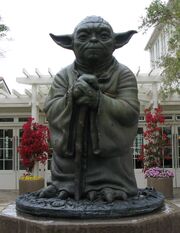 LDAC also boasts an environmentally sustainable design and 80 percent of the material from the hospital, including concrete, asphalt, and steel, was recycled and reincorporated into the new complex. The buildings conserve energy and water with energy efficient elevators and raised floors that house wiring and also bring in air from outside. Windows can be operated to allow for maximize natural sunlight, while reducing energy consumption.
Renowned architect Lawrence Halprin was hired to design the park space, designing a 1,500 car garage that sits below the landscape of the park, thus reducing the traffic around the site. Above the parking structure is a creek lined with large stones and lagoon that wind around the park, several trails, sitting areas, gardens, additional open spaces with arches and other architecture, and a large fountain topped with a statue of a familiar little green fellow.
Additionally, LDAC contains many models, props, concept art, and matte paintings from movies in a museum-like manner, including the T-Rex from Jurassic Park. The lobby features a statue of Willis O'Brien, the grandfather of visual effects, with his creation King Kong.
Community content is available under
CC-BY-SA
unless otherwise noted.