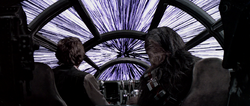 "Now hang onto your fur… we're going to pop into light speed."
Lightspeed was slang for the speed at which a starship traveled through hyperspace. In reality, though, a class 1.0 hyperdrive motivator could propel a ship through hyperspace over one hundred thousand times faster than light, allowing a ship to cross the galaxy in a matter of days. Hyperspace could be dangerous without the right coordinates.
Community content is available under
CC-BY-SA
unless otherwise noted.