Jurassic World: Dominion Dominates Fandom Wikis - The Loop
Play Sound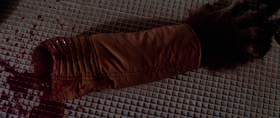 "That's because droids don't pull people's arms out of their sockets when they lose. Wookiees are known to do that."
Limbs were important appendages of organic bodies and many types of mechanical chassis. They were typically designed for motion and/or manipulation, and were found on most sentient and non-sentient species throughout the galaxy, and many droids and other artificial constructs.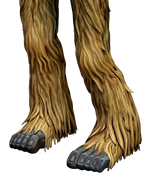 Humans and many other important sentient species were bipedal, with two legs and two arms, and this form was imitated by many droids; but there were many variations. Sometimes these were relatively subtle, especially in the construction of hands, feet and their digits.
Some bipedal species of the galaxy exhibited four arms, such as Besalisks, Codru-Ji, Myneyrshi, and Pho Ph'eahians.
Many Birds and Reptavians such as Dactillions and Ibbots possessed the ability of flight via the usage of specialized limbs in the form of wings often taking the form of either a feathered, membraned, or insectoid structure.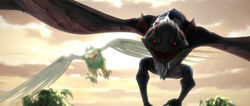 Other species and designs, however, had limbs of more radically different designs, like the dianoga with its tentacles and prehensile eyestalk, or the R-series astromech, which could travel in a bipedal or tripodal configuration, and had a wide variety of manipulator arms that could be extended from their torso and head.
Some species, such as the Kloodavians,[2] Gands, and Trandoshans[3] were able to regrow their limbs if they were severed.
Wookiees were known to pull limbs off individuals when unhappy.[4]
Other species, such as serpents like snakes, and the sentient Priapulin had no limbs.
During the era of the Old Republic, Zeerid once heard of technology in the Sith Empire that could regenerate limbs but didn't know if he had the means to afford it.[5]
Appearances
Sources
"Mood Swings" on Wizards.com (original article link, content now obsolete; backup link)
"Meet Zeev, a Pet Duuvhal" on Wizards.com (original article link, content now obsolete; backup link)
"The Raivor" on Wizards.com (original article link, content now obsolete; backup link)
"Shaggy Slaves: The Gentle Talz" on Wizards.com (original article link, content now obsolete; backup link)
"Rescued Aliens: Swamp Slug and Stone Mite" on Wizards.com (original article link, content now obsolete; backup link)
"Rescued Aliens: The Trompa" on Wizards.com (original article link, content now obsolete; backup link)
"A Traveler's Journals of Ralltiir" on Wizards.com (original article link, content now obsolete; backup link)
"Cydon Prax" on Wizards.com (original article link, content now obsolete; backup link)
"Ultimate Alien Anthology Web Enhancement" on Wizards.com (original article link, content now obsolete; backup link)
"T'ra Saa" on Wizards.com (original article link, content now obsolete; backup link)
"Creatures of Endor" on StarWars.com (article) (content now obsolete; backup link)
"Heroes of Revenge of the Sith" on Wizards.com (original article link, content now obsolete; backup link)
"Planet Hoppers: Phindar" on Wizards.com (original article link, content now obsolete; backup link)
"Planet Hoppers: Skako" on Wizards.com (original article link, content now obsolete; backup link)
Star Wars: Force Collection (Card: Dexter Jettster (★))
Star Wars: Force Collection (Card: Gasgano)
Star Wars: Force Collection (Card: Dexter Jettster (★★★))
Star Wars: Force Collection (Card: Wampa (★★★))
Quarren in the Encyclopedia (content now obsolete; backup link)
Notes and references
External links