House of the Dragon Trailer - The Loop
Play Sound
"Lop & Ochō" (Japanese: のらうさロップと緋桜お蝶)[3] is an animated short film and episode of the web television series Star Wars: Visions. Produced by Geno Studio, the short premiered on Disney+ on September 22, 2021.[4]
Plot summary
[
]
Exposition
[
]
The episode opens with an Imperial Star Destroyer approaching the planet Tao. A narrator explains that despite their rich natural resources, the world of Tao struggles to modernize. As the Star Destroyer descends into the planet's oceans, the narrator explains that Tao has welcome the Galactic Empire in exchange for industrial advancement. In return, the Empire plans to capitalize on everything the planet has to offer. However, Imperial industry has proven to be detrimental to Tao's natural environment. This is interspersed with shots of cities coexisting with the planet's forests and oceans. Richly steeped in nature and tradition, the people of Tao grow increasingly frustrated by the Imperial oppression.
A proper family
[
]
A young Lop is shown surviving on the planet Tao with her droid companion TD-4 through thievery, still wearing a slaver's neck collar after escaping being part of the Galactic Empire's labor force during their occupation of Tao. She is momentarily caught in a marketplace by Boss Yasaburō of the Yasaburō clan, and he takes pity on her plight. His daughter Ochō takes an immediate liking to Lop, and after learning she is orphaned, convinces a hesitant Yasaburō to adopt Lop into their family. After relenting while stating his reputation for being a man who does the right thing was on the line, Yasaburō promises a better life for Lop, and the three take a hologram photo on the beach using TD-4 to commemorate the event.
A fractured family
[
]
Seven years later, a grown Lop awakens in the aftermath of a rebellious attack against the Galactic Empire's occupation led by Yasaburō. Lop watches as Yasaburō and Ochō argue heatedly about the attack, with Yasaburō claiming the Empire has exploited the planet's resources too much while becoming a threatening military presence. He says that it has to stop right now. The clan members try to calm the two down and urge Lop to intervene.
In response, Ochō claims Yasaburō is stubborn to the growth and prosperity the Empire could bring should they side with the Empire. Yasaburō counters that they lived a long time without assistance from the Galactic Republic and believes there is no need to change their ways. He expresses concern that the Imperial military build up will turn the planet into a war zone. As his heir apparent, he argues Ochō should drive out the Empire. Ochō counters that the Empire provides progress but her father disagrees. The standoff ends as Imperial troops arrive on the scene and the clan disperses.
While riding into the city on a hovercraft with Ochō, Lop expresses her desire to see Ochō and their father stop fighting, saying that she feels Tao is her home despite not being born there. Ochō agrees she feels Tao is her home as well, and explains that that is the reason why she is willing to keep the family together by surviving alongside the Empire. The two approach a road blockade, where an Imperial officer with troopers await.
Lop then discovers Ochō has kept constant contact with the Imperial officer because she had been reporting on her father's plans and activities to the Empire to gain their favor. The officer continues to threaten to make life harder for the Yasaburō clan due to their most recent attack, and of Ochō's failure to convince her father to stop attacking the Empire. Ochō apologizes for her father's involvement in the recent attack and resolves to stop him. Complimenting her determination, the Imperial officer invites Ochō to assist with the Empire's redevelopment initiative. Despite Lop's pleas for Ochō to not turn against their father, Ochō paints her eyes with her own blood, and cuts off her hair braid to signify breaking allegiance with her father.
A distraught Lop runs home with TD-4 and Ochō's severed braid. On the way back, Lop falls off a building but lands on top of a tent. Upon returning to the Yasaburō clan's mountain residence, Lop discovers most of the clan members have deserted. Pleading with her father of her desire to save the planet and restore their family's relationships, Lop desperately asks for her father's help.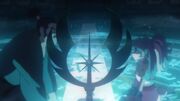 Yasaburō then solemnly leads Lop to a ceremonial room, apologizing to Lop if he seemed to have favored Ochō as a daughter over her through the years. There, Yasaburō summons visions through the Force, showing Lop the clan's history through glyphs depicting a Jedi trusting and bestowing upon the Yasaburō clan a lightsaber and teaching them how to wield it. He then bestows the lightsaber to Lop, saying she is worthy by showing her strong familial bond even if she is not related by blood.
A broken family
[
]
Lop is anxious at seeing her father leave the Yasaburō residence, but he promises her he is merely meeting with Ochō and that everything will be alright. After waiting, an explosion at the Empire's hold in the middle of the city prompts Lop to find her father, fearing the worst. An elderly steward attempts to stop her but he is unable to stop Lop from commandeering a landspeeder.
Arriving at the ship dock in the Empire's hold, Lop finds Yasaburō and his most loyal clan members fighting Imperial forces, as well as Ochō wearing Imperial regalia and wielding two crimson vibroblades. Ochō gains the upper hand over her father and slashes at his face, destroying the one good eye he had left. Lop holds her father on the ground, where he begs Ochō to combine forces with Lop to save the planet and their family. A bitter Ochō then jumps at Yasaburō, attempting to end his life, but is held back by Lop igniting the family's green-bladed lightsaber for the first time and parrying her. Angered at seeing Lop inheriting the family's sword over herself, she fights a reluctant Lop.
TD-4 attempts to show Ochō the hologram photo they took together for the first time as a family, but is cut down by Ochō. This awakens the Force within Lop, and she is able to overpower Ochō by using Force telekinesis to grab her father's weapon and slash an X across Ochō's chest with the family lightsaber simultaneously. Ochō is saved from falling off the dock by an Imperial starship, and she is seen glaring at Lop as the ship helps her escape. Lop then retrieves the damaged TD-4, which is still replaying the hologram where Ochō, Yasaburō, and Lop pose and say, "We're going to be a proper family."
Development
[
]
The English subtitles for "Lop & Ochō" on Disney+ render the character "ō" (o with a macron) used in Japanese romanization as "ô" (o with a circumflex). For instance, "Ochō" is referred to in the subtitles as "Ochô".[5]
Credits
[
]
By type
Cast
Japanese Voice Cast
Seiran Kobayashi

as Lop

Risa Shimizu

as Ochō

Tadahisa Fujimura

as Yasaburō

Taisuke Nakano

as Imperial Officer

Tomomichi Nishimura

as Narrator

Setsuji Sato

as Suke

Atsushi Imaruoka

as Kaku

Jun Yokoyama

,

Yusuke Kanie

,

Nobuki Tsuritani

,

Makoto Sahara

,

Hinako Yasuda

,

Fu Hirohara

,

Hideka Suzuki

,

Kaori Akenatsu

as Tao Planet Residents
English Voice Cast
Crew
Inspired by Star Wars created by – George Lucas
Directed by – Yuki Igarashi
Written by – Sayawaka
Produced by – Geno Studio
Executive Producer –

Koji Yamamoto

Producer –

Kiroaki Sato

Associate Producers –

Koji Tory

,

Mao Ogushi

,

Yuhei Sato

Production Manager –

Keiko Yamaji

Executive Producers – James Waugh, Josh Rimes, Jacqui Lopez
Co-Executive Producer –

Justin Leach

Producer –

Kanako Shirasaki

Score by –

Yoshiaki Dewa

Sound Director –

Ryouji Kameda

English Voice Casting by – Lindsay Halper,

Stephanie Shieh

English Voice Casting Coordinator –

Caroline Keller

Planning –

Twin Engine

Chief Planning Producer –

Yuta Kanno

Planning Producer –

Hyuga Yamaura

Character Concept Art –

Daiki Yamazaki

Character Design – Yuki Igarashi
Mechanic Concept Design –

Izmojuki

Droid Design –

Shinya Mizuno

Prop Design –

Ren Ishimori

Background Design –

Yuji Kaneko

Imageboards –

Hiroki Shinagawa

Storyboard – Yuki Igarashi
Technical Director – Yuki Igarashi
Assistant Technical Director –

Masato Kakazono

Animation Supervisor – Yuki Igarashi
Assistant Animation Supervisors –

Emi Hirano

,

Shuto Enomoto

,

Tamako Miyanishi

Mechanic Animation Director –

Okado Chigai

Key Layout Supervision –

Atsushi Morikawa

,

Taichi Shishido

,

Chie Okubo

Animators – Yuki Igarashi, Shuto Enomoto,

Kai Ikarashi

,

Kanako Yoshida

,

Moaang

, Masato Kakazono,

Ginnan Mametaro

,

Ryoko Nakano

,

Ayako Takahasi

,

Akane Umezu

,

Kouichi Sugitani

,

Zen

,

Hiromi Niwa

,

Tatsuya Mori

,

Takayuki Sano

,

Norio Matsumoto

Cooperation –

Team Outline

Second Key Animators –

Junko Kai

,

Midori Matsumoto

,

Miho Matsuura

,

Yuuki Hirose

,

Shigeno Ono

,

Taeko Ijiri

,

Tomomi Sugiyama

,

Kentaro Kurisaki

,

Daisui Udagawa

,

Julia Derungs

,

Hideyoshi Furihata

,

Studio Daisy

In Between Inspection – Junko Kai
In Between Animation – Junko Kai,

Hiromi Mashiko

,

Makiro Sasaki

,

Ayako Takahashi

,

Studio Bus

,

OLM Asia

,

Akatsuki & Phoenix Animation Holdings

,

ENGI

,

CJT

,

GK Sales

,

R.I.C

, Studio Daisy
Color Design –

Yuichi Kuboki

Color Coordination – Yuichi Kuboki
Finishing Inspection – Yuichi Kuboki,

Akiko Nogami

,

Kimiko Suzuki

In Between Animation – Akiko Nogami, Studio Bus, OLM Asia, Akatsuki & Phoenix Animation Holdings, ENGI, CJT, GK Sales, R.I.C, Studio Daisy,

Studio Elle

Art Director –

Yuji Kaneko

Background Art by –

Ken Nakamura

,

Sota Kameyama

,

Yuichi Suehiro

,

Taro Goto

,

Yasutomi Kismi

,

Yuki Sugihara

,

Ryoma Yamada

,

Ayaka Oyama

,

Yuji Kaneko

Background 3D Director –

Mitsuharu Seki

Background 3D Modeling – Yuki Sugihara (Star Destroyer),

Takahiro Kaneko

(Imperial Army Base)
Opening 3D Director – Mitsuharu Seki

Aoshashin.inc

Post Production Sound Consultant, Skywalker Sound – Matthew Wood
Foley Artist –

Masafumi Watanabe

Sound Effects –

Masaru Urahata

Recording Engineer –

Ryouji Kameda

Recording Assistant –

Yousuke Maki

Sound Mix Assistant –

Aya Ishima

Dialogue Recording Services –

Studio Gong

Mixing Studio –

Imagica SDI Studio

Sound Production by –

Ai Addiction

Sound Production Coordination –

Junichi Inaka

,

Ryuhei Matsunaga

Music Production by –

Fujipacific Music Inc

Scoring Mixer –

Syunsuke Tanaka

Music Coordination –

Sayaka Konno

Music Production Coordination –

Kohei Chida

,

Ako Miyagawa

Creative Executives, Lucasfilm – Matt Martin,

Kelsey Sharpe

Script Adaptation – Matt Michnovetz
English Language Productions –

NYAV Post

Voice Director –

Michael Sinterniklaas

Production Coordinator –

Stephanie Sheh

NYAV Production –

Clark Cheng

,

Chelsey Cohen

Theme Music Composed by – David W. Collins
Main Title Designed by –

Herzog Design Company

Post Production –

Imagica Entertainment Media Services, Inc

Online Editor –

Junichi Masunaga

Color Graders –

Masato Sekiguchi

,

Takefumi Saito

Digital Cinema Engineer –

Aya Shintani

Technical Coordinator –

Kyosuke Sakai

Studio Coordinators –

Akira Ogawa

,

Yawara Hata

Production Coordinators –

Carline Keller

,

Katrina Minett

Additional Production Coordination by –

Irene Chung

Production Assistants –

Garrison Allen

,

Ronjae Jones

Post Production Supervisors –

Diane Caliva

Post Production Manager –

Irene Chung

Associate Post Production Manager –

Julie Kogura

Post Production Assistant –

Julia McIntosh

Imaging Supervisors –

Jeroen (J) Schulte

Online Mastering Operator –

Michael Parkinson

Additional Translations by –

Creative Sphere, Inc.

,

Peter Mj Kim

,

Adrian Lozano

President –

Kathleen Keennedy

EVP/General Manager –

Lynwen Brennan

,

CBE

VP, Finance –

Lori Aultman

VP, Post Production – Pippa Anderson
VP, AV Creative –

Anna Yeager

Deputy Chief Counsel –

Rhonda Hjort

Production Counsel –

Naureen Z. Hoque

Counsel –

Alexic Donoghoe

Senior Manager, Legal Affairs –

Christopher Holm

Clearances –

Angela Lupinetti

Localization –

Michael Kohn

SVP, Live Action Development & Production – Michelle Rejwan
EVP, Physical Production –

Momita Sengupta

VP, Publicity & Communications – Lynne Hale
VP, Franchise Marketing –

Megan Crumpacker

VP, Human Resources –

Blaire Chaput

Supervisor, Int'l Marketing –

Barbara Gamlen

Supervisor, Franchise Content & Strategy –

Steve Blank

Supervisor, Film & Franchise Publicity –

Chris Argyropoulos

Supervisor, Physical Production Technology –

Lori Gianino

Supervisor, Physical & Post Production –

Gary Thompson

Supervisor, Communications & Internal Events –

Alison Fisker

Supervisor, HR Business Partner –

Janetta Wood

Franchise Story Team – Pablo Hidalgo, Leland Chee, Emily Shkoukani,

Shiree Cole

,

Kate Izquierdo

Studio Team –

Shahana Alam

,

Kylie Clark

,

Erin Feller

,

Emily Foster

,

Kaari Gerber

, John Hannon,

Kristen Hidalgo

,

Laura Holliday

,

Jayson Kashiwabara

,

Nicole Lacoursiere

,

Gabrielle Levenson

,

Kristie Ling

,

Kerri Martin

,

Jason Schultz

,

Christian Streaty

,

Stacey Zimmerman

Rights and clearances by –

Barbour & Company

, Cassandra Barbour
Appearances
[
]
By type
Characters
Events
Locations
Organizations and titles
Sentient species
Vehicles and vessels
Weapons and technology
Miscellanea
Bibliography
[
]
Notes and references
[
]
↑ STAR WARS: VISIONS | SPECIAL LOOK | DISNEY+ on the official Star Wars YouTube channel (backup link)
↑ Daniel Robson: Star Wars Anime Visions Will Include What Became of the Jedi, a Rock Opera, and More. IGN. IGN. Archived from the original on September 22, 2021. establishes that the events of "Lop & Ochō" occur between Star Wars: Episode III Revenge of the Sith and Star Wars: Episode IV A New Hope, meaning that it takes place between 19 BBY and 0 ABY according to Star Wars: Galactic Atlas. As the prologue takes place seven years before the main story, the earliest the main story can take place is seven years after 19 BBY, or 12 BBY.
↑ スター・ウォーズ:ビジョンズ

(Japanese)

. disneyplus.disney.co.jp. Archived from the original on July 14, 2021.)
↑ Anime Expo Lite: 20 Things We Learned From the Star Wars: Visions Panel on StarWars.com (backup link)
↑ Star Wars: Visions – "Lop & Ochō"