"We work with any creative who is wanting to tell a story of Star Wars, and we help them find the story that they want to tell, while also make sure that story fits within the framework of Star Wars. So it's not just about making sure the number of moons over a planet is correct, it's more about, you know, thematically what are you going for and what's the best way to achieve that with Star Wars. And also, is the story that you're telling—is it something we've done before? Or is it something that's also actually in development somewhere else in the company? So we become this sort of—this point that coordinates all storytelling across the board so that we don't inadvertently tell something that is contradictory, not only from a continuity point of view but from a thematic point of view. Or if we are departing thematically for whatever reason, we understand the artistic decision behind it and it's never because 'Oh we didn't know that was the right way to do it' or 'We didn't know—we did "Y" because we didn't know that "X" was an option.'"
―Pablo Hidalgo clarifies the function of the Story Group
The Lucasfilm Story Group,[1] also known as the Lucasfilm Story Team[2] or as the Franchise Story Team,[3] is a division of Lucasfilm Ltd. founded in 2013 that is responsible for keeping track of Star Wars canon in order to assist writers and directors in the development of new stories. As of May 2017, the group comprises eleven individuals.[4] Pablo Hidalgo, an author and creative executive at Lucasfilm, has been part of the Story Group since its creation, offering expertise on not only details about Star Wars, but also what Lucasfilm has done in the past as well as George Lucas' values.[5]
History
[
]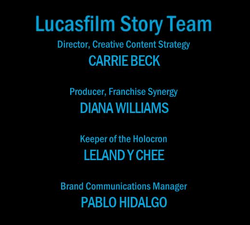 The Lucasfilm Story Group began as an initiative from Kathleen Kennedy in 2012. Lucasfilm Vice President Kiri Hart helped form the group as its Development Lead, with the stated goal of abolishing the canon hierarchy system in favor of a single cohesive continuity.[1][6] Lucasfilm Story Group—including Rayne Roberts, Carrie Beck, Diana Williams, Leland Chee, Pablo Hidalgo, and Matt Martin—participated in the making of Star Wars: The Old Republic: Galactic Starfighter, a digital expansion to the video game Star Wars: The Old Republic, being mentioned in the ending credits.[7]
On April 25, 2014, the Lucasfilm Story Group rebooted the Star Wars universe by retiring much of the Expanded Universe storyline and rebranding it as "Star Wars Legends."[8] Besides Lucas' six films, the only previously produced material still considered canon are the Star Wars: The Clone Wars television series and film, and the standalone comic arc Star Wars: Darth Maul—Son of Dathomir, which was based on unproduced scripts from The Clone Wars TV series.[9] All subsequent material produced in collaboration with the Story Group including the Disney XD television series Star Wars Rebels and all novels beginning with A New Dawn are considered part of the new canonical continuity.[10]
Story Group members Carrie Beck and Leland Chee were involved in the production of the 2016 non-canon Disney XD animated series LEGO Star Wars: The Freemaker Adventures to ensure that the show did not contradict the new canon continuity.[11][12]
Author Jason Fry stated that one of the biggest misconceptions regarding the Story Group is that it is omniscient and should somehow be perfect. "Of course there are going to be inconsistencies and slips here and there."[13]
According to author Delilah S. Dawson, the story group tends to encourage content creators to create new elements instead of using pre-existing ones.[14]
Members
[
]
Former members
[
]
Sources
[
]
Notes and references
[
]
↑ 1.0 1.1 ForceCast #273: The Galaxy is Reading. ForceCast.net. Archived from the original on April 12, 2020.
↑ 3.0 3.1 3.2 Star Wars: Visions – "The Duel"
↑ Kamp, David: Cover Story: Star Wars: The Last Jedi, the Definitive Preview (2017-05-24). Vanity Fair. Archived from the original on February 21, 2020.
↑ Pablo Hidalgo Extended Interview on the official Star Wars YouTube channel (backup link)
↑ Leland Chee (@HolocronKeeper) on Twitter: "@pauldunahoo @rwknopp Star Wars Canon is now determined by the Lucasfilm Story Group which @infinata and I are both a part of." (screenshot)
↑ Dave Filoni on Facebook: Dave Filoni comments on Son of Dathomir (January 10, 2014). "Happy New Year! You may have seen the recent Clone Wars / Dark Horse Comics news, and I thought I would chime in and clarify things a bit..." (backup link)
↑ LEGO Star Wars: The Freemaker Adventures is more intense than you think. IGN. Archived from the original on April 22, 2020.
↑ Mike Cooper: Jason Fry Keeps Talking To Us: Wired For The Classics (2014-11-14). Eleven-ThirtyEight. Archived from the original on June 16, 2020.
↑ Spry, Jeff: Exclusive preview: Star Wars Galaxy's Edge: Black Spire is 'Brooklyn Nine-Nine in space' (2019-08-20). syfy.com. Archived from the original on August 5, 2020.
↑ James Waugh on LinkedIn
↑ Leland Chee on LinkedIn
↑ Matt Martin on LinkedIn
↑ A Step Into the Dark, Art of The High Republic, and More! on the official Star Wars YouTube channel (backup link)
↑ Shiree Cole on LinkedIn
↑ Cara Pardo on LinkedIn
↑ 26.0 26.1 Rian Johnson's T-Street Studio Brings on 3 Producers. hollywoodreporter.com. Archived from the original on March 29, 2022.
↑ Josh Rimes on LinkedIn
External links
[
]