A toy T-16 skyhopper was owned by the human male Luke Skywalker.[1] In 9 BBY,[2] the Jedi Master Obi-Wan Kenobi purchased the toy from the Jawa Teeka after they had brought it to him in his cave on Tatooine. Kenobi left the toy outside of Skywalker's home, but Skywalker's uncle, Owen Lars, returned it to him the next day and informed the Jedi Master to stay away from his family.[3] Sometime later, after[4] Reva Sevander,[5] a former Inquisitor of the Galactic Empire attacked the Lars in an attempt to kill Skywalker, Lars allowed Kenobi to meet Skywalker, and he gave the toy to the young boy.[4]
Behind the scenes
[
]
"Here we actually have the broken T-16 skyhopper that Obi-Wan pulled out to repair for Luke."
"Oh and there's little guys in the cockpit."
"The actual T-16 skyhopper was researched and referenced to recreate this prop itself."
―A member of the Lucasfilm Archives and Kristin Baver discussing the T-16 skyhopper toy prop used in Obi-Wan Kenobi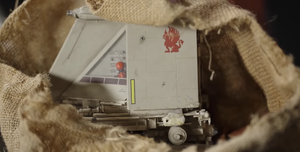 Luke Skywalker's toy T-16 skyhopper first appeared in the 1977 film Star Wars: Episode IV A New Hope, the first installment of the Star Wars original trilogy.[7] During production of the Obi-Wan Kenobi television series, the prop making team made a broken T-16 skyhopper toy prop that was used in the series. The originial prop was researched and referenced to recreate the prop.[6]
Appearances
[
]
Sources
[
]
Notes and references
[
]
↑ "Part I" states that the events of the Obi-Wan Kenobi television series take place ten years after Order 66, which Star Wars: Galactic Atlas dates to 19 BBY. Therefore, the events of "Part I" must be set in 9 BBY.
↑ Obi-Wan Kenobi – "Part I"
↑ 4.0 4.1 Obi-Wan Kenobi – "Part VI"
↑ Behind the Scenes of the Obi-Wan Kenobi Series! on the official Star Wars YouTube channel (backup link)
↑ 6.0 6.1 Obi-Wan Kenobi Props, LEGO Star Wars Summer Vacation, and More! on the official Star Wars YouTube channel (backup link)