"Perhaps I can be of some assistance?"
―MK-1
MK-1, or Emkay-One, was a butler droid who served at the mansion of Thane Markona. He helped look after Leia Organa, Luke Skywalker and Han Solo, several members of the Rebel Alliance who became stranded on Hubin.
Biography
Edit
"Sir! What are you doing?"
"Oh! Emkay-One—"
"Clearly working on some manner of transmitter. If I can be so bold, in a clearly inexpert way."
―MK-1 and Luke Skywalker
During Thane Markona's life on the moon Hubin, MK-1 served him and his daughter Tula at their estate. After Markona let the Rebel Alliance fugitives Leia Organa, Luke Skywalker and Han Solo stay in his mansion, he left Emkay-One to look after them[2] while he drove off a pack of thanrax.[1] At Solo's request, Emkay-One mixed and served him a Rodian splice.[2]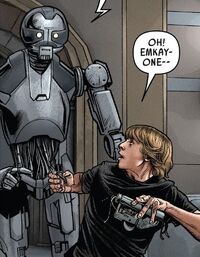 Emkay-One later went with the rebels when they formally introduced themselves to Markona. When he learned that Tula had prepared a meal for their guests, he protested, telling her that she didn't have to do his job. After eating, Organa asked whether the rooms they would be staying in had computer terminals, and Emkay-One offered to prepare one. MK-1 later reported to Markona, informing him of a thanrax attack on the edge of the village. Markona told Emkay-One to gather his huntsmen while he and Luke went to fight off the thanrax.[1]
After the thanrax had been taken care of, Emkay-One entered Luke's room to find that he, C-3PO and R2-D2 were building a transmitter. While Luke was shocked at being caught, Emkay-One told him that he had tools and plans in storage, and asked whether he could assist them. Tula learned that Emkay-One was helping them, later speaking to Luke about the consequences that contacting the outside world could bring to Hubin. Despite this, Luke returned to the mansion, telling R2-D2 to activate the transmitter.[3]
Unknown to Luke, it had been Thane Markona who had given him the assistance of Emkay-One, and he had known about the transmitter, blocking its signal. After Luke thought he had activated the transmitter, a Sentinel-class landing craft arrived on Hubin. Emkay-One informed Markona of this, and that he was unable to work out its identity. Markona met with the shuttle, who had been taken to the moon by the Galactic Empire's SCAR Squadron, having learned the rebels' location from torturing Sana Starros. Emkay-One met the stormtroopers at the door of Markona's mansion, and was overwhelmed by the number of guests he thought he had to make room for.[4]
Characteristics
Edit
"I'll take untrustworthy with a galaxy-class butler droid that makes drinks like that any day."
―Han Solo
As a butler droid, MK-1 was eager to serve, and was disappointed when his jobs were done for him. He was ready to assist anyone, even those who were strangers to him, such as the rebel guests at Markona's mansion.[1] He even asked to help Luke build a transmitter, a device that was not used by Clan Markona due to their isolation.[3]
Behind the scenes
Edit
MK-1 first appeared in Star Wars 56: The Escape, Part I, a 2018 canon comic written by Kieron Gillen and illustrated by Andrea Broccardo.[2]
Appearances
Edit
Notes and references
Edit
Community content is available under
CC-BY-SA
unless otherwise noted.