September's Wookieepedian of the Month:
Congratulations from all of us here at Wookieepedia!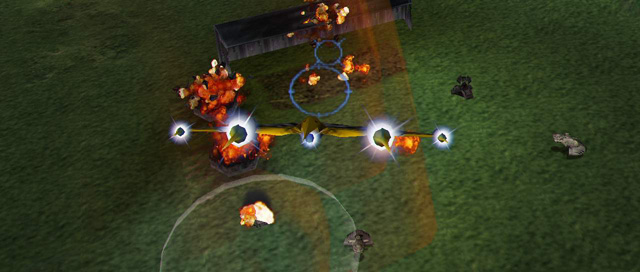 A battle took place near the south ridge of Theed, the capital of the planet Naboo, in the year 32 BBY during the Trade Federation's invasion of the planet in response to a trade dispute. The battle occurred just after Naboo's Queen Amidala and her head of security, Captain Quarsh Panaka, returned to the planet and gathered local resistance leaders to brief them on their plan to retake the planet from the Trade Federation Droid Army. Droid forces attacked members of the Royal Naboo Security Forces near Rasker Hill, but they were driven off by Lieutenant Gavyn Sykes, a member of Naboo's Bravo Squadron, whose quick actions saved nearby farms. Panaka met with Sykes and ordered him to guard the south ridge.
Shortly thereafter, Sykes spotted a large Trade Federation
convoy
, which was preparing to depart for flanking maneuvers on the
Great Grass Plains
against the
Gungan Grand Army
. He then responded to a distress call from fellow
pilot
Palmer
at the
Naboo airbase
. After Sykes destroyed the
Armored Assault Tanks
,
droid bombers
, and
laser turrets
that threatened the airbase, Panaka ordered him to intercept the convoy in a
bomber
. During his assault on the convoy, Sykes also destroyed the
Trade Federation Airbase
. He delayed the convoy's
tanks
and
Multi-Troop Transports
in
Widow's Valley
so that Panaka could place
explosives
on a
bridge
in the convoy's path. When the explosives failed, Sykes
bombed
the bridge and destroyed the rest of the convoy in the process.
(Read more…)
Community content is available under
CC-BY-SA
unless otherwise noted.