April's Wookieepedian of the Month:
Congratulations from all of us here at Wookieepedia!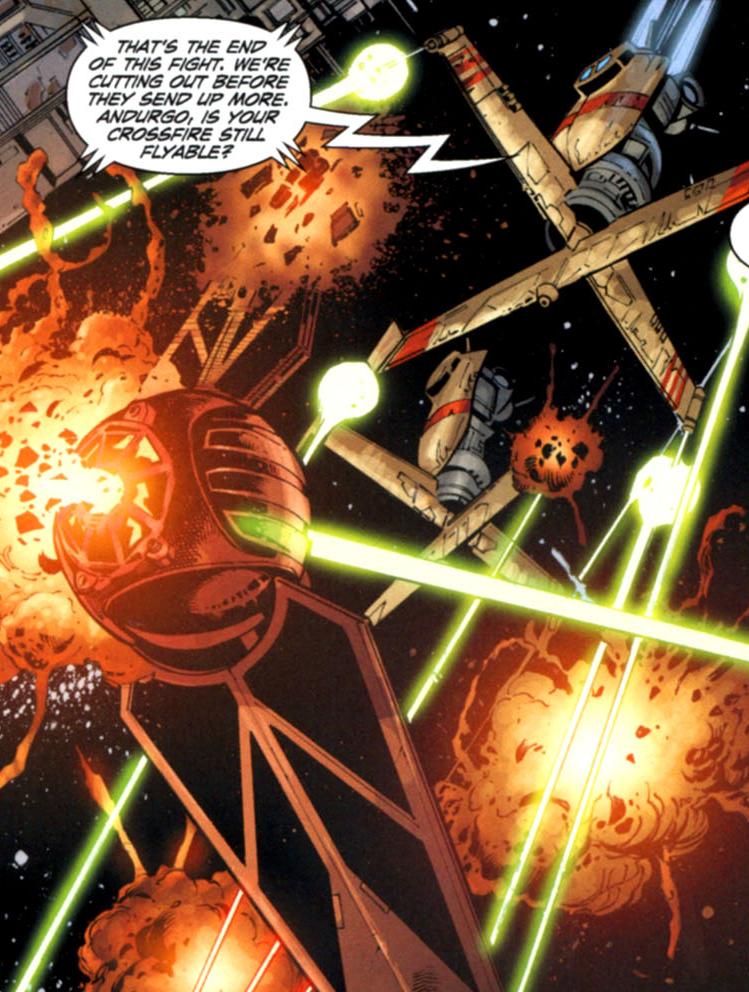 A brief dogfight, fought between the Galactic Alliance Remnant's CF9 Crossfire starfighter unit Rogue Squadron and six Predator-class fighters of Darth Krayt's Galactic Empire, occurred above the planet Dac in 137 ABY. Prior to the battle, the Rogues were flying a reconnaissance flight over the Imperial–occupied planet, whose native Mon Calamari were the victims of an ongoing genocide initiated by the Empire earlier in the year. Deadly viral spores had recently been released into Dac's oceans, and during their patrol, Rogue Squadron noticed millions of corpses floating on the surface of the water world.
At that point, the Rogues' presence was discovered by the six Predators. Rogue
pilot
Andurgo
disobeyed
Rogue Leader
Anj Dahl
's order to flee and attacked the Predators in a rage over the
speciecide
that had been committed. Dahl brought the rest of the squadron in to assist him, and their Crossfires'
guns
quickly
laid waste
to all six of their opponents. Andurgo's
fighter
received minor damage; Dahl chose to ignore his insubordination, and the Rogues returned to the
Galactic Alliance Core Fleet
. There, they reported the gathered intelligence to Alliance
Admiral
Gar Stazi
, who began a massive
evacuation of Dac
.
(Read more…)