July's Wookieepedian of the Month:
Congratulations from all of us here at Wookieepedia!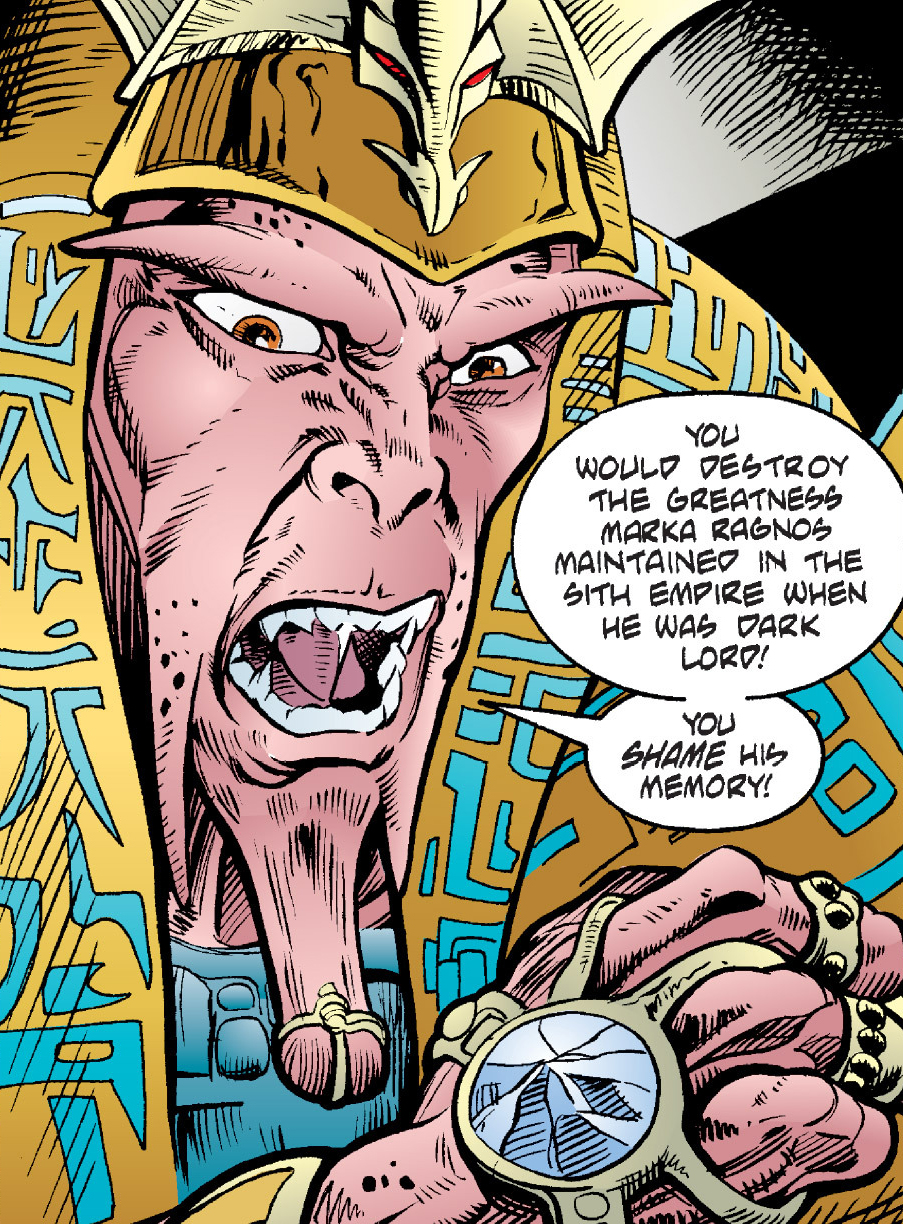 Ludo Kressh was a male Sith Lord in the years leading up to and during the Great Hyperspace War, and was also the father of Kressh the Younger. Descended from a mixed ancestry of Dark Jedi and members of the Sith species, Ludo Kressh rose to be a powerful Sith Lord, all the while clashing with his greatest rival, fellow Sith Lord Naga Sadow. In 5000 BBY, Dark Lord of the Sith Marka Ragnos died, and both Kressh and Sadow angled for the title. Kressh led the deceased Dark Lord's funeral procession but was interrupted by the late arrival of Naga Sadow. Sadow proclaimed that the title of Dark Lord of the Sith was rightfully his, and an angered Kressh attacked him; however, their duel was stopped by Ragnos' ghost. After the fight, two outsiders landed in the middle of the funeral: hyperspace travelers Gav and Jori Daragon. Kressh feared that the siblings were precursors to an invasion by the Galactic Republic, while Sadow believed they were the key to expanding the Sith Empire's territory.
Kressh and his rival disagreed repeatedly over the matter of the Daragons. Sadow, seeking to make his dream of a war with the Republic a reality, staged a false Republic attack on the Empire. Kressh was convinced at first and advocated bolstering the Empire's defenses against an impending Republic invasion. However, the Sith Lord soon discovered Sadow's treachery and along with his
allies
,
attacked
his fortress
on the
planet
Khar Delba
, but was subsequently outwitted and defeated by Sadow. Kressh then faked his death by sending his empty
flagship
toward Sadow's citadel, where it was shot down and destroyed. Without a strong opponent, Sadow—now the new Dark Lord—launched the Great Hyperspace War against the Republic. However, the Dark Lord returned to the Sith Empire with a diminished
fleet
after suffering a defeat at the hands of the Republic. It was then that Kressh revealed himself, telling Sadow that he had indeed faked his death.
Battle ensued
over Korriban, and Kressh at first seemed to have taken the upper hand against his weakened opponent. However, the ever-cunning Dark Lord ordered one of his doomed
ships
to make a
suicide
run on Kressh's flagship, and the collision killed Kressh.
(Read more…)
Community content is available under
CC-BY-SA
unless otherwise noted.