March's Wookieepedian of the Month:
Congratulations from all of us here at Wookieepedia!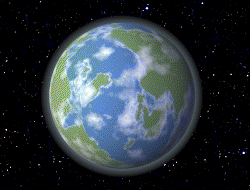 Generis was a high-gravity planet located in the Generis system of the Atrivis sector. It had rugged terrain and was covered with grassy plains and vast jungles. This natural beauty attracted offworld travelers keen to experience its wilderness. Prior to the formation of the Galactic Republic, the world was settled by the Rakata as part of their galaxy-spanning Infinite Empire. Following the collapse of their society, scattered temples were all that remained of their time on Generis. The planet was later settled by a mix of Humans and other species, as was another planet in the system, Atrivis 7.
The planet was within
Separatist
space during the
Clone Wars
, but remained neutral. During the
Galactic Civil War
, it became a hub of resistance against the
Galactic Empire
. Joint resistance forces in the Atrivis
sector
set up a
centralized base
in
orbit
over the planet before negotiating a
treaty
with the
Alliance to Restore the Republic
. As part of this accord, an
Outer Rim Communications Center
was constructed on the planet, protected by a small
starfighter
force. Generis became a strategic location for the Alliance, from where it coordinated forces stationed throughout the Atrivis sector. The base was later
captured
by the forces of
Grand Admiral
Thrawn
during his
sustained campaign
against the
New Republic
. Eventually recaptured by the Republic, the base was again
attacked
, this time during the
Yuuzhan Vong War
. The assault by the extra-galactic
Yuuzhan Vong
invaders intent on conquering the galaxy destroyed much of the planet's surface, but when the Yuuzhan Vong were eventually defeated by the
Galactic Alliance
, the Generis Communications Center was restored to operating capacity.
(Read more…)