May's Wookieepedian of the Month:
Congratulations from all of us here at Wookieepedia!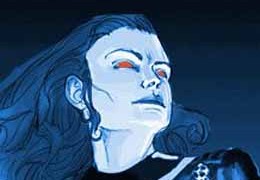 Sev'rance Tann was a Chiss female who left Chiss Space to become a Dark Acolyte and general in the Separatist Droid Army during the Clone Wars. Hailing from Csilla in the Unknown Regions, she became one of few Chiss to leave her people during her time, along with her lover Vandalor, both becoming agents of Count Dooku and the Confederacy of Independent Systems (CIS) shortly before the outbreak of the Clone Wars in 22 BBY. Dooku taught Tann the use of the dark side of the Force, and she became one of his most trusted underlings. When the war broke out, Tann fought at Geonosis and later commandeered the Kaer Orbital Platform for Separatist use. When Dooku learned of the new Republic technology known as the Decimator, Tann was ordered to locate the weapons and steal them for the CIS to use.
After winning battles on
Tatooine
,
Eredenn
, and
Alaris Prime
, Tann stole the Decimators from the Republic and prepared them for Separatist use. She then launched an ambitious
attack
on
Sarapin
, on Dooku's orders, capturing one of the most heavily fortified
planets
in
the galaxy
and leaving many
Core Worlds
in darkness as a result, having destroyed the planet's geothermal generators. Tann was then sent to oversee Decimator construction on
Krant
, but was pursued by
Jedi Master
Echuu Shen-Jon
, whose
Padawan
Tann had killed at
Geonosis
. After Shen-Jon
destroyed
the Decimator-producing foundries, Tann kidnapped his new Padawan,
Naat Reath
, and fled. Later, in a final confrontation in a CIS stronghold in the heart of the Krantian forest, Shen-Jon
killed
Tann. Although Tann had been a successful commander, her service in the Clone Wars lasted just a
standard month
.
(Read more…)