February's Wookieepedian of the Month:
Congratulations from all of us here at Wookieepedia!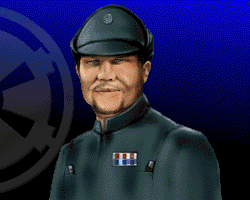 Orlok was a Human male commander serving with the Galactic Empire and the leading Imperial authority on ground-based facilities during the height of the Galactic Civil War. By 0 ABY, shortly following the Imperial defeat at the Battle of Yavin, Orlok was assigned to command the Imperial Training Center on the remote, storm-ridden planet Daluuj. Orlok resented the position, believing himself to be worth more to the Empire than running a mere training station on such a backwater world.
The opportunity for Orlok to prove his greater value to the Empire came six months after the Battle of Yavin, when several jettisoned escape pods delivered the Mon Calamari Admiral Gial Ackbar and several Calamari agents to Daluuj following an Imperial attack while they were attempting to rendezvous with the Rebel Alliance. Orlok set out from the training fort with a convoy of three Imperial ground-skimmers carrying stormtroopers to respond to the Rebel crash site, but the commander quickly found himself in a race with the Rebels Han Solo, Luke Skywalker, and the Heroes of Yavin, traveling in the Millennium Falcon, to reach Ackbar's position.
While the Rebels linked up with Ackbar first, they were beset by two giant
lake worms
that dragged the
Millennium Falcon
to the
watery
depths of a nearby
mud lake
. Solo and Skywalker set out to stall Orlok's impending arrival, while Ackbar's team worked to free the Rebel
starship
. In the resulting
skirmish
, Orlok succeeded in driving Solo and Skywalker back to the Rebel crash site, but he met his defeat when Ackbar strategically drew Orlok's ground-skimmers to the center of the lake, where the giant
worms
dragged Orlok and his men to the water's bottom, simultaneously releasing the
Millennium Falcon
.
(Read more…)
Community content is available under
CC-BY-SA
unless otherwise noted.