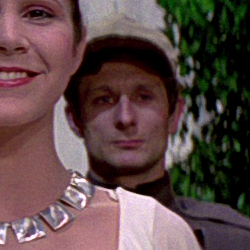 Arhul Hextrophon
was a
Human
male
who became a prominent
historian
of the
Alliance to Restore the Republic
and
New Republic
. Hextrophon originally had a career teaching
journalism
, but joined the Rebel Alliance shortly after it was founded, following the capture of his family by
Zygerrian
slavers
and subsequent rescue by the
smugglers
Han Solo
and
Chewbacca
. He soon achieved the rank of
major
and took the position of Executive Secretary and Master Historian for the
Alliance High Command
, commanding the Alliance's
History Section
. His team, which included his former student and noted historian
Voren Na'al
, was responsible for several notable documents covering the
Galactic Civil War
, such as the
Official History of the Rebellion, Volume One
and the "
Report on Growth, Organization, Equipment, Activities, and Objectives of the Rebellion
." Following the
Battle of Endor
, Hextrophon continued to serve the New Republic until at least
10 ABY
. In that year he was subject to an
assassination
attempt on
Caprioril
, though he survived the attack.
(Read more…)