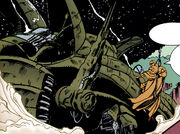 Mandalore the Indomitable's shuttle was a vessel used by Mandalore the Indomitable.
The Mandalore used this vessel to travel from the Empress Teta system to Yavin 4, to acquire assistance from Exar Kun in rescuing Ulic Qel-Droma from Coruscant.
Appearances
Edit
Community content is available under
CC-BY-SA
unless otherwise noted.