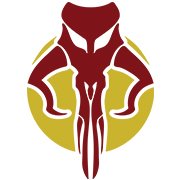 The Mandalorian Mercs Costume Club is a world-wide fan organization, officially recognized by Lucasfilm Ltd., that began as the brainchild of Tom Hutchens in March of 2007.[1] Noticing that Mandalorian costumers had distinctive and separate needs to other Star Wars costuming groups, Hutchens decided to create a costume group based on the Mandalorian culture.
Utilizing a guild name from Star Wars Galaxies and references from Star Wars: Knights of the Old Republic and Republic Commando video game and novels, the Mandalorian Mercs as a costume organization was officially incorporated on April 7, 2007. The Mercs were granted official 501(c)(4) tax status as a non-profit organization in the United States in 2012.[2]
During the formation of the club, Hutchens began uniting Mandalorian costumers in the United States of America and the United Kingdom; the regions were given names using the Mandalorian language developed by novelist and MMCC Honorary Member Karen Traviss. Talon Clan became the first official Mandalorian Mercs clan in April 2007, shortly followed by Falco, Sun Raider and Storm Raider clans. The UK's Vok'Chi Clan was founded in late 2007. The Mandalorian Mercs made their first Star Wars convention appearance at Orlando's Celebration V, held in August of 2010 and featuring Boba Fett on advertising images. The Mercs have appeared at every Celebration since, eventually debuting a full-size, fully-operational Mandalorian speeder[3] at 2015's Celebration Anaheim, along with a full-scale Mandalorian prison and cantina.
From humble beginnings the club has grown to a global force, with over 1,500 members in 74 clans, strongholds and squads in more than 20 countries, a global club that entertains Star Wars fans,[4] promotes the creation of costumes, and raises money for charities world-wide.[5]
Organization
Edit
This makes the Mandalorian Mercs Costuming Club unique as it is based on methodology and ideology as opposed to visual accuracies based on the Star Wars films, although all members must meet a level of quality inspired by canon characters and outlined in CRLs. It is the goal of the Mercs to be an inclusive and family-friendly club, following the Mandalorian way of life as part of a clan, or family unit, and a clan's ability to adopt anyone who wishes to become a Mandalorian.
Command Staff
The Mercs Command Staff consists of:
Mand'alor, the Mandalore
Alor, the Council Chair
CTO, the Chief Technology Officer and head of the web team
PERSO, the Personnel Officer and head of the approval team
CAO, the Clan Administration Officer
PRO, the Public Relations Officer and head of the PR and art teams
QM, the Quartermaster
AR, the Archivist/Treasurer.
BR, the Brigadier
CM, the Conclave Minister.
CA, the Council Advisers
Administrative Staff
PRTXO, the Public Relation Executive Officer
TXO, the Technology Executive Officer
Application Team Staff
ATXO, the Application Team Executive Officers
RR, the Regional Ruus'sol
Brigade Team Staff
BTXO, the Brigade Team Executive Officer
BM, the Brigade Marshal, each marshal oversee one of the brigade divisions
Regional Leadership
RC, the Regional Commanders
RV, the Regional Ver'sol
Local Leadership
Alor'ad, Commanding Clan Officer
Ver'alor, Executive Officer
Ruus'alor, Sergeant at Arms
Members of the Mercs not holding an officer position are referred to as "OMs" (Official Members).
In 2016, the Squad System and Freelancer Guild were disbanded and replaced with the Stronghold system. Both systems existed to serve areas that did not have enough members to create a clan (a clan currently requires 7 official members).  The purpose of the Stronghold system is to give those members who are not part of a clan the ability to seek guidance, assistance, mentorship, and publicity materials in an effort to better equip them to grow the MMCC in their area to a clan status. Once a Stronghold reaches 7 members in relative proximity to one another, they may apply for official clan status. The Regional Commander and their staff are the representation and leadership for members within a Stronghold until such time that the Stronghold has enough members to become a fully recognized clan within the MMCC.
Since its small beginnings, the Mandalorian Mercs has become a rapidly-growing community of Mandalorian costumers.[6] Like the 501st Legion and Rebel Legion, many Mercs wanted to use this popularity to give back to the community in some way. As such, clans are free to support any charity they wish, including its own Little Warrior International, developed by the Mercs to help sick or underprivileged children. LWI became an official US Charity in 2012.[7]
Membership
Edit
Anyone who is at least 18 years and in possession of a custom Mandalorian costume from the Star Wars Universe is eligible for membership in the club. Applications can be submitted on the official site.[8] This process typically consists of the application team checking an applicant's submitted photos and forwarding the information to the local clan or squad to which the member would belong.
All Mercs members are encouraged to create their own unique character name to use on the site's forums and at events in conjunction with their costume.
The custom nature of the club has lent itself to occasionally influencing the Star Wars Expanded Universe canon. Author Karen Traviss thanks official Mercs member Ray Ramirez in several of her novels for technical advice and friendship. Ray's Mandalorian character, Ram Zerimar, was later written into in the Legacy of the Force series.
The authors of The Essential Guide to Warfare also based the character of Mandalore the Uniter on the character created by Mandalorian Mercs founder Tom Hutchens.
Honorary Members
Edit
Some other honorary members of the Mercs include actors, authors and illustrators:[9]
Most members choose to make their own armor, using templates and tutorials located on the Mandalorian Mercs website. Typically, if other official or unofficial members live near a new recruit trying to make their own armor, these members will get together to assist the new member in building their costume. Members will also host armor parties, allowing fellow members and recruits to come together and work on armor, while also getting to know one another. This helps to promote a sense of family within the club and among members.
Custom Armor Styles Accepted
Edit
These eras have different styles of armor unique to their period in the Star Wars Universe. Each era of Mandalorian armor has its own separate requirements for costume approval and a specialized approval team dedicated to it. Modern and Legacy, while somewhat different in armor layout, share the same Costume Requirements List (commonly known as CRLs).
Methods of Custom Armor Building
Edit
Costume building tends to follow a similar path when it comes to materials and methods, with some taking their own direction in design, materials, and methods. Armor is most commonly made from PVC foam board (brand names include Sintra), with thickness typically varying from 3mm to 6mm. Some armor builders choose to use Pepakura (a system of templates for paper-based construction), while others purchase their armor from vendors. Helmets are sometimes built from scratch with templates on the Mercs website, while others build theirs from Pepakura files. Members have also been known to purchase resin casts of helmets from particular vendors. All third-party products must meet Mercs approval, and vendors who do not meet standards can find their products banned for use by the organization.
Canon Characters Accepted
Edit
For many modern canon costumes, different CRLs exist for different canon appearances.
References
Edit
External links
Edit
Community content is available under
CC-BY-SA
unless otherwise noted.