"They're delicious."
―Omnino on Savrips
The Mantellian Savrips were a species of large, semi-sentient reptiles native to Ord Mantell. They had a hunched-over stature, leathery skin, snake-like heads, and arms long enough to drag the ground.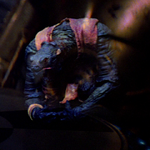 "Flashy can bulls-eye a savrip between the eyes five times before the critter even knows it's dead."
―Corso Riggs, on his blaster, "Flashy"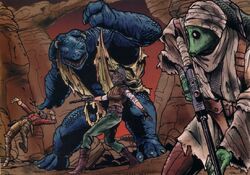 A reptilian species of semi-sentient brutes native to the planet Ord Mantell, their sentience was a contentious subject to xenobiologist from the Core Worlds. Often believed to be simply a very cunning non-sentient animal by many Mantellians, the Savrips were technologically primitive, and had their own informal language. Preferring to wear clothing and wielding simple tools and weapons, some Savrips had learned to speak accented Basic. Savrips were naturally inclined to combat, and this, coupled with their unusual language, only fostered the notion that they were unintelligent.
During the colonization of Ord Mantell, sanctioned killings of the Savrip species nearly drove the race to extinction. Many were hunted or exported, and, by the time of the Galactic Empire, few Savrips remained on Ord Mantell, keeping to themselves in the Scraplands. The Warlord Taxer Sundown used the Mantellians' prejudice against the Savrips to blame the murders his organization carried out on them. Savrip meat was also enjoyed by some, such as Baroness Omnino, who, with her son and the aforementioned impostor Jedi Sundown, planned to breed them for food on Ord Mantell in the years up to 37 BBY. However, this plan failed due to the intervention of Qui-Gon Jinn.
Behind the scenes
Edit
The species as seen on the dejarik table in A New Hope was originally named "Kalhar monster".[3]
Appearances
Edit
Notes and references
Edit
External links
Edit
Community content is available under
CC-BY-SA
unless otherwise noted.