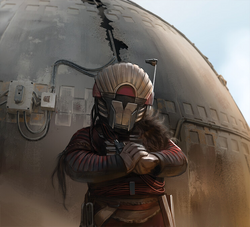 Marauder could refer to several things:
Sanyassan Marauders, a species.
Marauder Starjacker, a pirate ship commanded by Finhead Stonebone circa 3999 BBY.
Marauder-class corvette, a class of small capital ship used from the final years of the Galactic Republic through to the New Republic.
Marauder, a Warrior-class gunship of the Fifth Battle Group of the New Republic Defense Fleet.
Marauder, an Ardent-class fast frigate, of the First Coruscant Task Force of the Imperial Navy.
Sith Marauders, a class of Sith warriors.
Dark side marauders, a class of dark side warriors.
Kaox Krul, a Sith warrior known as The Marauder.
Marauder, a Weequay pirate ship during the Clone Wars.
Marauders, a pirate group.
Marauders, a swoop gang.
---
This is a disambiguation page—a navigational aid that lists other pages that might otherwise share the same title. If an article link referred you here, you might want to go back and fix it to point directly to the intended page.
---
Community content is available under
CC-BY-SA
unless otherwise noted.